DZHUS è un marchio concettuale di abbigliamento femminile lanciato nel 2010 dalla designer e stylist ucraina Irina Dzhus. In questa intervista abbiamo parlato in maniera approfondita di creatività e di moda. E Irina si è dimostrata sorprendente, al pari del suo lavoro: concettuale e pieno di sentimento insieme.
DZHUS is a conceptual womenswear brand launched in 2010 by Ukrainian designer and stylist Irina Dzhus. We got into a deep conversation talking about creativity and fashion. Irina remains as surprising as she stays in her work: both conceptual and full of sentiment.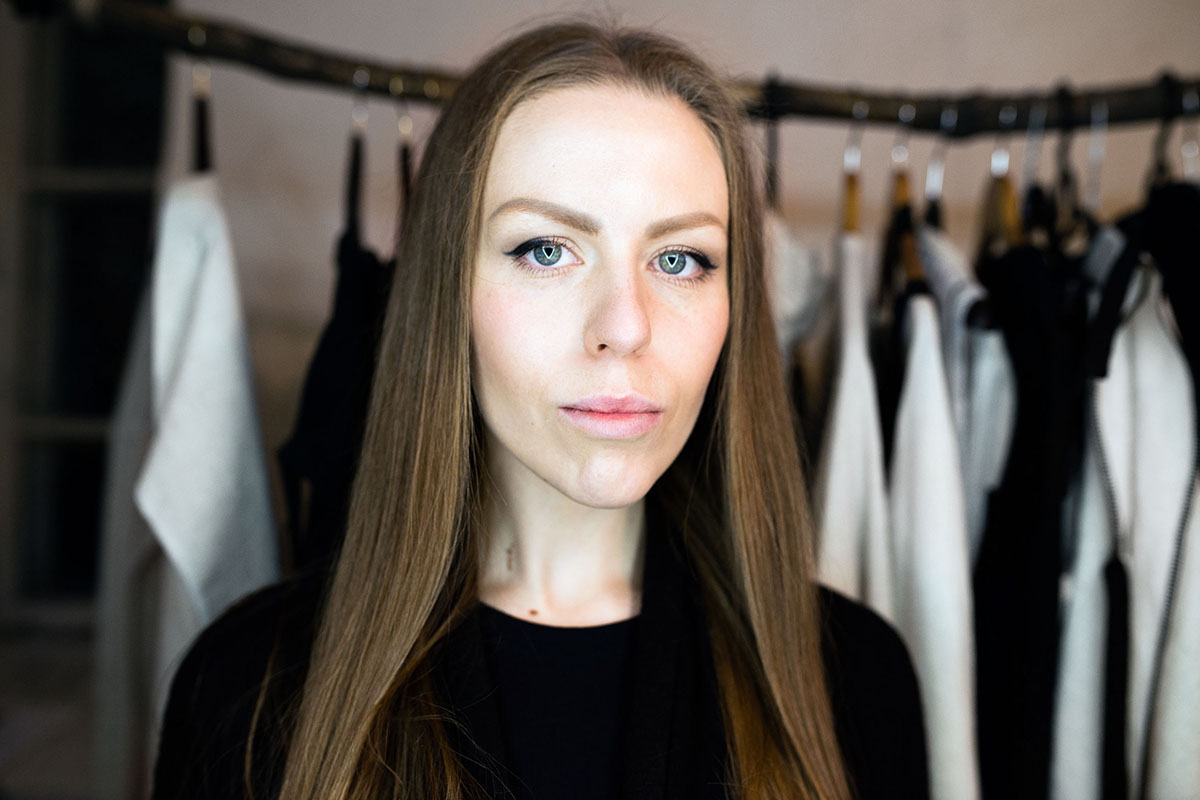 Irina Dzhus, Photo by Anastasia Muzyka
Francesca: Quello che mi piace del tuo lavoro è il modo in cui esprimi quello che fai, come fosse un proclama. E' come se osservando il corpo da diverse angolazioni trovassi sempre il modo di metterlo in relazione con l'abito. Come descriveresti il tuo approccio alla moda?
Irina: Il concetto fondamentale che sta alla base di tutti i prodotti DZHUS è l'unicità del taglio concettuale. A mio avviso, il design in quanto tale ha a che fare con l'innovazione e l'autenticità. Non sto dicendo che ogni capo debba essere per forza un'invenzione e mi diverto a indossare anch'io pezzi "normali", ma produrli è una prerogativa dei brand del mercato di massa. Non ritengo ragionevole per un designer replicare capi basici che sono già ampiamente disponibili sul mercato. Secondo me la missione della slow fashion è quella di fornire a un pubblico sofisticato prodotti unici e concettuali che altrimenti non troverebbero nei negozi c.d. mainstream. Quello che io faccio è sperimentare nuove costruzioni inventandomi modelli che non sono mai stati realizzati prima. Gli dò vita in abiti comodi che si prestano a stili di vita diversi. La trasformabilità di un vestito sta iniziando a essere una priorità per gli abitanti delle metropoli che si trovano a svolgere tantissime attività in tempi molto veloci. Mi ha sempre entusiasmato il potenziale che l'abbigliamento ha in termini di funzionalità e adattabilità al corpo umano. Un design in perfetto equilibrio è per me quello che riesce a combinare praticità e taglio alternativo con la forma del corpo. La moda è per me il modo più diretto ed efficace per esprimere e comunicare la mia filosofia. Il mio brand DZHUS incarna i valori della consapevolezza e dell'umanità, tutti i prodotti sono realizzati con materiali e tecnologie che rispettano la natura e sono cruelty free. Con il mio lavoro ambisco a dimostrare che moda sostenibile non significa necessariamente moda noiosa.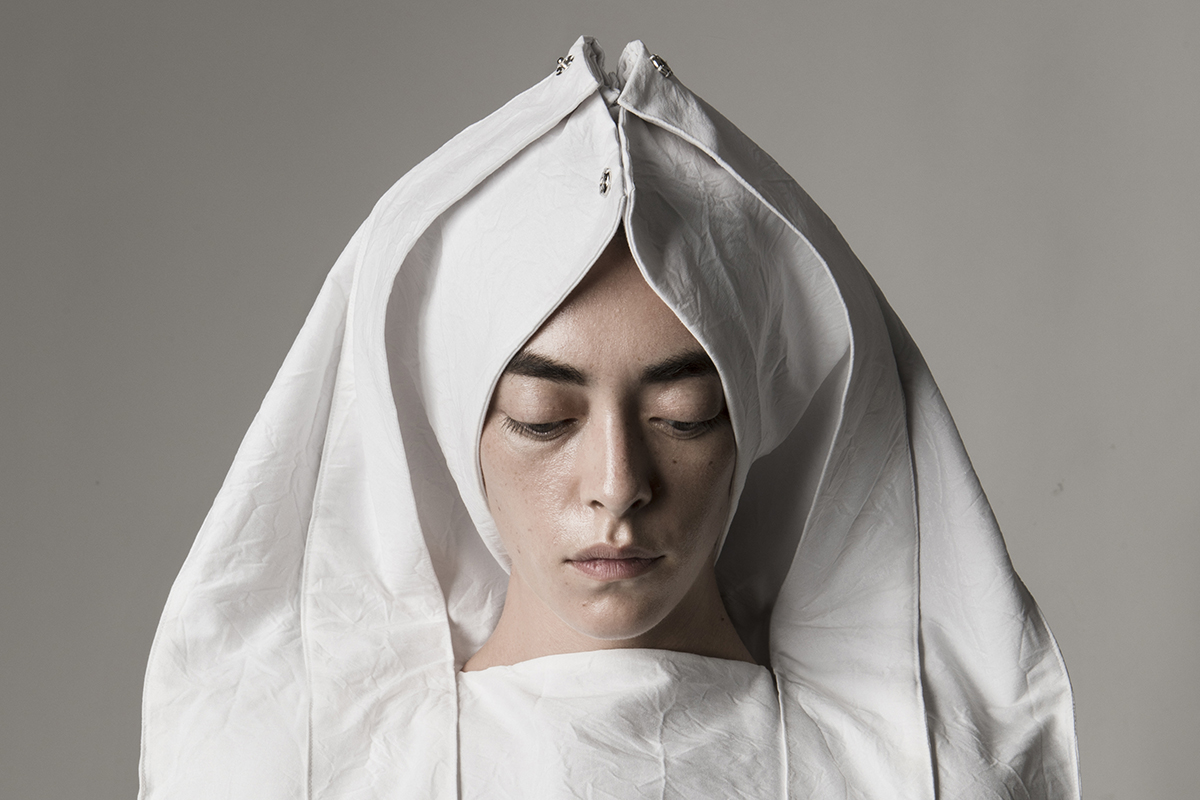 Francesca: Talking about your work, I like how things come out like a proclamation. It seems like you are looking at different angles of body and finding different ways to connect it with clothes. How would you describe your approach to fashion?
Irina: The main principle behind all DZHUS products is their unique conceptual cut. In my opinion, design as such is about innovation and authenticity. I'm not saying every garment must be an invention, and I enjoy wearing normcore pieces myself, but producing those is a prerogative of mass-market and 'bridge' labels. I don't consider it reasonable for a designer to replicate basic garments which are already vastly available. In my understanding, the mission of slow fashion is to provide sophisticated audience with unique and conceptual products, which they would never find at mainstream stores. I experiment with construction and come up with pattern making principles that have never been used before. I fulfil them in comfortable clothing that can be easily modified into different styles. Transformability of an outfit is beginning to be a high priority for metropolis-dwellers, experiencing versatile activities within extreme timeframes. I've always been excited about the functional potential of clothing and the construction of human body. Keeping in mind the practical purpose of apparel when fitting my alternative cut suggestions onto human shape is key to the perfect balance in design. For me, fashion is the most essential and effective way to express and communicate my philosophy. At DZHUS, we stand for consciousness and humanity, making all our products vegetarian-friendly by using only cruelty-free materials and technologies. My work is aimed to show that conscious fashion doesn't mean boring.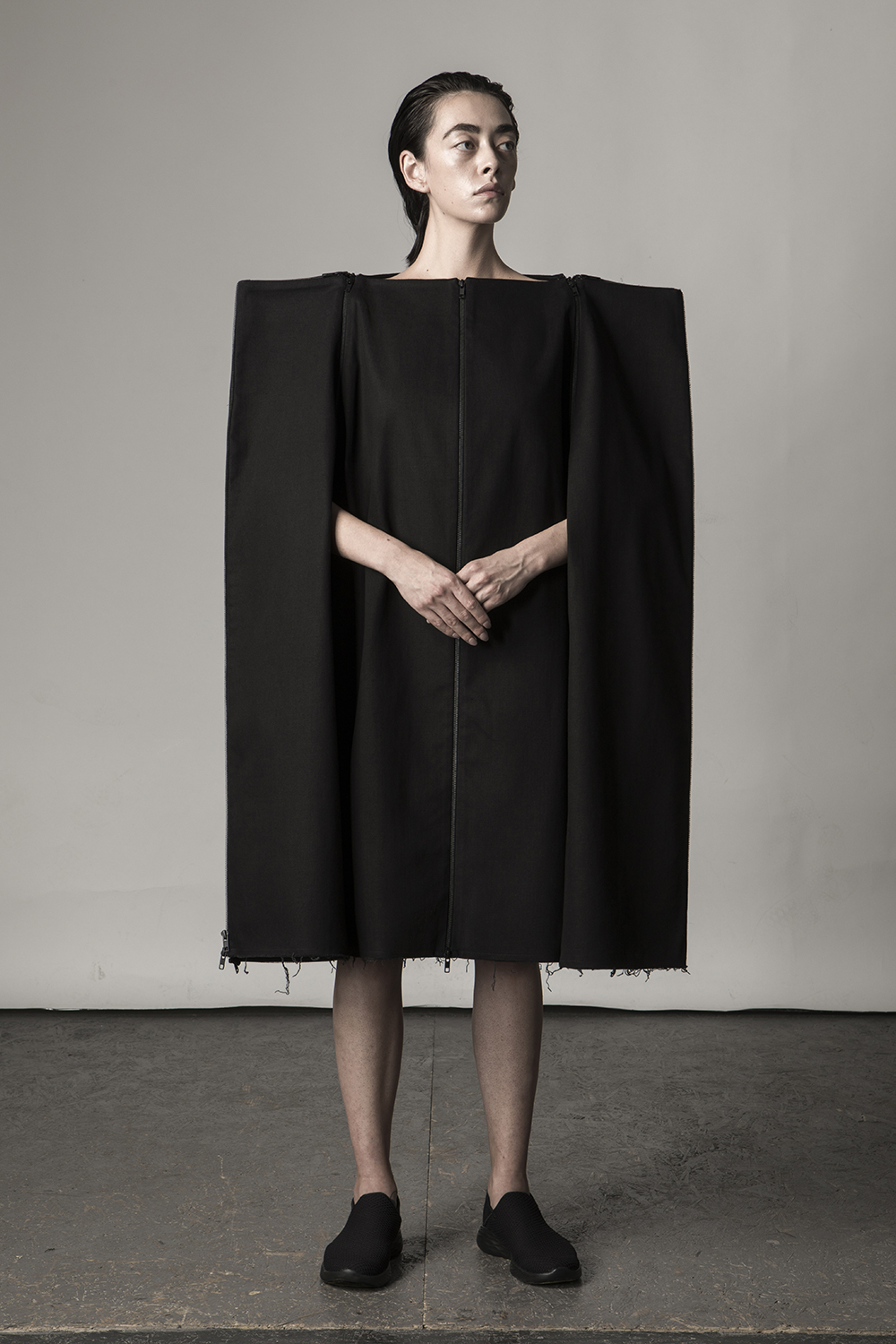 Francesca: I tuoi abiti si adattano perfettamente a chi ha uno spirito alternativo, a quelli che potremmo definire gli outsiders. Potrei dire: una sintesi di molte forme diverse volte a creare una voce unica nel panorama della moda. Qual è l'ideale estetico che persegui?
Irina: Non ho mai avuto intenzione di creare qualcosa di radicale e gli abiti di DZHUS non sembrano poi così estremi se paragonati a certi capi bizzarri e per niente indossabili che si vedono nelle immagini di street style durante le settimane della moda. Tuttavia le persone rilevano spesso un certo spirito anti-fashion nell'estetica del mio brand, probabilmente perché la mia visione ha molto più a che fare con il design in sé piuttosto che con il mondo della moda. Le creazioni DZHUS sono amate da architetti, artisti, fotografi e anticonformisti di diverso genere, persone che percepiscono il nostro approccio indipendente alla moda come naturale e familiare. L'altro motivo che mi spinge ad ignorare le tendenze è, in realtà, il mio lavoro di stylist che faccio da undici anni ormai. Mi piace giocare al gioco della moda nei progetti più commerciali o classici nei quali vengo coinvolta e dove mi rendo conto molto chiaramente di quanto sia necessario fare riferimento alle tendenze. Ma DZHUS è molto diverso da quel genere di marchi: distintivo e intellettuale, ha lo scopo di concentrarsi sulla bellezza pura ed essenziale. Il nostro prodotto non ha bisogno degli accattivanti accorgimenti della moda per distinguersi, né di essere definito "in" sminuendone così l'unicità. Per me è davvero gratificante avere clienti che scelgono i capi DZHUS non solo per come sono fatti e per la loro qualità, ma anche per le innovazioni che apportano nel mondo della moda. Una sorta di sinergia spirituale si instaura quando certe personalità straordinarie indossano i nostri vestiti e quando persone a noi affini scoprono da soli il nostro  lavoro è per me la gioia più grande.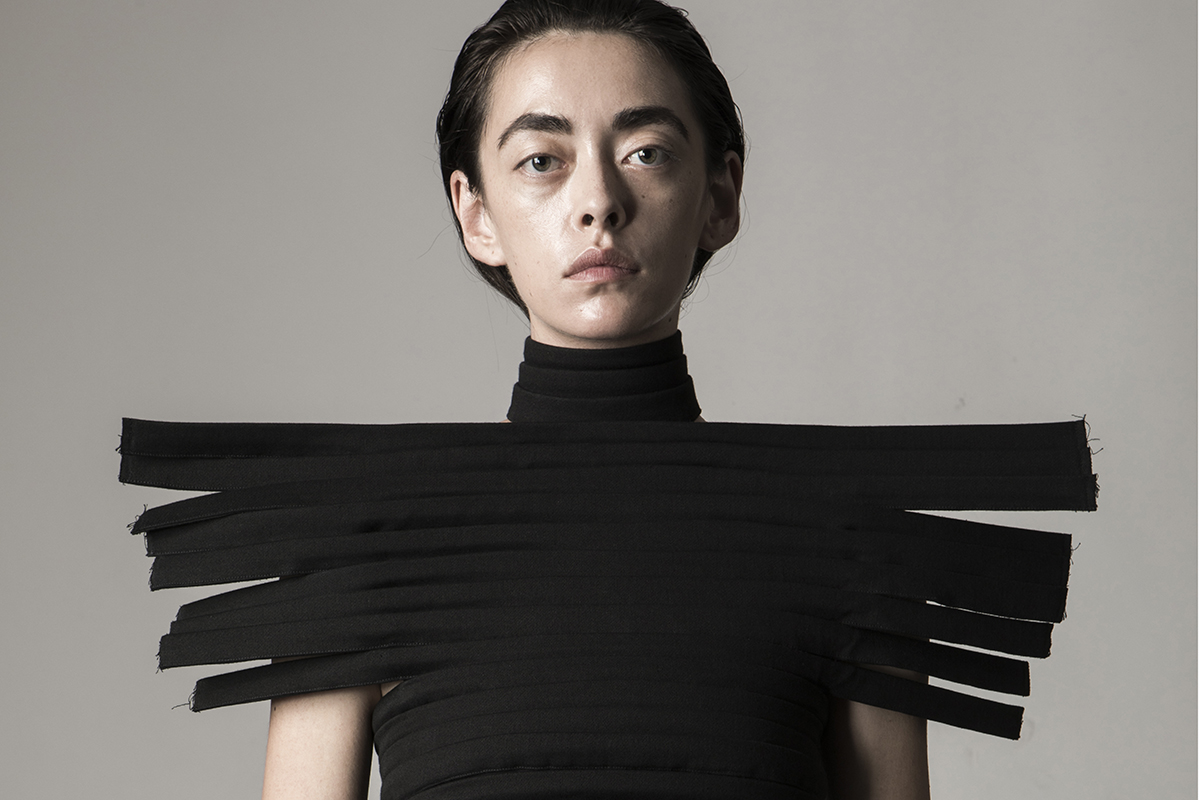 Francesca: Your clothes are perfectly fit for those who have an alternative spirit and a predilection for life's outsiders. I might say, a synthesis of many different forms to create a definitive statement. Which is the aesthetic ideal you are committed to?
Irina: I've never aimed at making anything radical, and DZHUS pieces doesn't look extreme, compared to freaky and non-wearable styles seen on Fashion Weeks' street style reports. Nevertheless, people often admit there's some anti-fashion spirit about DZHUS aesthetics. That's probably because my vision has much more to do with design as such than the fashion world. DZHUS clothing is mostly worn by architects, artists, photographers, performers and nonconformists of different kinds, hence our independent approach is very natural and familiar to our audience. The other reason for ignoring trends is, actually, my work of a stylist, which I've been doing for 11 years so far. I like playing fashion in projects I'm commissioned for, and I realise very clearly how helpful referring to trends is for commercial and classic products. DZHUS is very different from that category of labels. Distinctive and intellectual, it is aimed to focus on pure and essential beauty. Our product doesn't need eye-catching fashion tricks to stand out, neither it makes sense for us to undervalue its uniqueness by claiming that it's 'in'. For me, it's truly rewarding having clients who choose DZHUS garments not only because of their stylish look and quality, but also because of the innovations we contribute to fashion and the spiritual synergy these extraordinary personalities feel with our clothing. When like-minded people discover our work for themselves, it's my greatest pleasure to notice their harmony and fulfilment.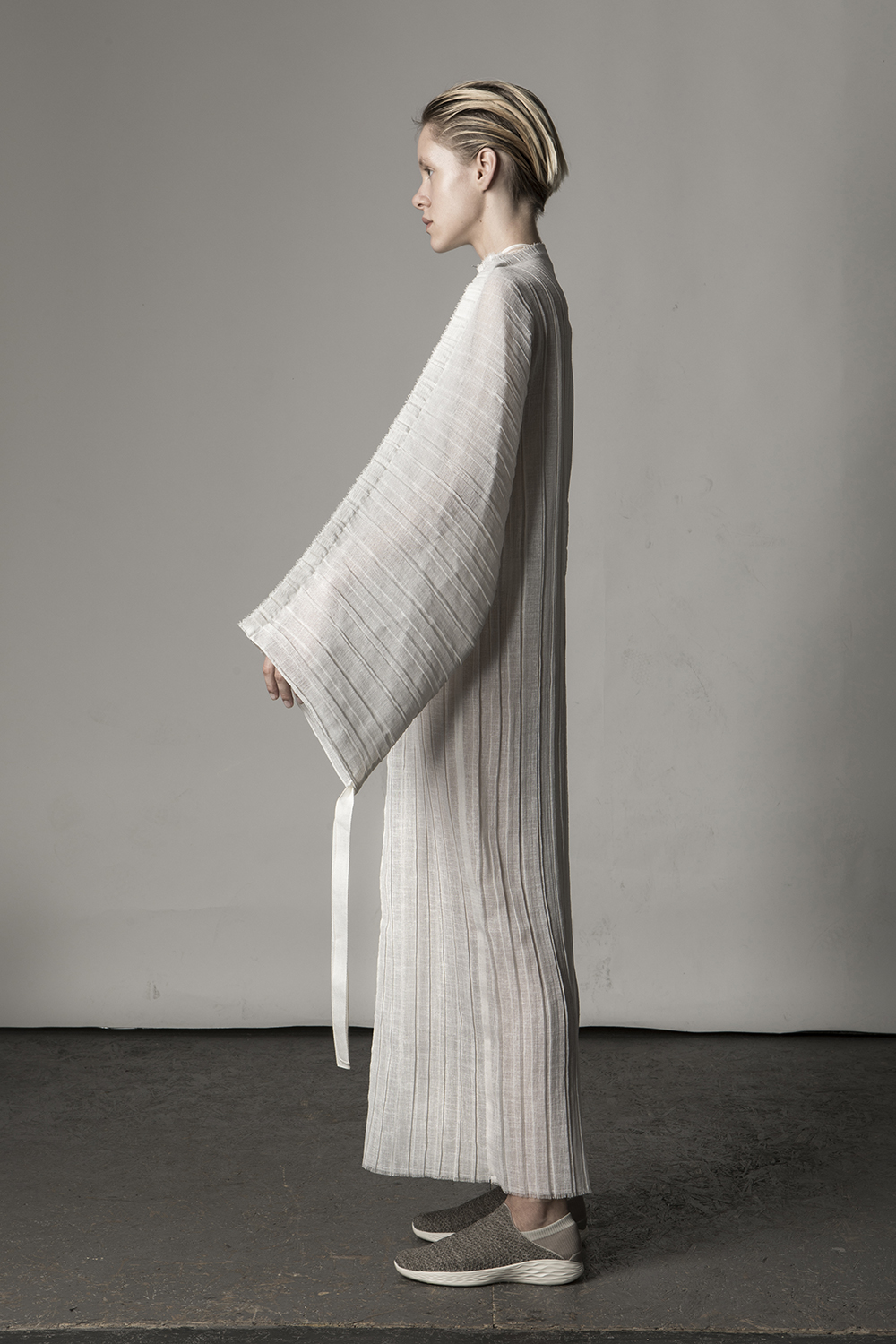 Francesca: Mi piacerebbe parlare delle qualità scultoree del tuo lavoro. Mi sembra che questo approccio – scultoreo appunto –  emerga inequivocabile, come se le tue creazioni fossero il risultato di questa visione combinata con le tue abilità sartoriali. Puoi spiegarmi più nel dettaglio?
Irina: Le mie idee sulla modellistica sono il frutto della mia peculiare visione che nasce dalla comprensione e dall'approfondimento della complessa struttura dell'ambiente e del suo potenziale architettonico. Comprendendo la metafisica della forma, i volumi e le sagome, le superfici e i vuoti, i contorni e le trame, esploro le possibilità di interazione delle parti costitutive lo spazio circostante. Mi piace osservare l'impatto della natura sugli oggetti creati dall'uomo, che li rende imperfetti e quindi unici. I miei principi di progettazione traggono origine dai modi in cui tutte le cose esistenti si influenzano a vicenda e cambiano. Ciò che mi stimola a proporre nuovi concetti non è l'ambizione personale quanto piuttosto la sensazione di quella che è la mia destinazione e la consapevolezza del mio compito che consiste nel traghettare le invenzioni dal mondo delle idee a una dimensione fisica dove possono essere utilizzate e apprezzate.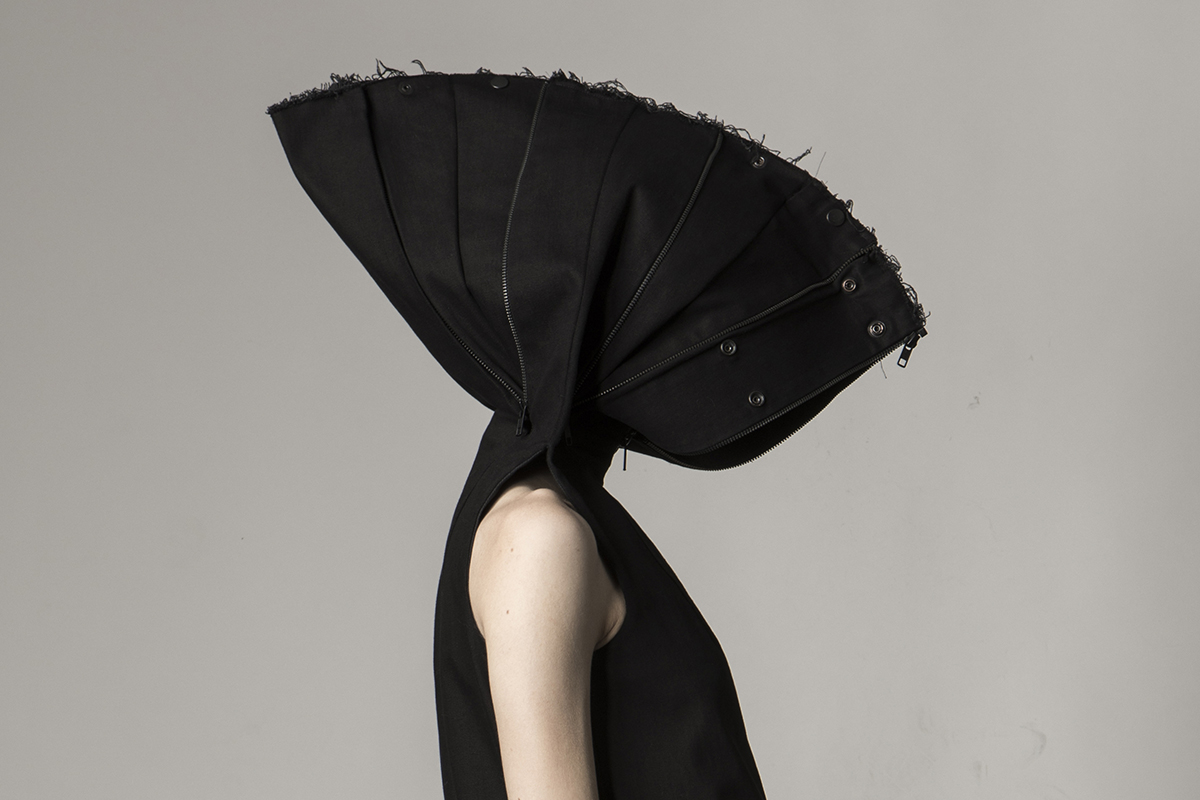 Francesca: I would like to talk about the sculptural quality of your work. It sounds like your sculptural eye comes out a lot, as if your creations were the result of your vision combined with your ability in tailoring. Could you elaborate a bit on this notion?
Irina: I generate my pattern making ideas thanks to my peculiar ability of a thorough insight into the complex structure of the ambient and understanding of its architectonic potential. Comprehending metaphysics of the form, volumes and silhouettes, surfaces and voids, contours and textures, I explore the possibilities of interaction of the surrounding space's constitutive parts. I enjoy beholding the nature's impact on man-made objects, making them imperfect and hence – unique. My design principles take their origin from the ways in which all existing things influence each other and change.What stimulates me deliver new concepts non-stop is not a personal ambition but a feeling of my destination and duty to grab these inventions from the world of ideas and bring them to the physical dimension, where those can be utilized and appreciated.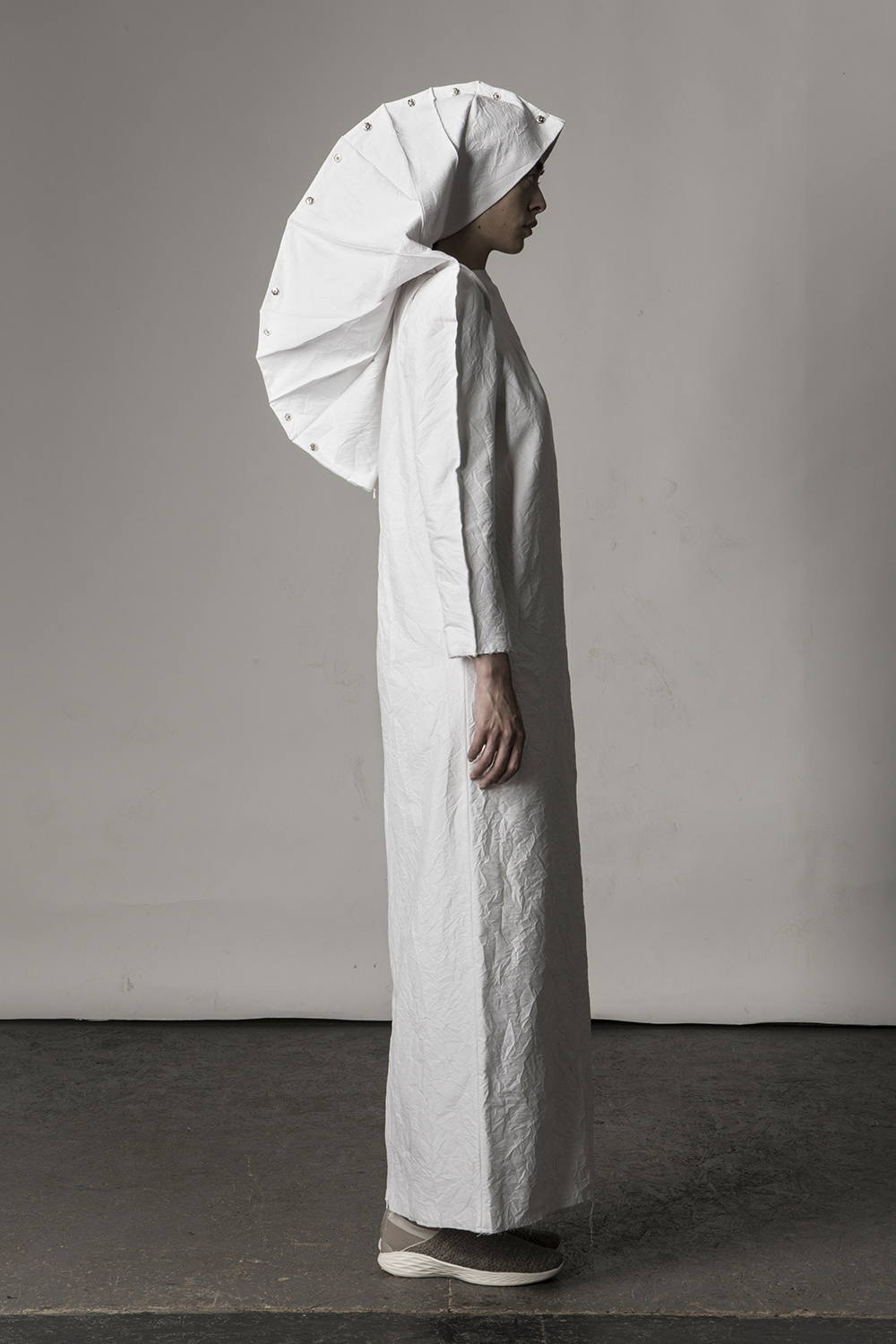 Francesca: Parlando della tua ultima collezione P/E 19 "Process", riscontro con piacere un costante sviluppo che stagione dopo stagione tende verso un'unica direzione. Mi racconti il concept della collezione?
Irina: Questa collezione si ispira al processo di produzione celebrandone gli aspetti tecnologici. Ho sperimentato nuove tecniche di taglio e costruito capi che si prestano a molteplici trasformazioni: i pantaloni possono diventare in un attimo una giacca, una borsa può essere indossata sia come top che come gonna e un cappuccio voluminoso, una volta piegato, svanisce per quanto diventa piatto. La mia scelta dei tessuti e quella delle finiture rispecchia la condizione "in progress" dei capi, che ho sempre trovato la fase più esaltante di tutto il processo creativo. Ispirandomi all'imperfezione di certi modelli e prototipi ho creato dettagli esageratamente strutturati con cuciture e fili a vista e ho usato tessuti simili a carta stropicciata per alcuni capi.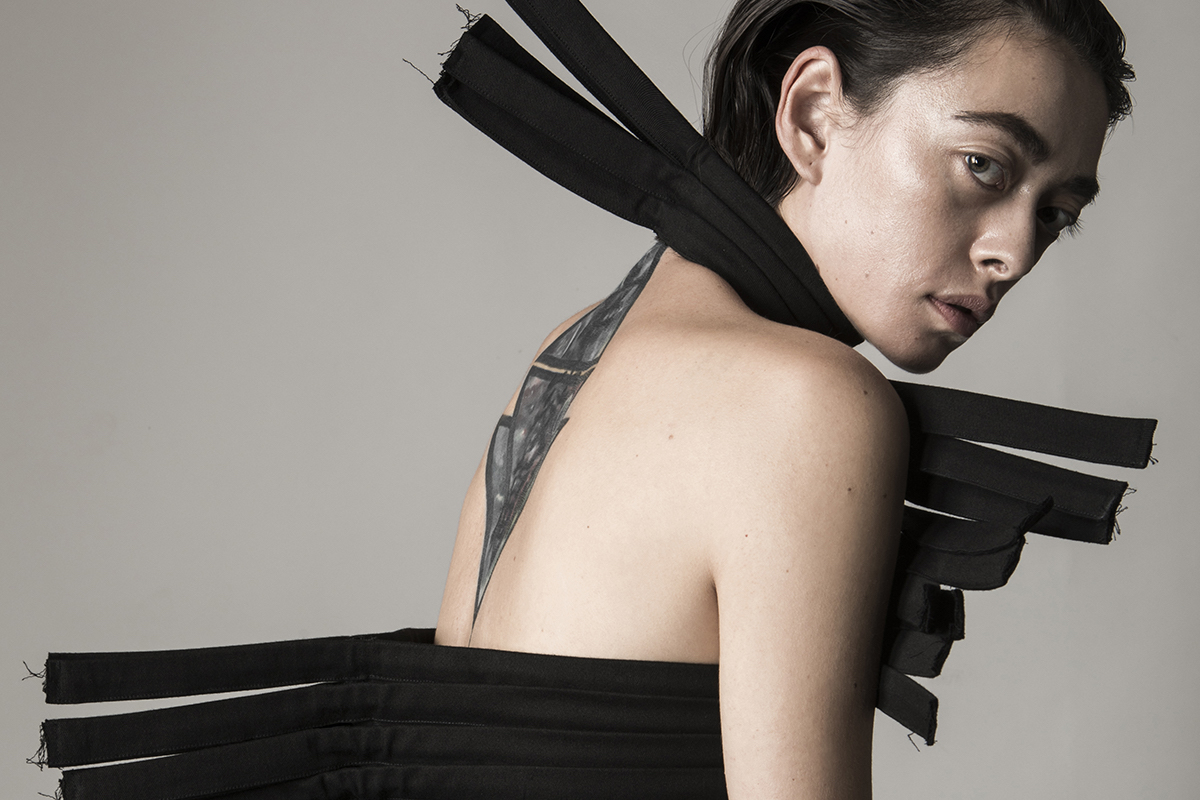 Francesca: With reference to your SS/19 "Process" collection, I am happy to see that season by season there is a steady development of an unique voice. Can you tell me what was the concept behind it?
Irina: This line is inspired with the process of apparel manufacturing, celebrating the technological aspect in all its peculiarity. Traditionally, I experimented with cutting techniques and constructed garments that feature multiple transformations: trousers are modified into a jacket almost instantly, a bag can be worn as either a top or a skirt, and a voluminous hood vanishes once flatly folded. My choice of fabrics and finishes plays up the 'in progress' condition of the garments, which I've always found the most enrapturing stage of creation. Inspired with the genuineness and imperfection of mock-ups and prototypes, I created exaggeratedly structured details, exposed seams and threads, and used textiles resembling crumpled paper for some of the garments.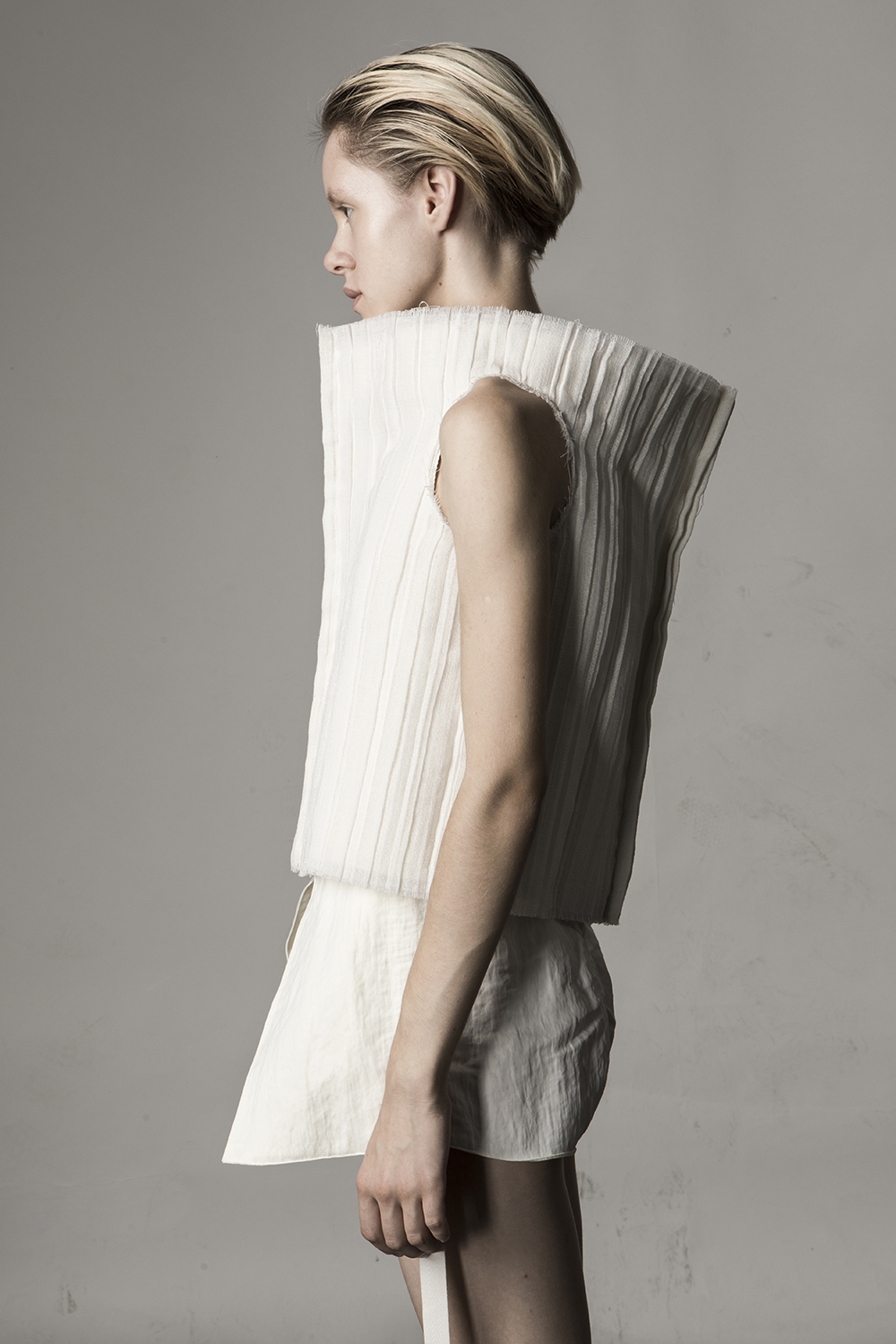 Francesca: Senza perdere nulla della tua forza sovversiva, sei in grado di offrire collezioni che aprono nuove strade tra ciò che è mainstream e ciò che sta ai margini. Vorrei davvero sapere com'è occupare questa posizione nel settore della moda?
Irina: Dal punto di vista del design, il mio lavoro può essere considerato avant-garde. Ci tengo a precisare che avanguardia non significa pezzi coreografici, non indossabili e grotteschi, realizzati con materiali sintetici come spesso accade. Nella mia visione quando dico abbigliamento avant-gard è il termine abbigliamento la parola chiave. Secondo questo principio, tutti i pezzi che creo vengono prodotti utilizzando tessuti di alta qualità e sono più che funzionali, offrendo a chi li indossa l'opportunità di adattarsi a condizioni climatiche, codici di abbigliamento e circostanze anche imprevedibili. Parlando invece della nostra posizione dell'industria della moda, il bilanciamento tra approccio concettuale e aspetti commerciali è certamente la parte più difficile della gestione di un marchio di nicchia. Quello che ci fa perdere numerose opportunità in termini di marketing è il fatto che non ci sia corrispondenza tra i suggerimenti che vengono rivolti alla maggioranza dei consumatori e la nostra visione sofisticata, la nostra ideologia. Un grande profitto è spesso inscindibile da un grande compromesso estetico, da questioni etiche o semplicemente dalla qualità, inclusa la qualità della rappresentazione. Diversamente, la nostra priorità è essere aderenti ai nostri principi e comunicarli nel modo più autentico e migliore possibile.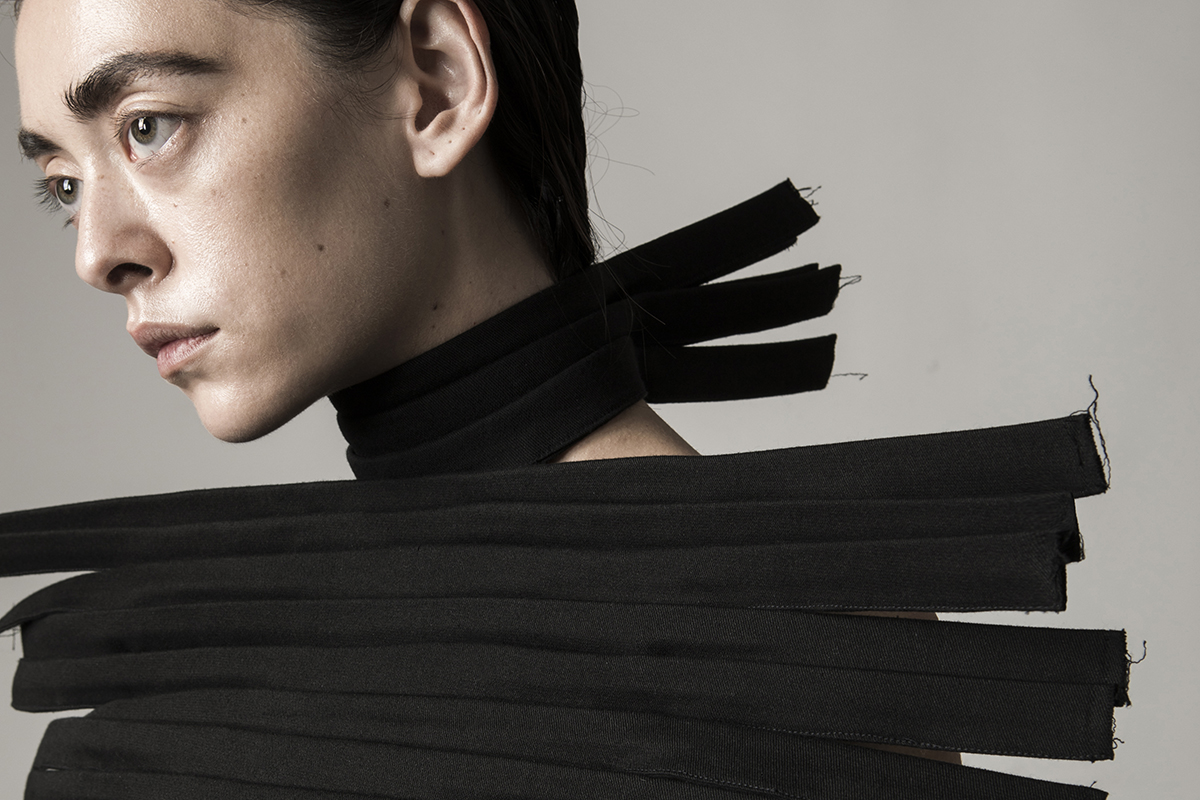 Francesca: Without losing any of your power to subvert, you are able to deliver collections that break new ground between the mainstream and the margins. I really want to ask you what is it like having this position in the fashion industry? 
Irina: From the design perspective, my work is avant-garde. I must stress that avant-garde doesn't mean non-wearable and grotesque show pieces, made of synthetic materials, as it's often understood. In my vision of avant-garde clothing, 'clothing' is the key word. Following this principle, all pieces I create are produced using high quality fabrics, and are more than functional, providing their wearer with an opportunity to adapt to different weather, dress codes and unpredictable circumstances. Speaking of our position in the industry, balancing conceptual approach and the business aspect is the hardest part of running a niche brand. Surprisingly, innovative design isn't that much if a concern. What makes us deny numerous marketing opportunities is the mismatch of most majority-oriented suggestions with our refined vision and considerate ideology. Big profit is often inseparable from a big compromise in aesthetics, ethical issues or just quality, including the quality of representation, whereas our highest priority is to fulfill and communicate our concepts in the most authentic way and on the highest level.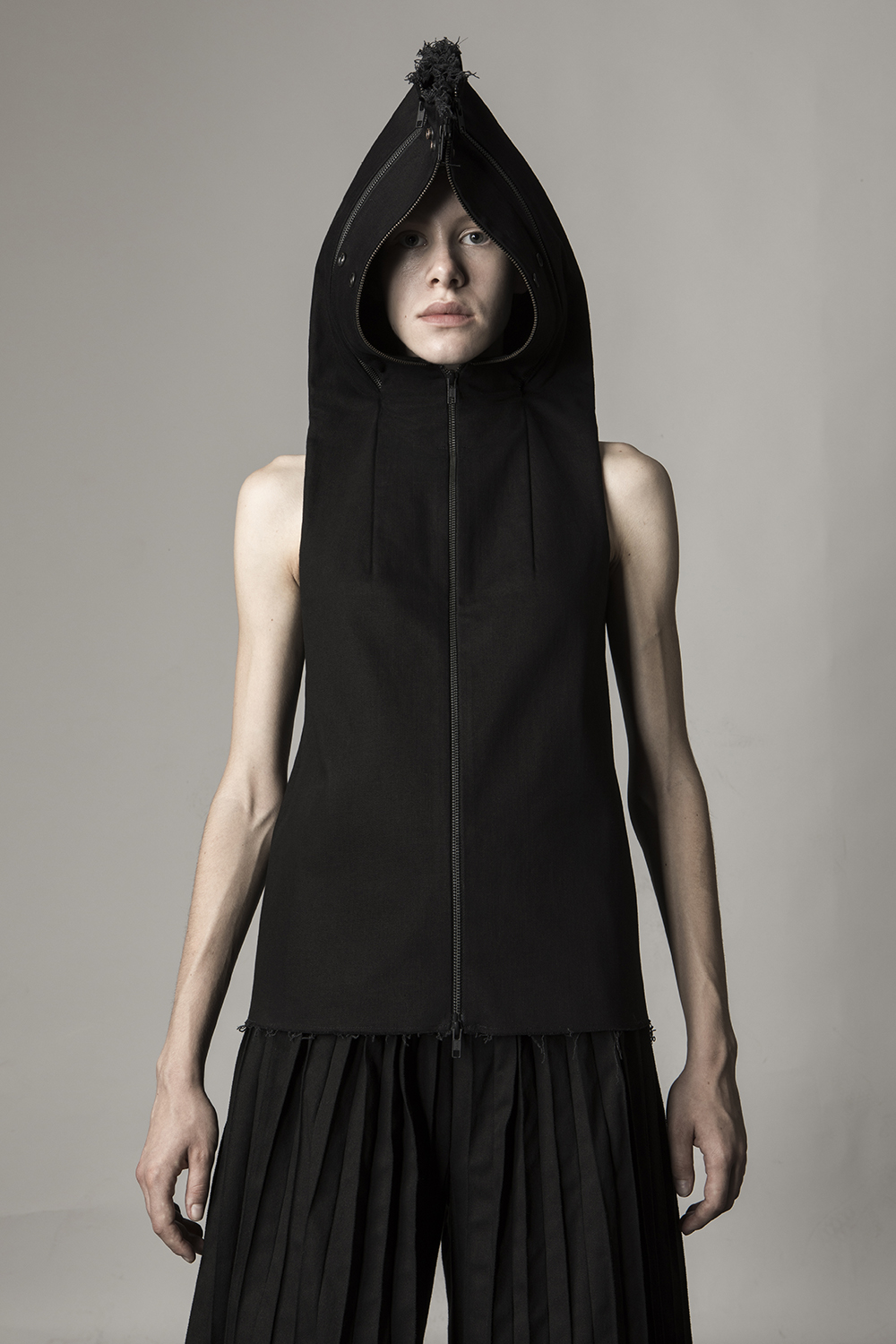 Cover story: Irina Dzhus, Photo by Henri Lakis
 DZHUS, website – Facebook – Instagram
Lookbook credits: 
Clothes: SS/19 collection "Process"
Photo: Olga Nepravda
Styling: Irina Dzhus / DZHUS Style Studio
Hair: Marina Averyanova / Y.Vision Creative Group
Makeup: Maria Alexeenko / Y.Vision Creative Group
Models: Anna Voronetskaya / Model Scouting Bureau, Anita Stemkovskaya, Irina Fedotenko / 4 Models 
Photography assistant: Darina Medoeva
Vegetarian-friendly shoes provided by Intertop