Un approccio minimale alla silhouette combinato con uno stile rilassato, una mescolanza di estetica della semplicità e gusto sartoriale. Il brand Alexia Raisi cresce di stagione in stagione consolidando la propria posizione nello scenario greco.
F: Come si sta sviluppando il brand?
A: BIOME SS/18 è la mia quarta collezione. Ogni progetto mi aiuta a far crescere il mio lavoro, a scoprire diversi percorsi creativi e a plasmare l'identità del marchio. Stiamo attualmente cercando di creare una rete di validi rivenditori in tutta la Grecia, collaborando a diversi progetti con straordinarie persone creative e stiamo implementando il nostro sito web per facilitarne la fruizione anche al un pubblico internazionale.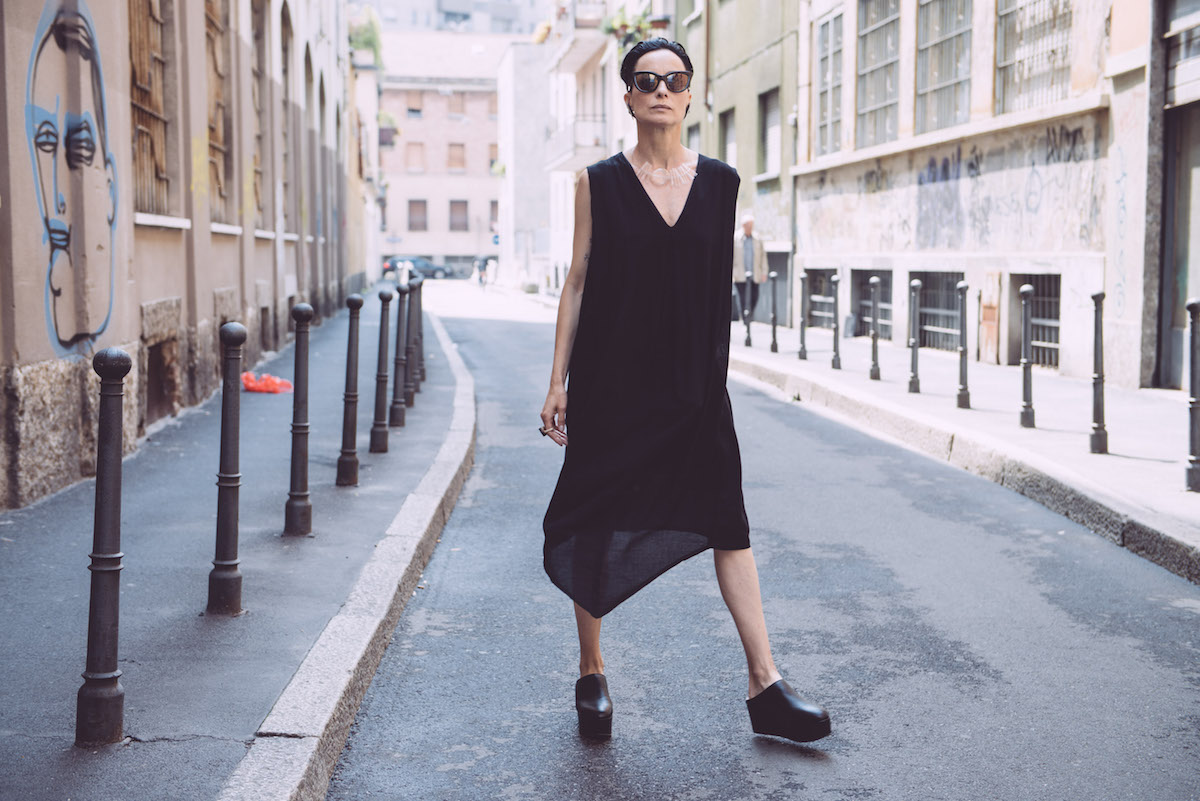 F: Qual è la donna che veste Alexia Raisi?
A: Immagino la donna a cui piace indossare i miei abiti come una persona sicura di sé, che vuole sentirsi a proprio agio dentro i vestiti, una donna che guarda oltre le tendenze e la produzione di massa. In cerca di qualcosa di unico che la aiuti ad esprimere il proprio stile durante le diverse fasi della sua vita. Una donna capace di apprezzare i capi disegnati con amore e realizzati con cura che sanno sottolineare la sua bellezza. Si tratta di aggiungere pezzi di qualità al proprio guardaroba che potranno poi essere apprezzati anche negli anni a venire.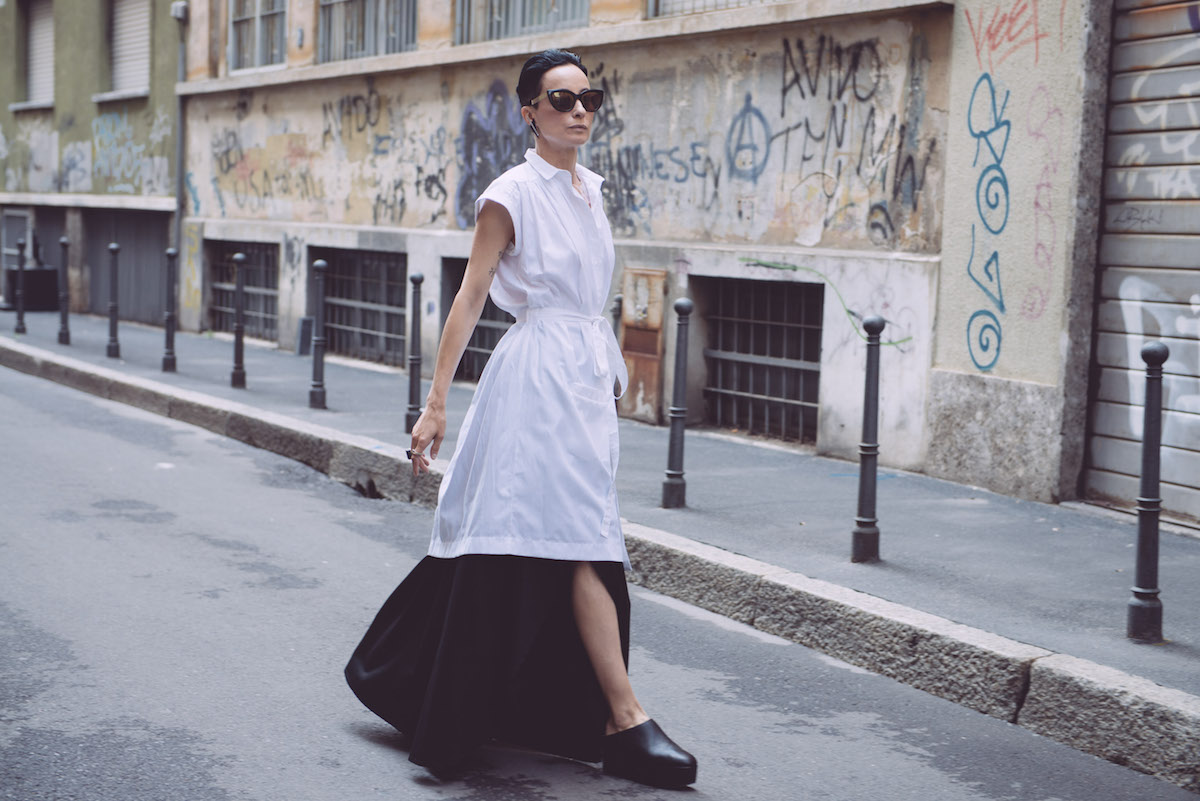 F: In che modo hai lavorato a questa collezione e quale è stata la fonte di ispirazione?
A: Questa collezione, intitolata BIOME, si ispira ai diversi ecosistemi di questo pianeta: organismi idrici e dune del deserto, le rotte del vento e le formazioni rocciose, le distese di alberi e le pianure ricoperte di neve. Flusso e costruzione si uniscono insieme, l'intramontabile si mischia con l'inaspettato, la trasformazione e la molteplicità di propositi diventano motivi fondanti di una collezione dedicata all'estate mediterranea.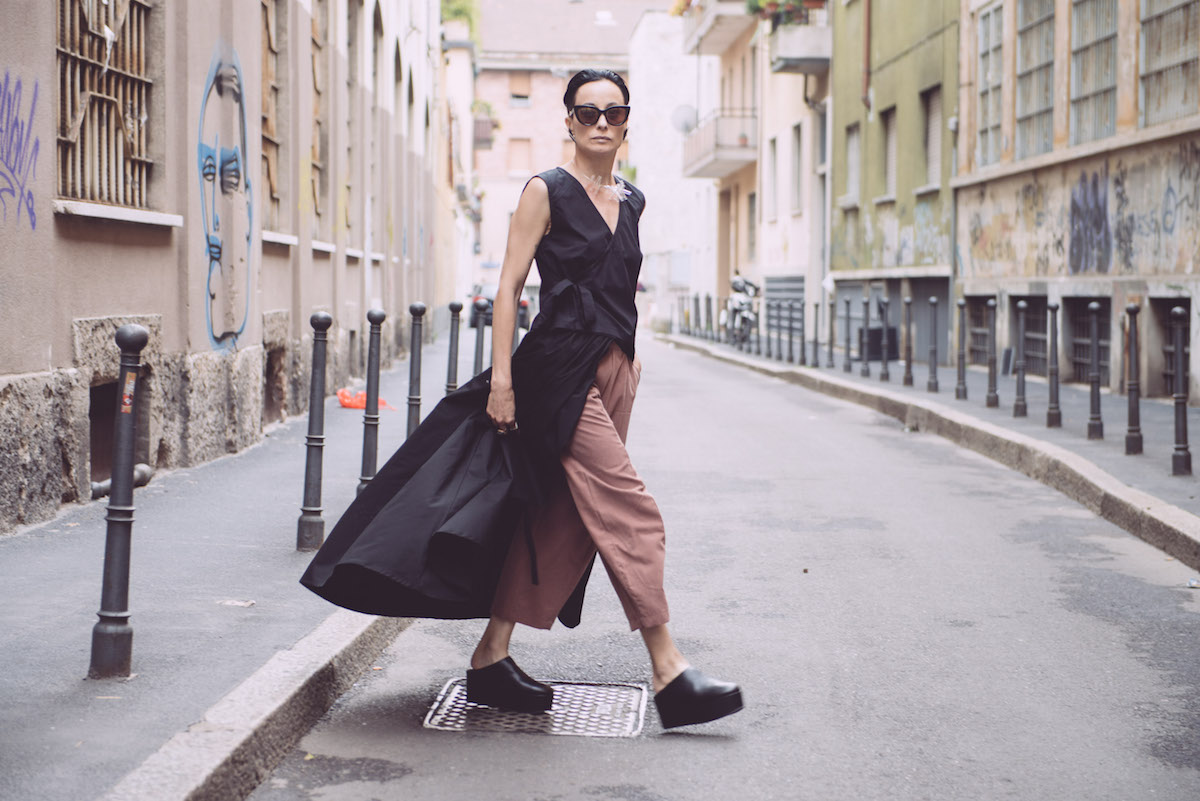 F: Come descriveresti il tuo stile e quale è il look che lo rappresenta di più?
A: Il mio stile gioca combinando pezzi basici del guardaroba con forme geometriche e dettagli di design. Desidero che gli abiti siano indossati in modi diversi e che siano mischiati con molti altri pezzi, quindi la versatilità è per me importante. La monocromia e soprattutto l'alternanza di bianco e nero a mio parere evidenziano meglio il design di un capo ed è per questo che utilizzo raramente le stampe. Progettare le camicie è un processo che mi piace davvero: credo che siano confortevoli, femminili e strutturabili con molti elementi che sanno dare vita a composizioni interessanti. Inoltre sto sviluppando una serie di capi che possono essere indossati in più modi grazie a piccoli dettagli che ne cambiano la forma.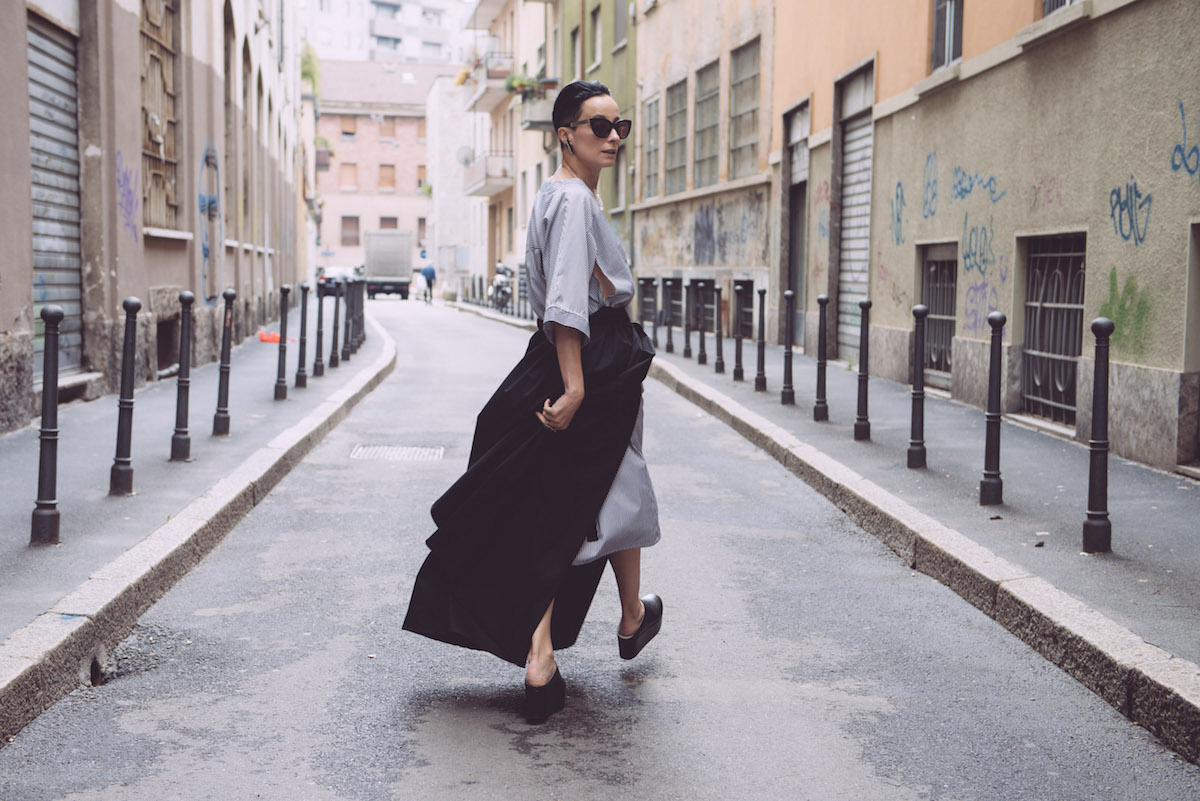 F: Esiste un capo iconico che viene ripetuto ogni stagione? 
A: Uno dei miei obiettivi come designer del brand Alexia Raisi è quello di creare abiti che trascendono le mode e le tendenze stagionali e che si basano su un insieme distintivo di principi e fondamenti estetici. Mi piacerebbe, pensando alle mie creazioni, che le persone si sentissero come se stessero facendo un piccolo investimento. Così, crescendo l'archivio, ho iniziato a identificare una serie di pezzi che preferisco e che ritengo immediatamente riconoscibili. Le camicie, un paio di pantaloni in particolare e il vestito multiforme ELFEN di quest'ultima collezione sono solo alcuni esempi di capi che verranno ripetuti o reinventati in futuro.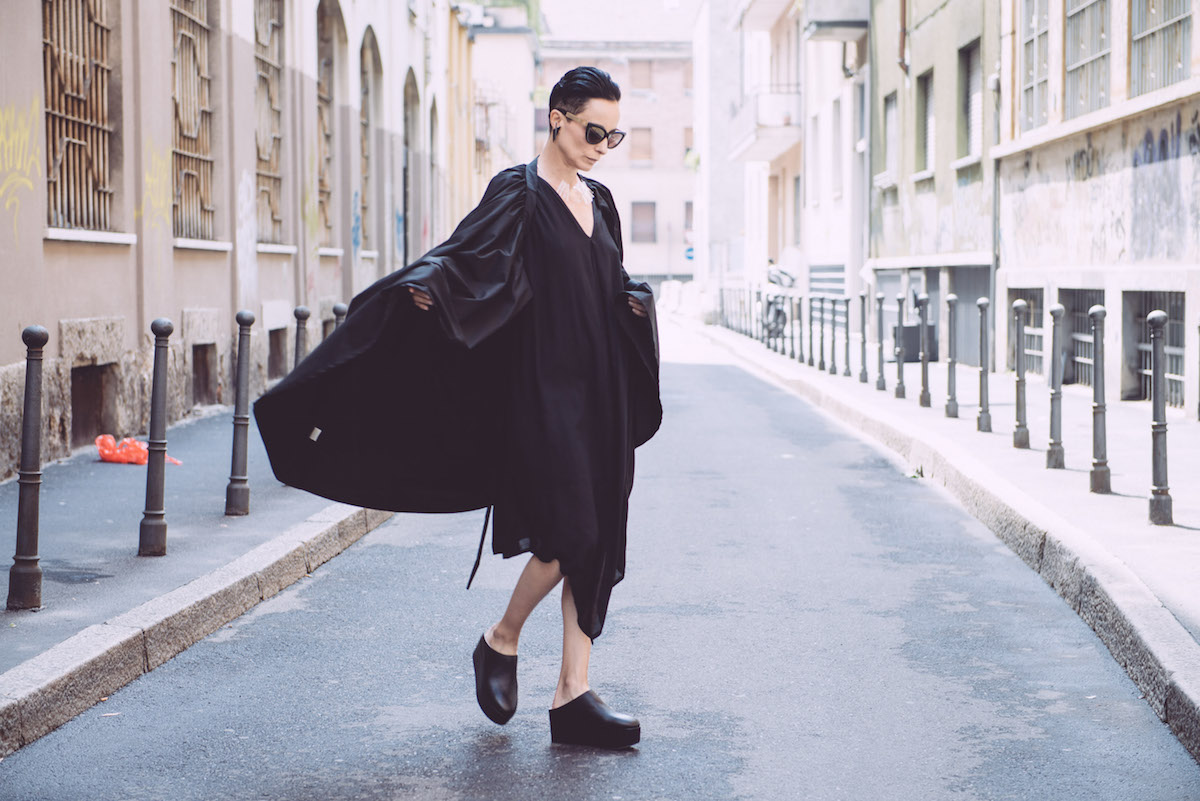 F: Come ti sembra che stia evolvendo il sistema moda in Grecia?
A: Credo che sempre più persone si sentano sempre più libere di esprimere la propria creatività. La scena del design greco sta crescendo rapidamente con nuovi straordinari talenti emergenti e piccole imprese che lavorano duramente secondo principi etici e morali e fornendo prodotti di alta qualità. Mi auguro che questo boom del design sarà più largamente apprezzato non solo qui in Grecia ma anche a livello internazionale.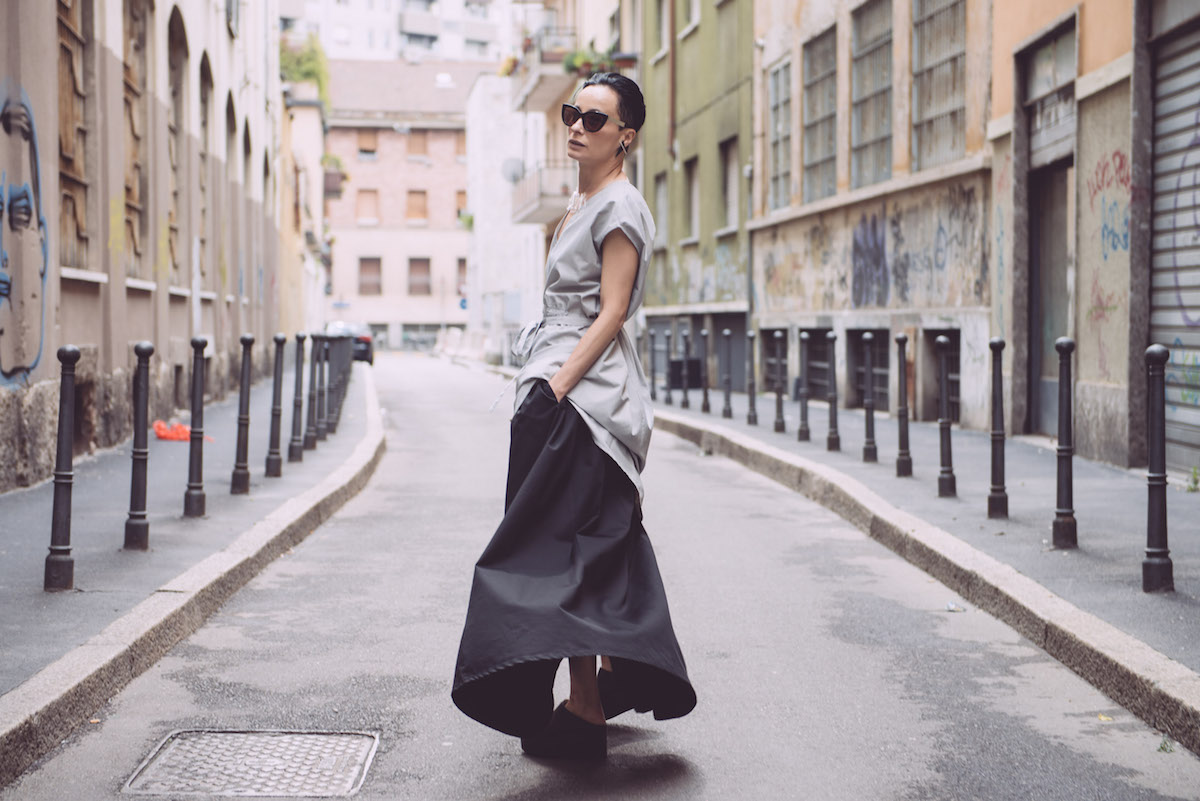 F: Obiettivi e progetti nell'immediato futuro?
A: Il mio obiettivo è quello di continuare a crescere come designer, connettendomi con altri creativi e esprimendo me stessa attraverso il mio lavoro. Al momento sto progettando le prossime collezioni e son impegnata in un progetto di collaborazione che sarà annunciato a breve. Poter fare ciò che amo è davvero un dono e voglio lavorare sodo per sfruttarlo al meglio.
Ph. Elisabetta Brian 
Clothes Alexia Raisi SS/18 Biome collection – Facebook – Instagram
Earrings Aumorfia
Necklace Elisabetta Carozzi
Shoes MARIOS
ALEXIA RAISI, BIOME (English text)
She has a minimal approach to silhouette combined with a relaxed style, a mash up of aesthetic of simplicity and tailoring. Alexia Raisi has nevertheless grown from season to season and has solidified its place in the Greek scenario.  
 F: How is the brand developing?
A: BIOME SS/18 is my 4th collection. Each project helps me grow my craft further, discover different creative paths while shaping the brand identity. We are currently working on setting a network of wonderful stockists throughout Greece, collaborating on projects with amazing creative people and setting up our site to provide access to an international audience.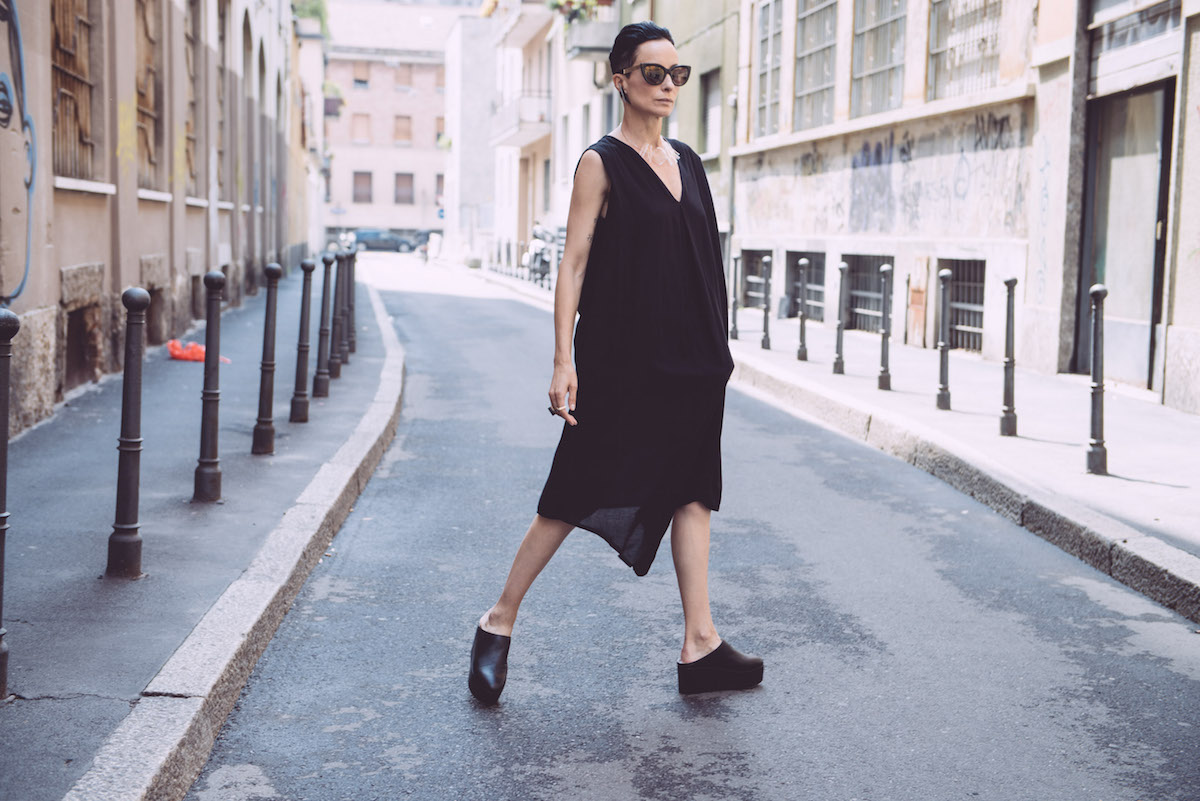 F: Which type of woman wears Alexia Raisi?
A: I imagine the woman wearing my clothing as someone who wants to feel comfortable and confident, looking outside trends and mass production for something unique to help express her style in all stages of life. She is a person that appreciates garments designed with love and care that underline her own beauty and is looking to add to her wardrobe collection quality items that she will enjoy for years to come.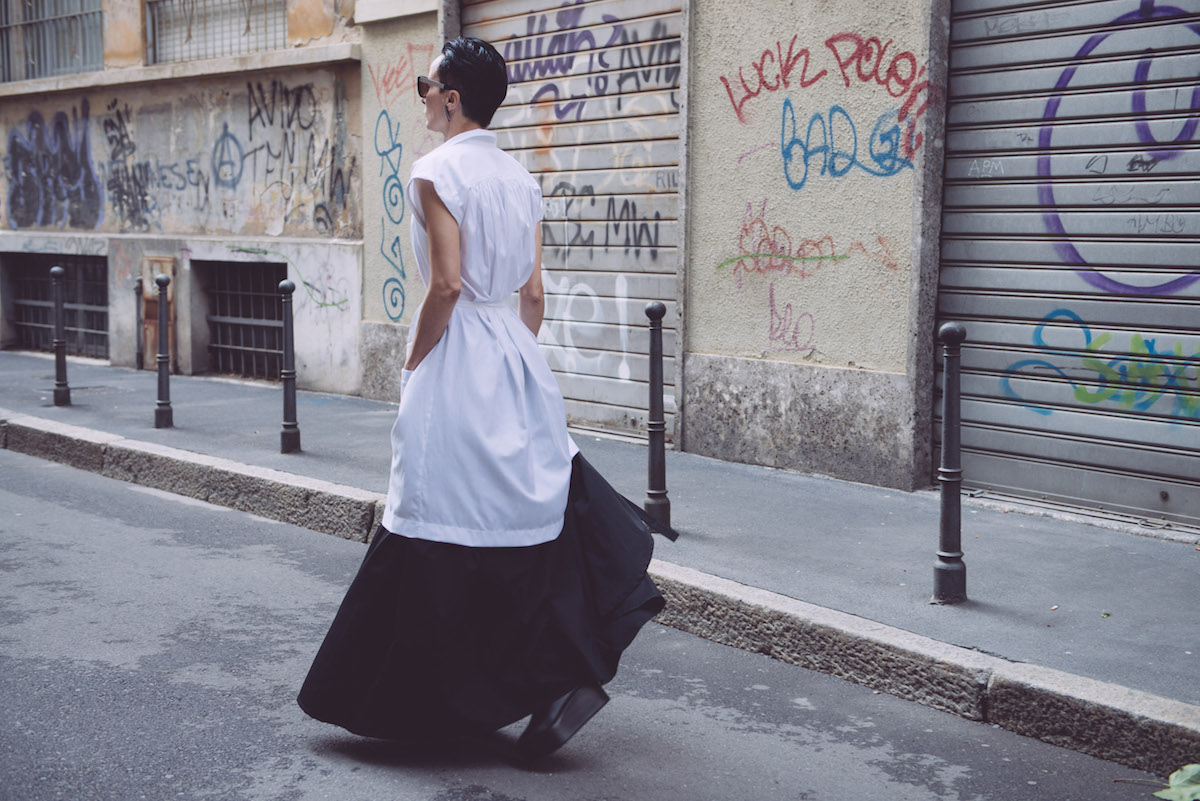 F: How did you work at this collection and which was your source of inspiration?
A: This collection titled BIOME was inspired by the diverse systems of this planet, the contradictions of water bodies and desert dunes, wind patterns and rock formations, dense canopies and snow plains. Flow and construction unite, the timeless mixes with the unexpected, transformation and multipurpose become a theme to introduce a collection dedicated to Mediterranean summer.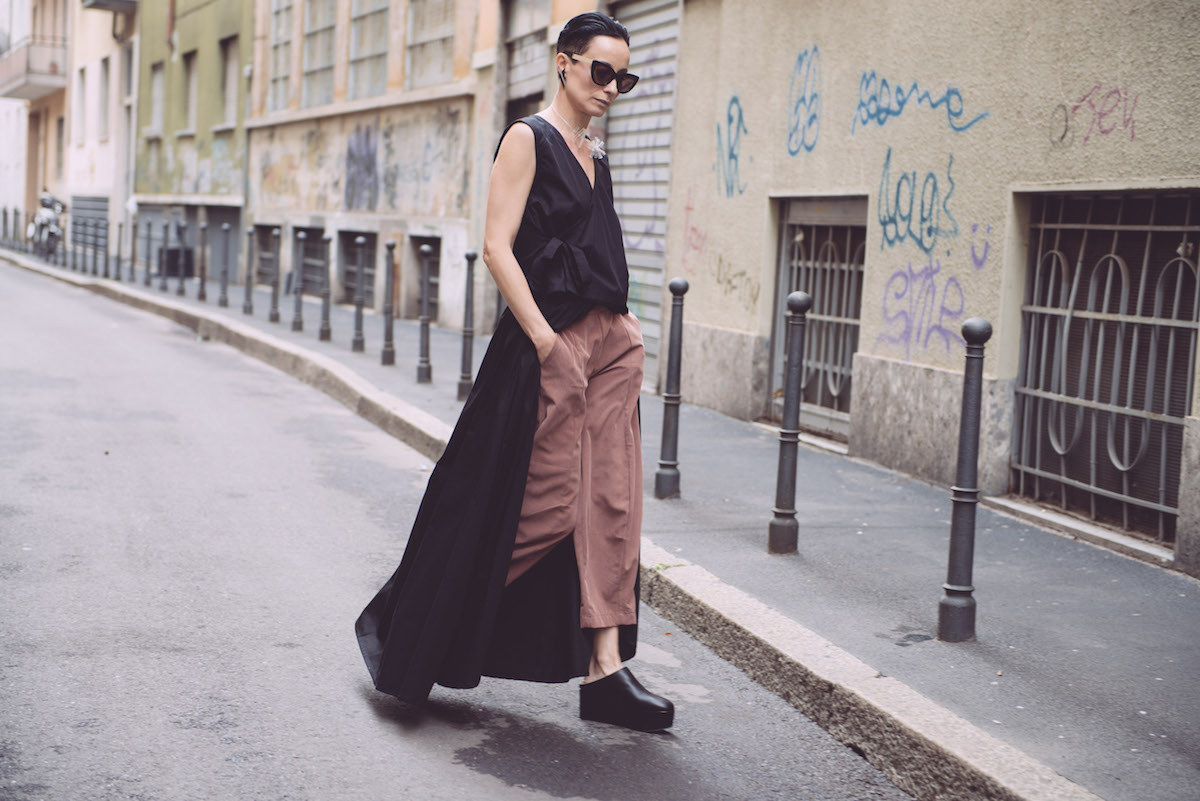 F: How would you describe your style and which is the look that represents it the most?
A: My style can be described as a play on basic pieces, geometric forms and design details. I want clothing to be worn in different ways and to be combined with many other pieces so versatility is important. Monochromes and mostly black and white in my opinion show best the design of a garment which is why I rarely use prints. Designing shirts is a process I really enjoy: I believe they are comfortable, feminine and structural with many elements to tweak into interesting compositions. Also I am developing a series of garments that can be worn multiple ways with small details that change up the form.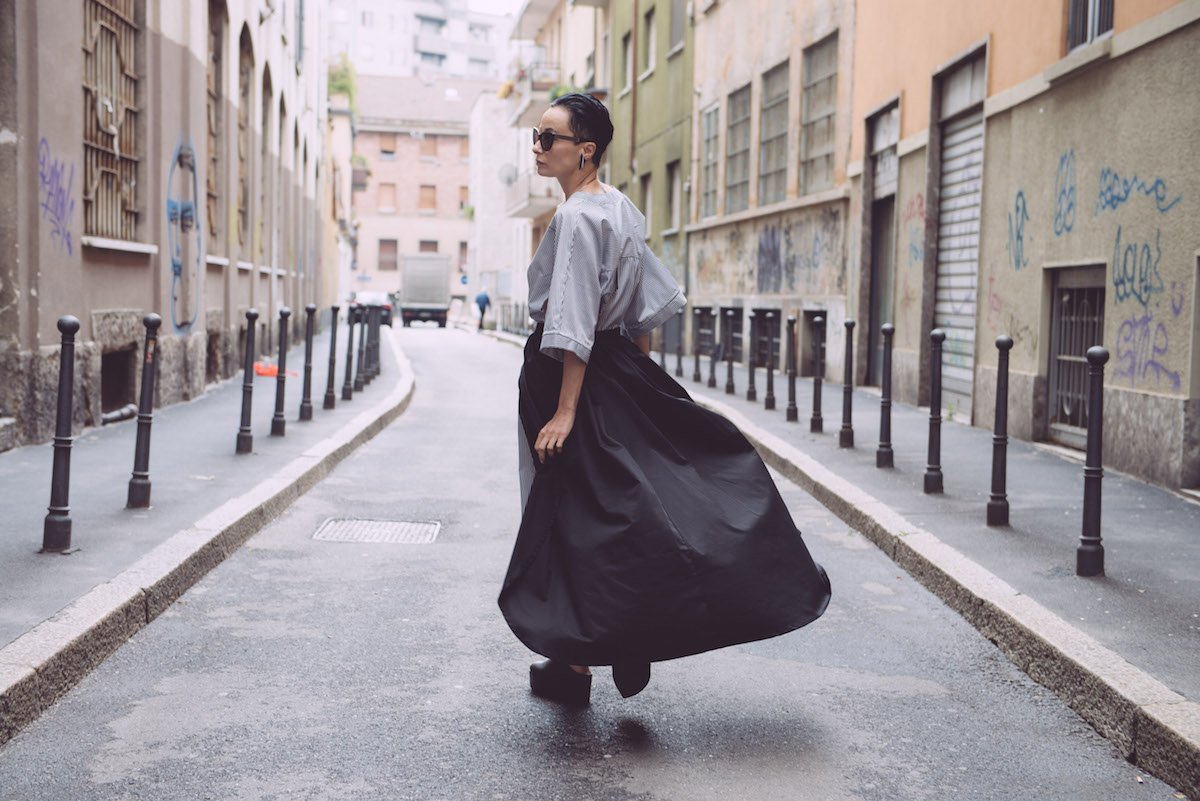 F: Does it exist a cult item that is repeated every season?
A: One of my goals with Alexia Raisi clothing is to create designs that transcend seasonal fashions and trends and are based on a distinctive set of principles and aesthetics. I want my customers to feel like they are investing in a lifetime piece. So as the design archive grows I have begun compiling a signature collection with designs that are well loved and immediately feel like classics to the brand. Our shirt designs, a pair of long trousers and our multiform ELFEN dress from the current collection are just some examples that will be repeated or reinvented in the future.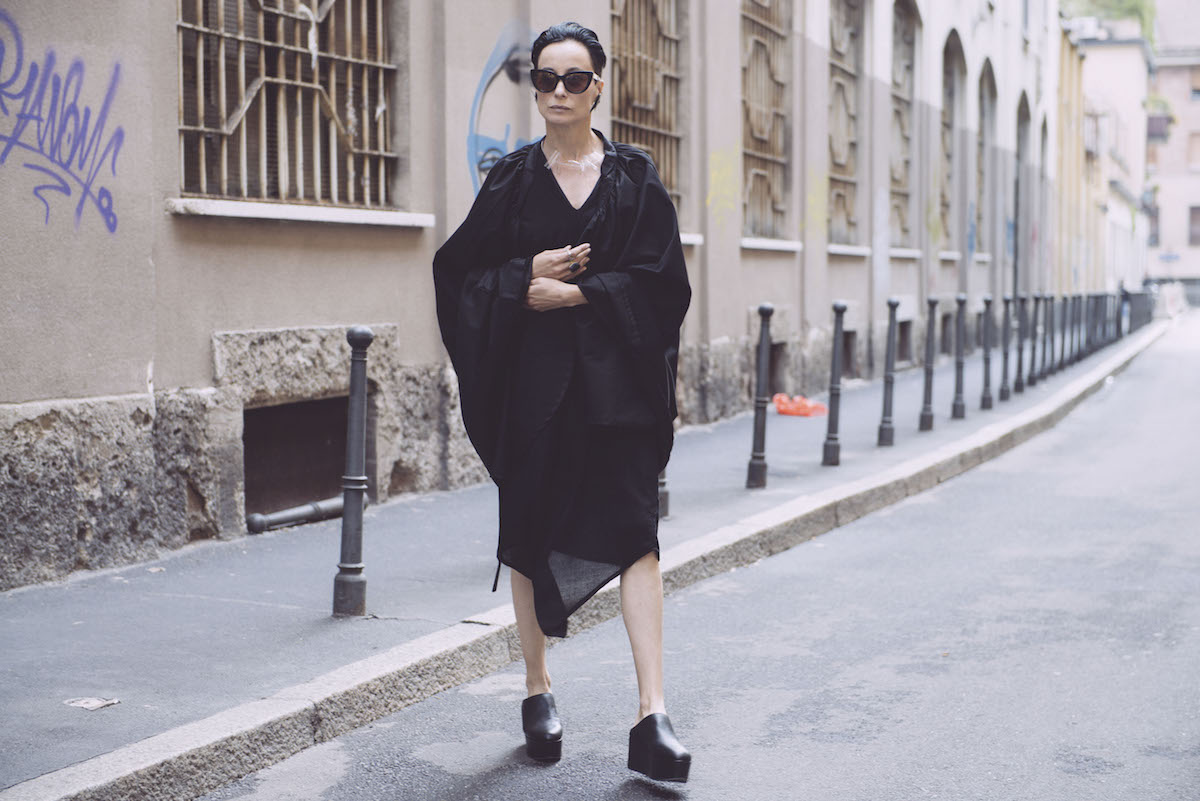 F: How do you see Greek fashion system is evolving? 
A: I believe that more and more people now feel freer to express their creativity. The Greek design scene is growing rapidly with amazing new talents emerging and small businesses working hard with morality and principles providing high quality products. Hopefully this design boom will soon be appreciated more widely here in Greece as well as internationally.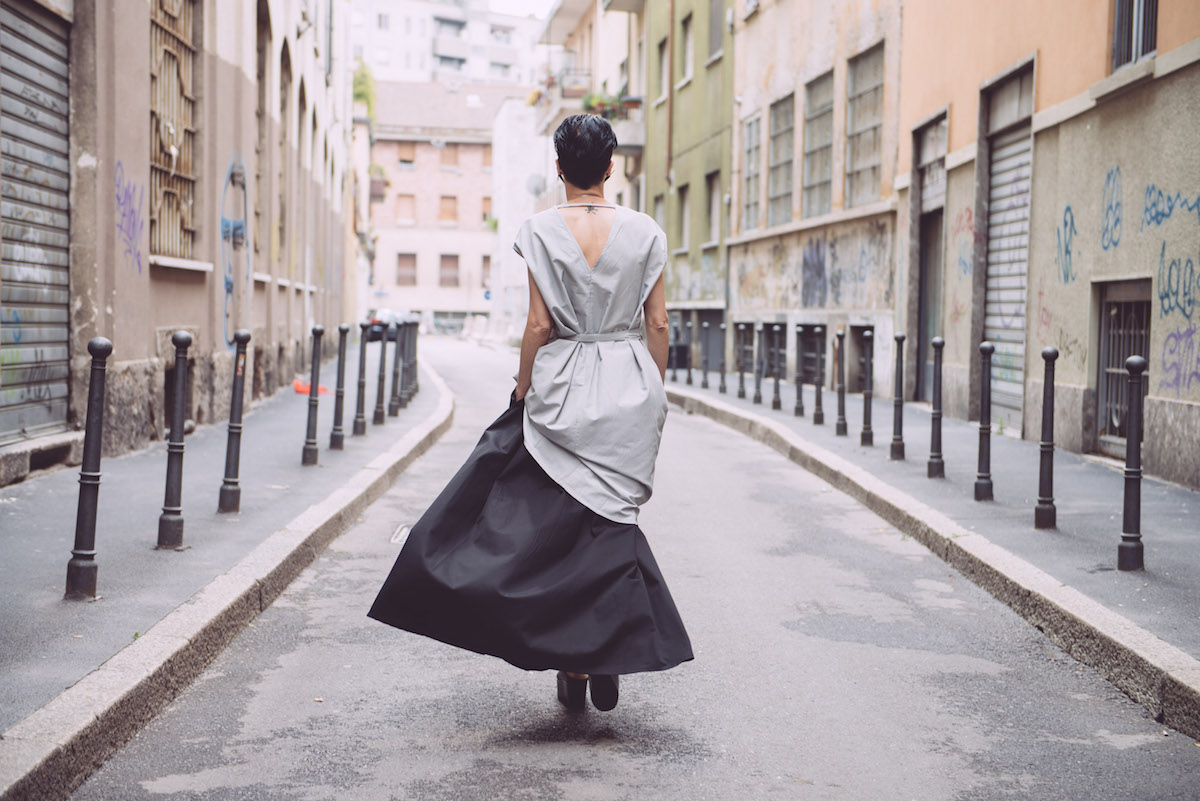 F: Your future goal and next projects?
A: My goal is to keep growing as a designer, connecting and collaborating with fellow creatives and expressing myself through my work. At the moment I am working on upcoming collections and a collaboration project that will be announced soon. Doing what I love is a gift and I want to work hard to make the best of it.