Una collezione contemporanea, funzionale e bilanciata che danza sempre in equilibrio tra la dimensione della forma e quella del contenuto. Semplice nei tagli, nelle linee che preferiscono andare dritte, accurata nell'attenzione che presta ai dettagli, ricercata nella scelta dei materiali che sempre assecondano criteri etici e sostenibili. Cotone naturale, lino, seta, tweed prediligono la tessitura a mano e la tintura naturale e si trasformano in abiti seguendo un tragitto che si snoda rigoroso lungo una filiera produttiva trasparente in cui etica ed estetica diventano elementi fondanti di una stessa visione creativa.
Nato circa un anno fa per mano del suo fondatore Nishanth Chopra, erede di una famiglia che da 60 anni in India è attiva nel settore tessile, il brand Oshadi combina la lunga tradizione dell'artigianato indiano con lo spirito del design moderno. E lavorando con le comunità del territorio ne incentiva l'occupazione, sviluppa la creatività locale, promuove l'uguaglianza di genere, riduce la povertà.
"Dopo aver concluso gli studi universitari ho lavorato per un breve periodo nell'azienda tessile di famiglia. Quell'esperienza è servita a farmi capire come l'automazione nel fare le cose, oltre a essere un procedimento noioso, è davvero qualcosa di scarso interesse per me. Inoltre mi ha reso consapevole del fatto che i lavoratori impiegati nelle fabbriche qui in India non sono soddisfatti né della loro vita professionale né di quella personale. Volevo cambiare questa situazione e così, unendo la fascinazione che la tradizione dell'artigianato ha sempre esercitato su di me al mio amore per la moda, ho avviato questo nuovo progetto. Insieme al designer Richard Malone con il quale fin dalla prima collezione ho condiviso il proposito di dare vita a un prodotto che rispondesse al tempo stesso a requisiti di modernità e sostenibilità."
Forte della sua storia millenaria e di un patrimonio tessile così ricco e così vario da mutare di regione in regione, l'industria della moda indiana sta pian piano evolvendo da uno stadio embrionale a una forma più definita e competitiva capace di affacciarsi al mercato globalizzato tenendo il passo con i competitor della scena attuale. Un grande potenziale non più e non solo al servizio del fast fashion o limitato alla realizzazione di lavorazioni quali i ricami per i grandi brand del lusso; un proprio carattere e una propria identità che vanno delineandosi stagione dopo stagione accorciando le distanze con il resto degli attori protagonisti del panorama della moda.
"Guardando indietro alla nostra industria manifatturiera è davvero sorprendente rendersi conto di come tutto, pur essendo fatto a mano e trattato in maniera naturale, fosse in passato sinonimo di bellezza. Recentemente ho scoperto una rara qualità di cotone la cui origine risale alla civiltà della Valle dell'Indo, siamo circa nel 3000 a.c., che ha una texture molto simile a quella del lino e necessita di pochissima acqua e solo fertilizzante organico per crescere. Ma per inseguire i ritmi incalzanti della produzione ricchezze come questa, parte del nostro patrimonio, stanno scomparendo. Con questo progetto voglio dare nuova enfasi alla tradizione artigiana dell'India, far rivivere materiali e tecniche antiche di lavorazione e dimostrare quanto possano essere funzionali alla realizzazione di un design bello e moderno."
Desidero ringraziare per la cortese intervista Nishanth Chopra co-founder di Oshadi – web site – Facebook – Instagram.
Abiti, Oshadi collezione pre-fall 2017
Foto, Syed Zubair
Modella, Kay Cordero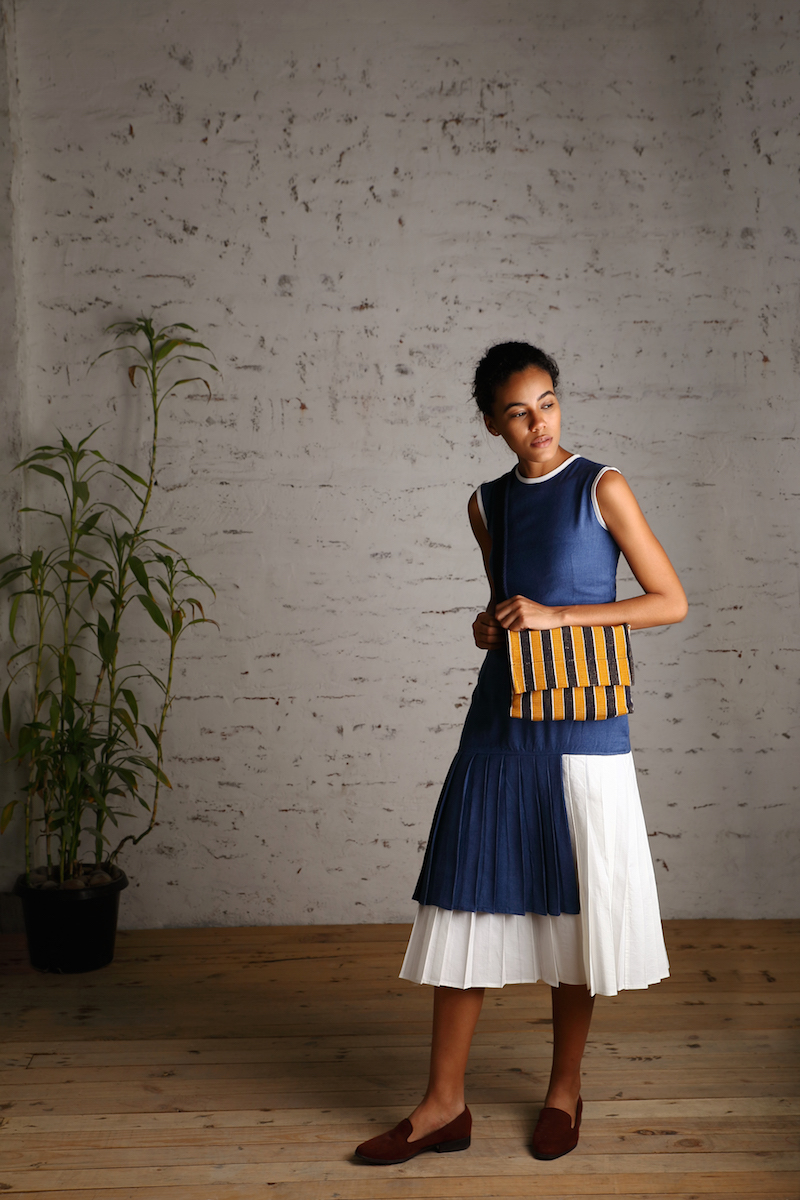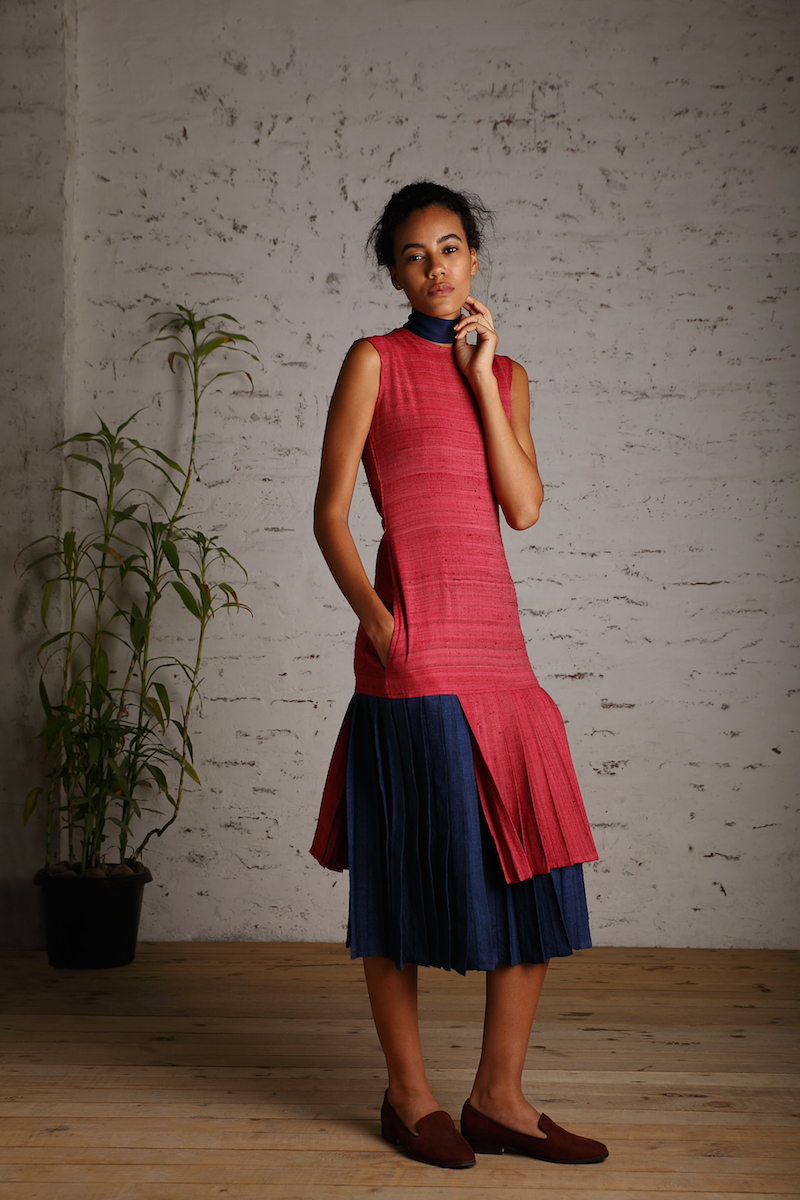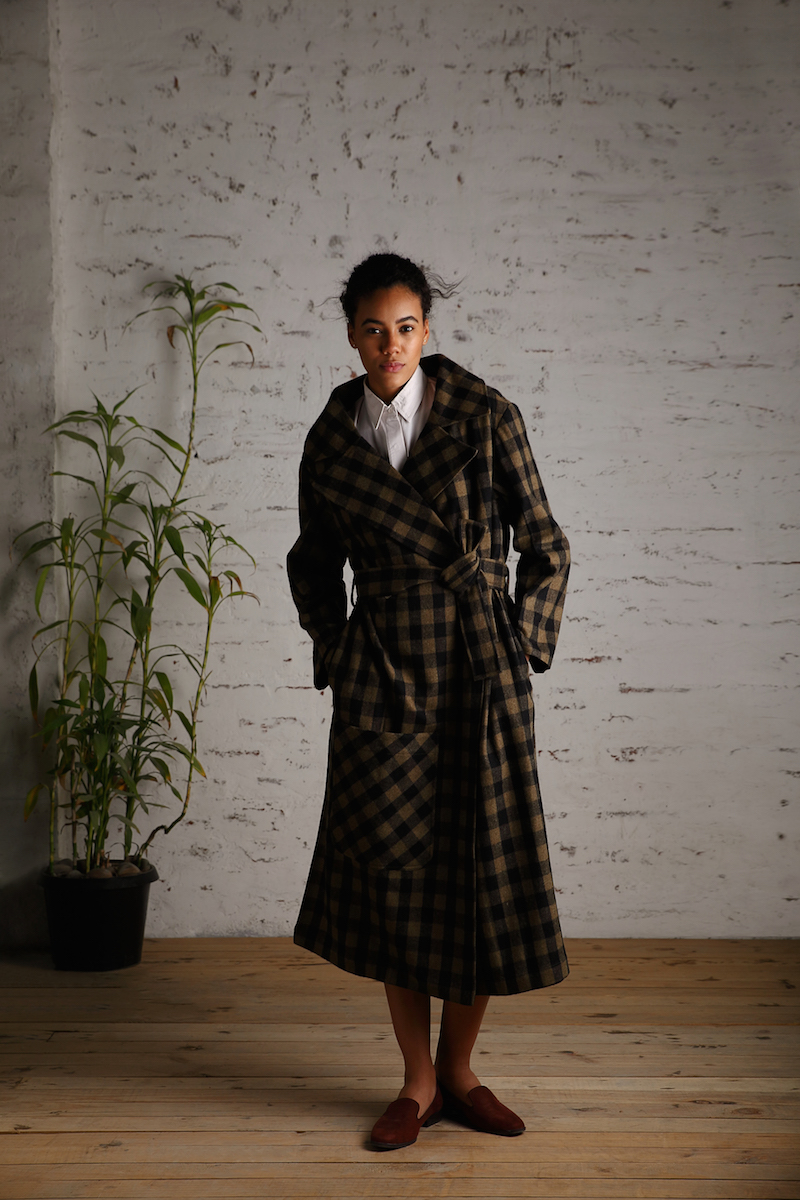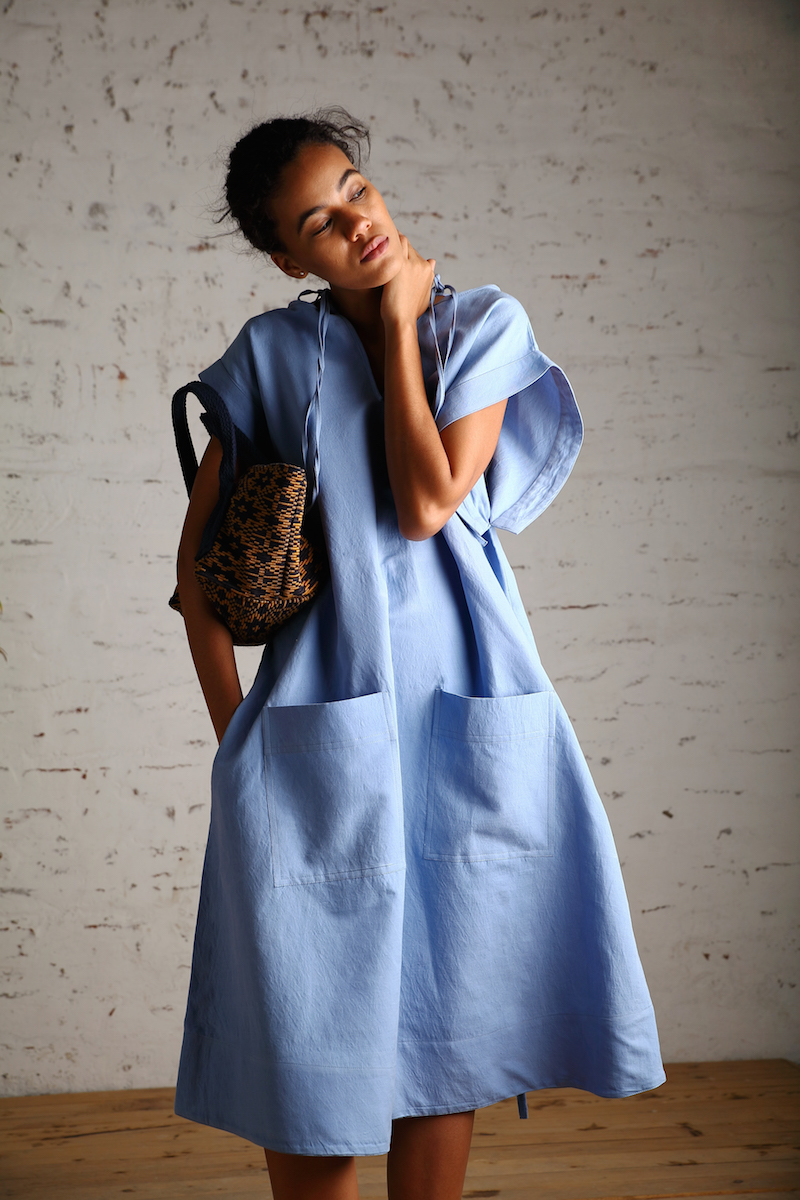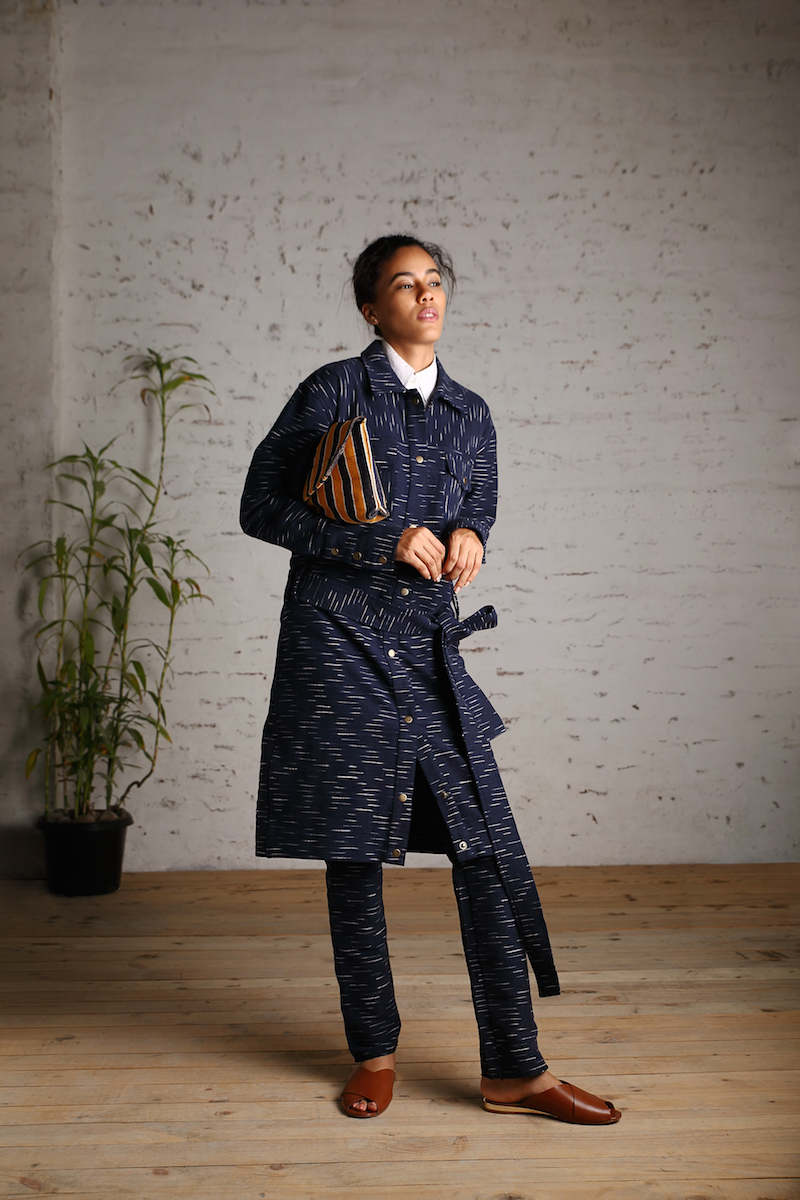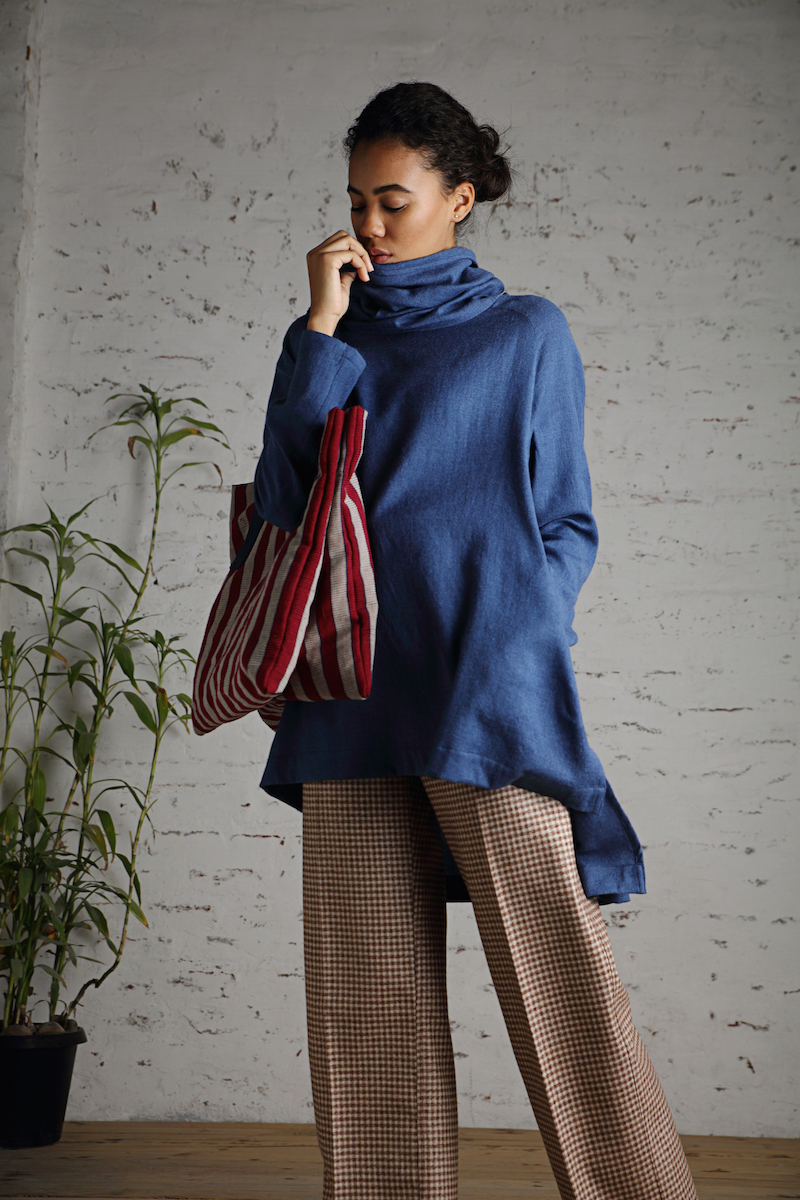 In conversation with Nishanth Chopra co-founder of Oshadi
D: When did you start thinking about the project? And who is the creative team behind it?
N: I was working at my family run textile business for a brief period after completing my undergraduate degree. It made me realize that the mechanized way of making things was not for me as it was really monotonous and the workers who work in factories here are not really satisfied with both their work life and personal life. I thought it's best to do something about it, and my fascination for traditional arts and crafts along with my love for contemporary fashion drove me to start this project. I collaborated with Richard Malone who shared a similar vision towards sustainable modern fashion and the brand was launched in March 2016. 
D: Ethics meet aesthetics and slow fashion tries to contrast fast fashion. How would you describe the outcome?
N: The outcome of that would surely be positive. It is just a matter of educating people on the consequences of their purchase or perhaps the history of  their purchase. 
D: When the traditional craft heritage of India meets the industry of fashion which is the aesthetic result?  
N: When I explore into traditional craft of India, it's so surprising to see how everything was organic and handmade back in the day but at the same time was beautiful and lasted for years. I recently discovered a rare species of local cotton, the origin of which dates back to Indus Valley civilization (3000 B.C.). This species of cotton requires very little water and just the organic manure to grow and it has a beautiful linen like texture. But chasing the excess, people often tend to drive some of these beautiful rare things to extinction. But with Oshadi, we hope to rediscover and revive the traditional craft heritage of India and adopt rare materials and techniques and show how they can be utilized to make really flattering and modern designs. 
D: How is the Indian fashion industry growing on the world stage? 
N: Not sure if many people realize it, but Indian textiles have always been on world fashion stage. Not only fast fashion brands, but embroideries and production for many luxury brands are done in India. But in terms of fashion, it requires a really modern edge and outlook to make it on the world stage. A lot of young designers are exploring into this. It will take sometime, but eventually happen. 
D: Focusing on the pre-fall/17 collection can you describe the shapes, the fabrics and the colors?
N: The collection is fresh, contemporary, modern and functional. Focusing on simple cuts and details and really enhancing the fabrics we have chosen. All our fabrics are ethically made with natural and cruelty free fibers. We have incorporated Peace silks, organic cotton, linen and lambswools- naturally dyed with local flowers like clitoria and palash, and handwoven tweeds into our collection.