Tutto permane e dura anche attraverso l'aria fredda e scura quando, fragile, passa una schiera di nubi. E ogni creazione è un aspetto della creazione stessa, al di fuori del tempo, un atto di ribellione che intende esplorare l'intensità di una percezione estetica radicata in valori solidi e concetti ben definiti.
"L'idea che ha dato il via al progetto Atelier Aura" dice il co-fondatore Alexander William "è nata molti anni fa quando lavoravo in uno studio di design e mi occupavo sia di architettura che di interior design. Di quell'esperienza mi sono rimaste dentro due nozioni fondamentali che mi hanno sempre molto affascinato: contemporaneo e a-temporale, entrambe insite nell'approccio lavorativo di quello studio. Successivamente ho iniziato io stesso a sperimentare disegni, tessuti e trattamenti diversi affacciandomi lentamente al mondo della moda svedese. Ho conosciuto un amico, diventato poi una sorta di mentore e ora collega e insieme abbiamo iniziato a sviluppare l'idea di un marchio tutto nostro che fosse contemporaneo ma anche timeless. E così è iniziata la nostra ricerca."
Un processo creativo che si basa sull'istinto, emotivo e di pancia. A volte caotico e in apparenza senza filo logico, altre volte molto strutturato e pedante. Eppure nell'uno e nell'altro caso valori che non tradiscono loro stessi.
"I trend non fanno per noi, quelli vanno e vengono. Certe stampe, forme e combinazioni di colori sono in voga per un certo periodo di tempo e magari fanno si che la gente si riempia gli armadi di abiti che in realtà non riesce a fare suoi, a interiorizzare."
E se qualcosa non è stato interiorizzato non può nemmeno essere esteriorizzato.
"Ecco perché ci guidano solamente la cura per il sartoriale, il fatto a mano e i colori naturali, perché crediamo questi possano essere gli unici oggetti del desiderio. La nostra ambizione è quella di creare collezioni prive di una specifica connotazione temporale, con materiali che possano essere utilizzati stagione dopo stagione proprio in opposizione al concetto a noi avverso di fast fashion."
La scelta dei tessuti occupa un ruolo centrale nel dispiegarsi del processo creativo. La collezione SS/17 ad esempio è stata realizzata utilizzando esclusivamente un lino naturale, un tessuto versatile e durevole che diventa ancora più resistente quando è bagnato, popolare in Scandinavia perché veniva indossato dalle popolazioni dei vichinghi e perché veniva utilizzato durante gli scavi nell'antica Mesopotamia.
"Proprio le testimonianze storiche circa la sua versatilità e resistenza ci hanno spinto a scegliere questo tessuto che per le sue caratteristiche è perfettamente aderente al nostro modo di concepire la moda. Estraneo ai dettami del tempo."
Il cielo è fermo mentre la luce si posa sui vestiti. Son venuti i venti e anche novembre è quasi passato. Arroccati nella lontananza silenziosa, che sembra lambita nemmeno dal respiro, solo abiti in forma di gusci di lino.
Desidero ringraziare per la cortese intervista Alexander William co-fondatore di Atelier Aura  – www.atelieraura.com – Facebook – Instagram.
Foto, Julia Heuse
Modello,  Senay Gueler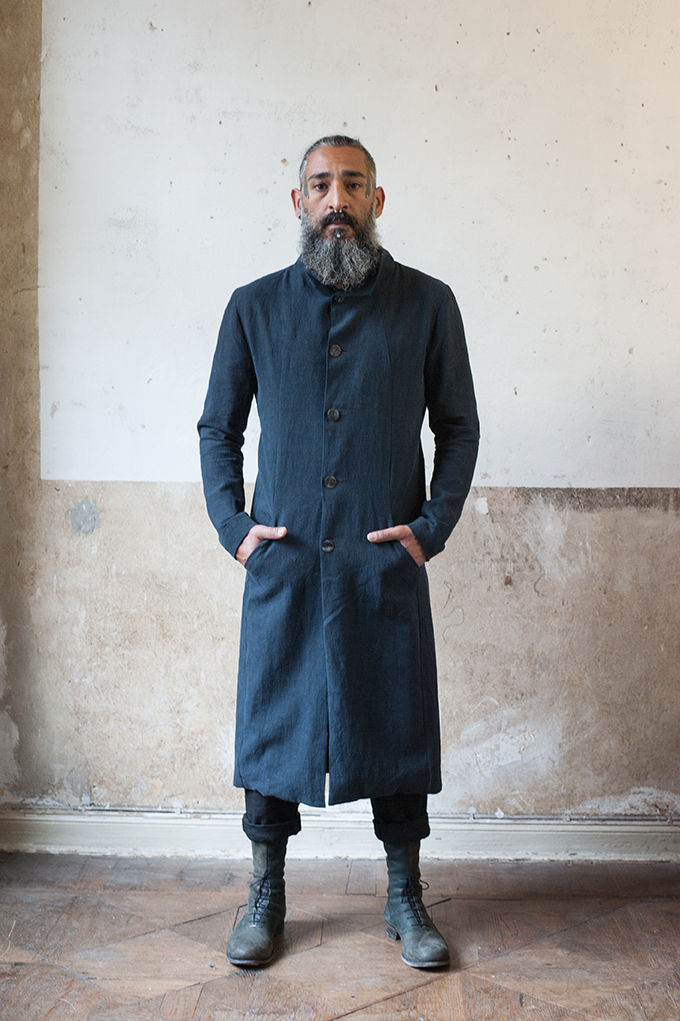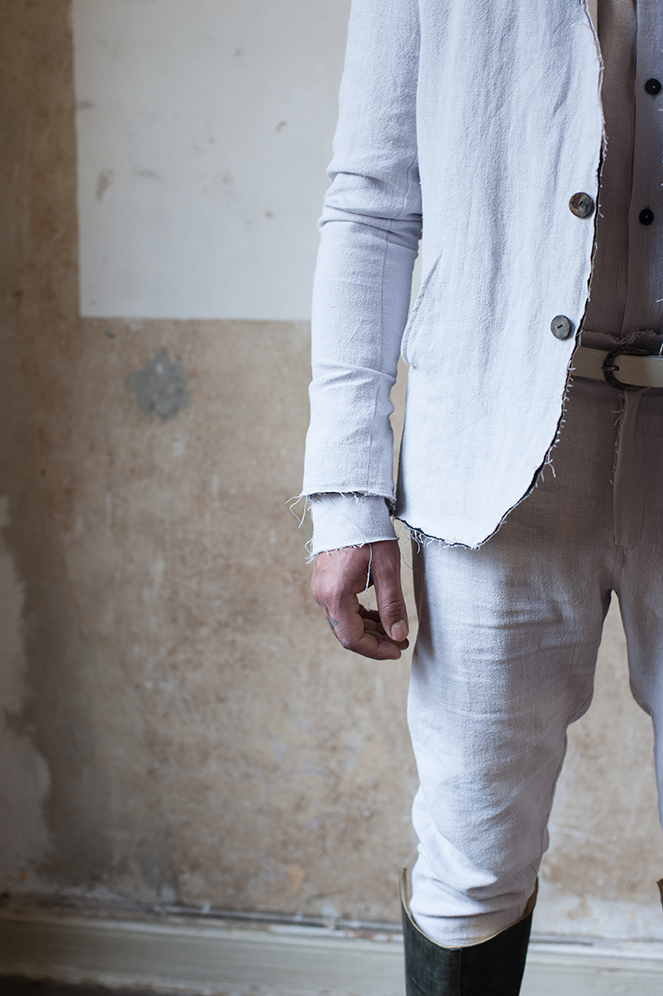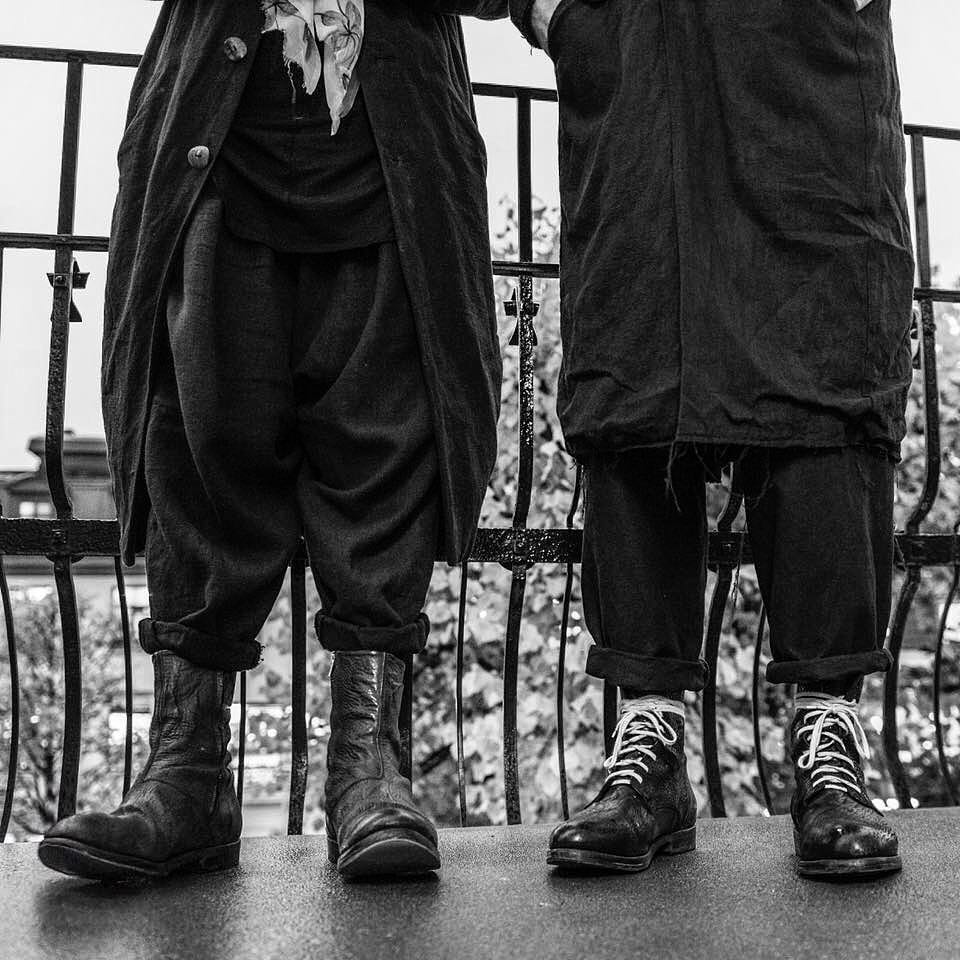 In conversation with Alexander William, co-founder of Atelier Aura
D: Can you quickly tell me how everything started and which is the idea behind the label Atelier Aura?
A: The idea behind the label started growing many, many years ago when I was an intern at a Swedish design studio. They had a very interesting approach to their designs who were mainly focused on interior and architecture. While their designs had a very contemporary touch, they were still in my opinion completely timeless; a concept I've since found very fascinating. After my internship there I started experimenting with designs, fabrics and treatments while working odd jobs in the Scandinavian fashion industry and through one of these jobs I made a very dear friend who I consider my mentor and colleague today. Together we started developing the idea behind our own label. It was to be contemporary, yet timeless; thus our research and hard work started.
D: How would you describe your creative process?
A: Our creative process is hard to describe as it is not a straight line from start to finish or just a checklist where we can tick all the boxes and eventually we have a collection. Sometimes it's chaotic and illogical, sometimes it's very structured and pedantic. Our core values, however, are always the same. 
D: What is fashion to you? What does your aesthetic research aim to achieve?
A: We avoid trends. They come and go. Certain prints, fits and color combinations will be popular for a certain amount of time and eventually they'll be rendered useless, bunched up in somebodys wardrobe. What's never been in, however, can never be out. Therefore it is our belief that a flattering, tailored fit, natural colors and genuine craftsmanship will always be desirable. Our ambition is to create timeless collections so that the garments can be used season after season as we strongly dislike idea of fast fashion.
D: I Know the fabric is one of the most important parts of your creative process. Can you tell something about the one you've choosen for the SS/17 Collection?
A: Our core values come through clearly in the choice of fabrics. The SS/17 collection is made by using mainly organic linen, the reason being (apart from it being an absolutely gorgeous fabric) how versatile and durable it is. It's a fabric that's stronger when wet than dry, making it a popular choice for our Scandinavian ancestors, the vikings. It's also highly conductive, which is why linen clothing is a common find during excavation in ancient Mesopotamia. Having so much historical evidence of versatility and durability goes hand in hand with our timeless approach to fashion.