Nasce lo scorso anno, nel contesto culturale di Atene, il nuovo brand 2WO + 1NE = 2 grazie a un team creativo composto di due donne, Stella Panagopoulou e Valisia Gotsi, che decidono di virare verso il mondo della moda dopo aver intrapreso e poi abbandonato gli studi universitari.
Un progetto che affonda le proprie radici nel concetto di nomadismo, in uno stile di vita non convenzionale e bohémien che implica frequenti spostamenti e che induce, per la realizzazione di ogni collezione, a eleggere a fonte di ispirazione una specifica città del mondo. La sua scena artistica, la sua architettura, ma anche il cinema, la musica, gli abitanti, tutto insomma concorre e partecipa alla realizzazione del vestire.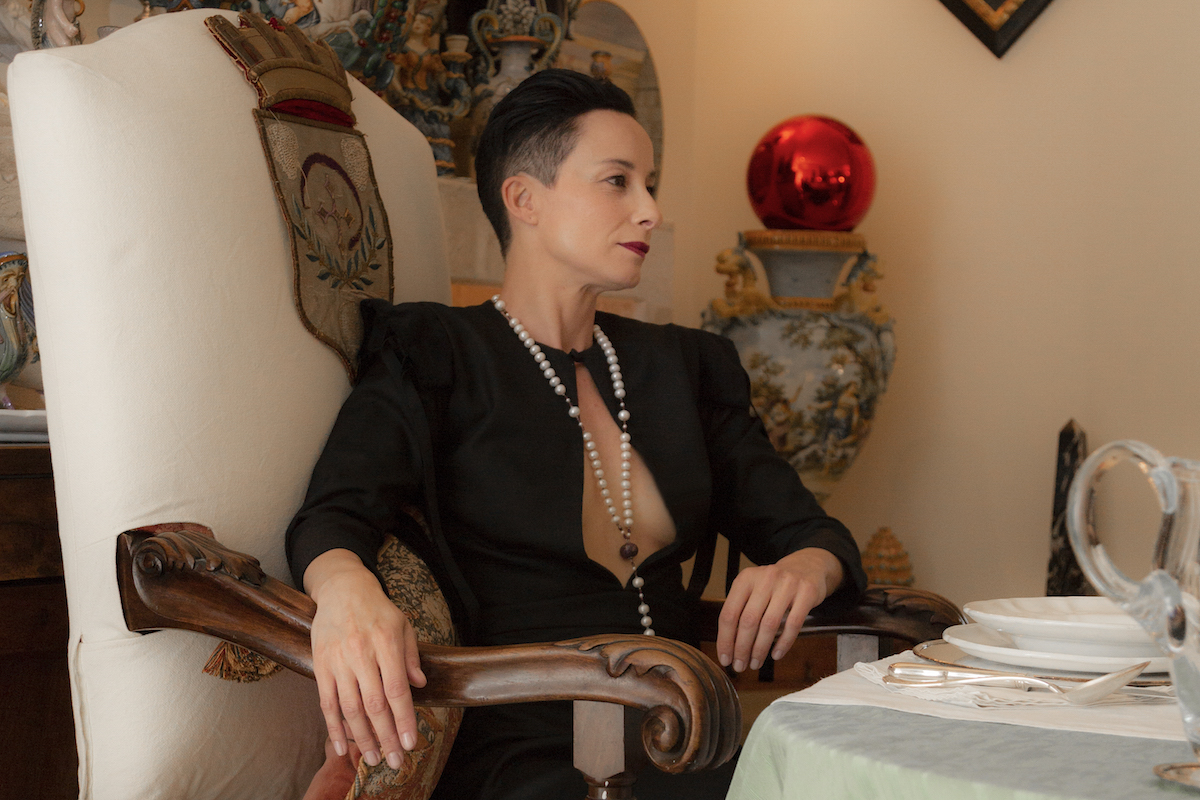 Una tensione creativa che ambisce a spingersi oltre stereotipi e convenzioni e che, pur mantenendo intatti una certa allure tipica della moda e un desiderio costante di ricerca e sperimentazione, privilegia strutture multidimensionali capaci di esprimersi oltre la loro semplice funzione d'uso.
Avendo in animo di esplorare, anche dal punto di vista estetico, le varie sfaccettature del concetto di nomadismo, ho contestualizzato i capi più rappresentativi della nuova collezione dentro un ambiente sofisticato e ridondante, l'abitazione del noto baritono italiano Armando Ariostini. Combinando insieme un design pulito con un'atmosfera a tratti barocca mi sono concessa la libertà di interpretare alla mia maniera lo spirito del brand.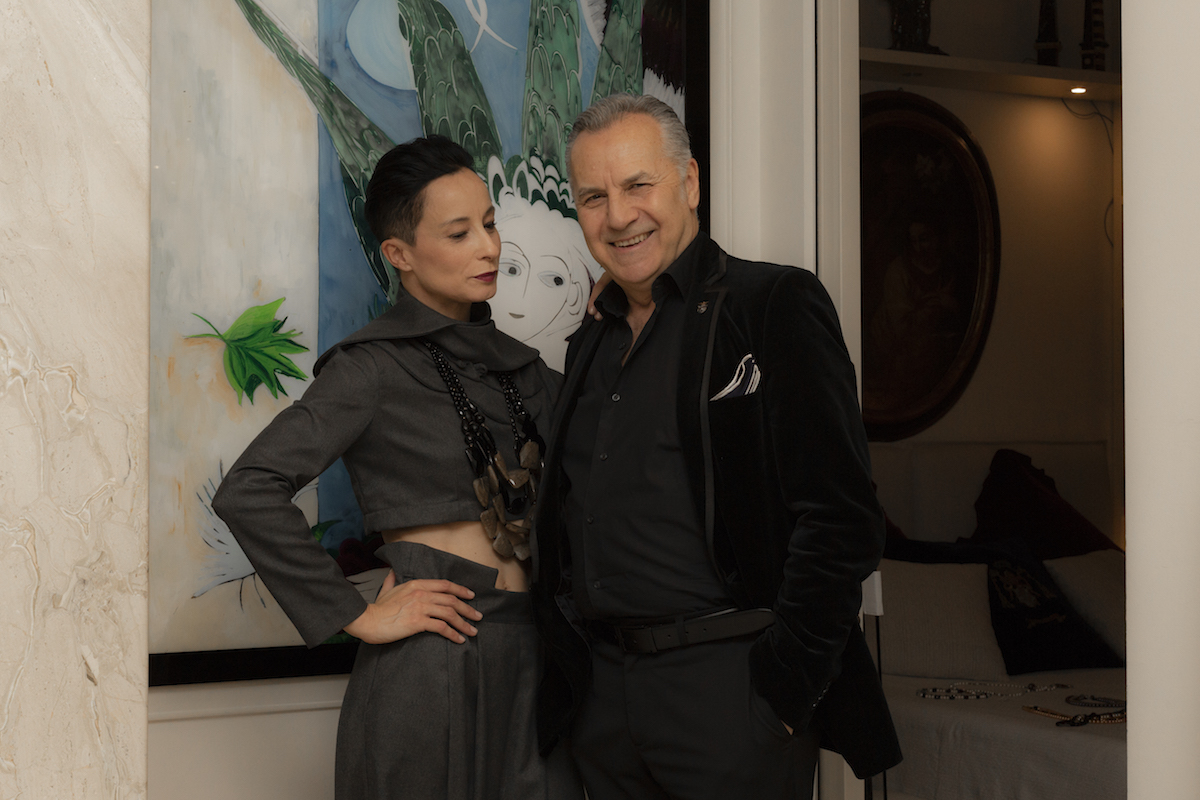 Quando avete deciso di fondare il vostro brand e da dove nasce questo nome 2WO + 1NE = 2?
Abbiamo deciso di dare vita al nostro brand già quando frequentavamo la scuola di moda, praticamente appena ci siamo conosciute. Anche se prima, per acquisire l'esperienza necessaria, abbiamo collaborato con altri designers. Il nome è in realtà una formula matematica: 2 + 1 = 2. Ma al di là dell'evidenza l'abbiamo scelto per il suo significato più profondo. Pierre Albert – Birot aveva pubblicato nella rivista d'arte avant-garde SIC, nota per gli scritti dei Futuristi, Surrealisti e Dadaisti, uno studio in merito all'influenza del Surrealismo nel cinema e il titolo di quell'articolo era proprio 2 + 1 = 2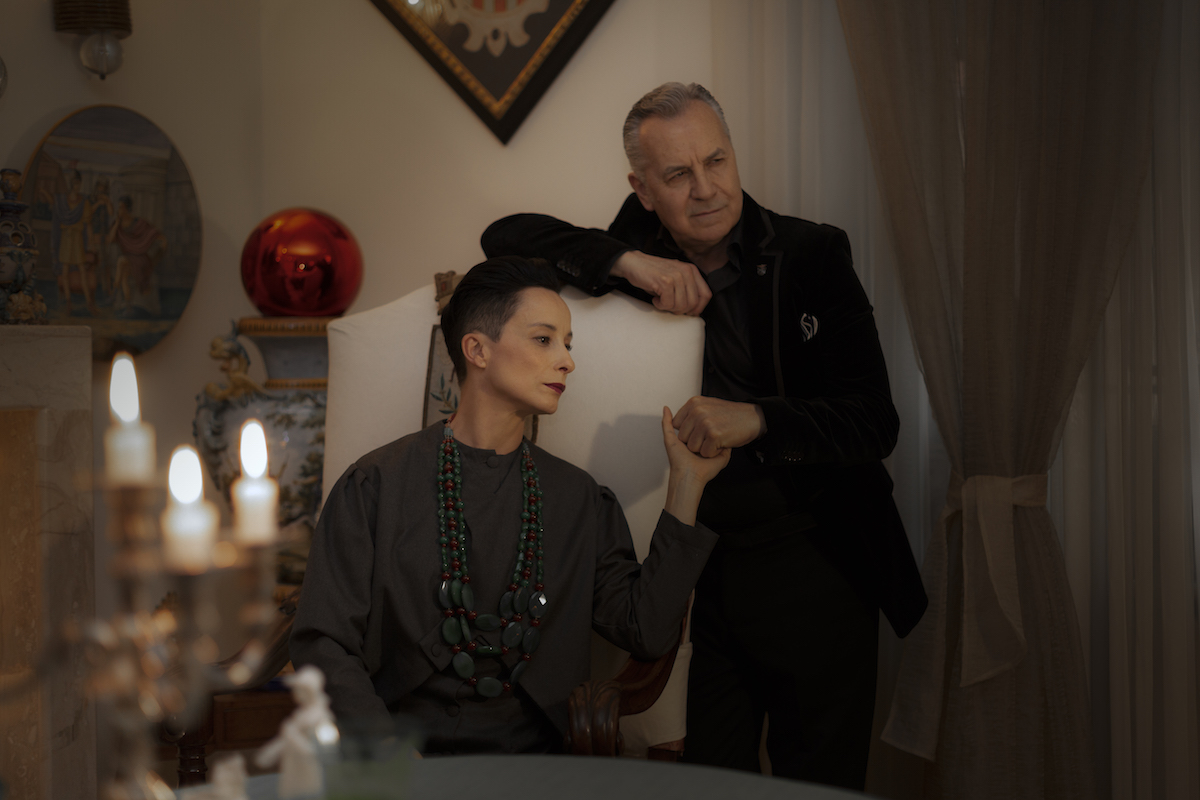 Come descrivereste il vostro approccio alla moda?
Non abbiamo mai approcciato in maniera tradizionale la moda. Mai nemmeno seguiti i trend. Ci limitiamo a creare a seconda della visione che abbiamo nella mente. E' così che nascono le nostre collezioni e la stessa palette colori è il risultato della città dalla quale prendiamo ispirazione. Inoltre, cerchiamo il più possibile di rispettare la questione della sostenibilità ambientale. Questo significa che produciamo localmente, che facciamo grande attenzione al processo di produzione e alla scelta dei tessuti così da rendere gli abiti durevoli nel tempo.
Dove trovate l'ispirazione per creare i vostri abiti?
Lo stimolo principale deriva dal concetto di nomadismo, che è un po' la filosofia che giuda il brand. Ogni collezione guarda a una diversa città del mondo e dalla sua scena artistica, al cinema, alla musica, all'architettura fino alle persone che la abitano, tutto diventa fonte di ispirazione.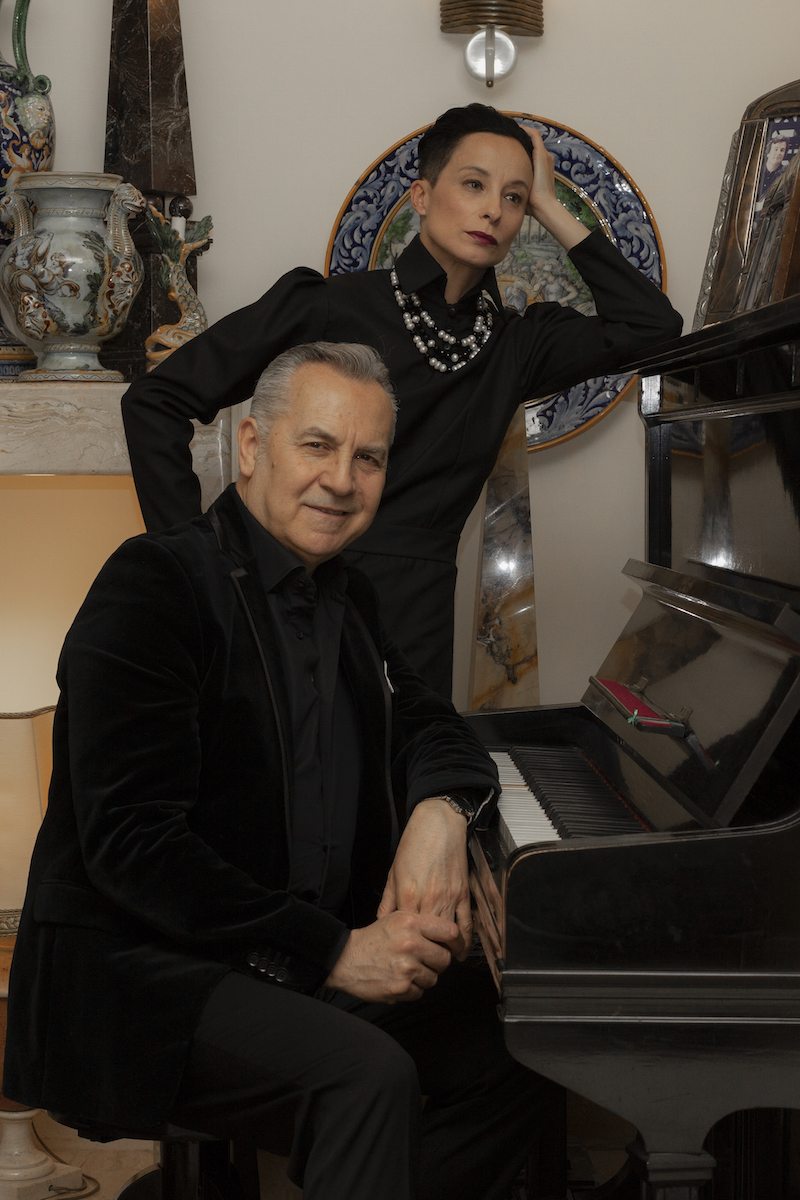 Quali sono le persone che vi hanno influenzato di più come designers?
Siamo state molto influenzate da movimenti quali il Surrealismo, Espressionismo, Dadaismo, Bauhaus, Decostruzionismo. E poi da tutte quelle persone che sono state visionarie nel loro ambito, per esempio Alfred Hitchcock, Alain Resnais, Michelangelo Antonioni, Werner Herzog, Věra Chytilová solo per fare alcuni nomi del mondo del cinema. Per quanto riguarda la musica Serge Gainsbourg, David Sylvian, i Legendary Pink Dots, Iannis Xenakis, Nico. E poi, Le Corbusier, Yuriy Norshteyn, Louis Aragon, Julio Cortazar, Gustave Doré, Max Ernst. Insomma, la lista potrebbe essere infinita!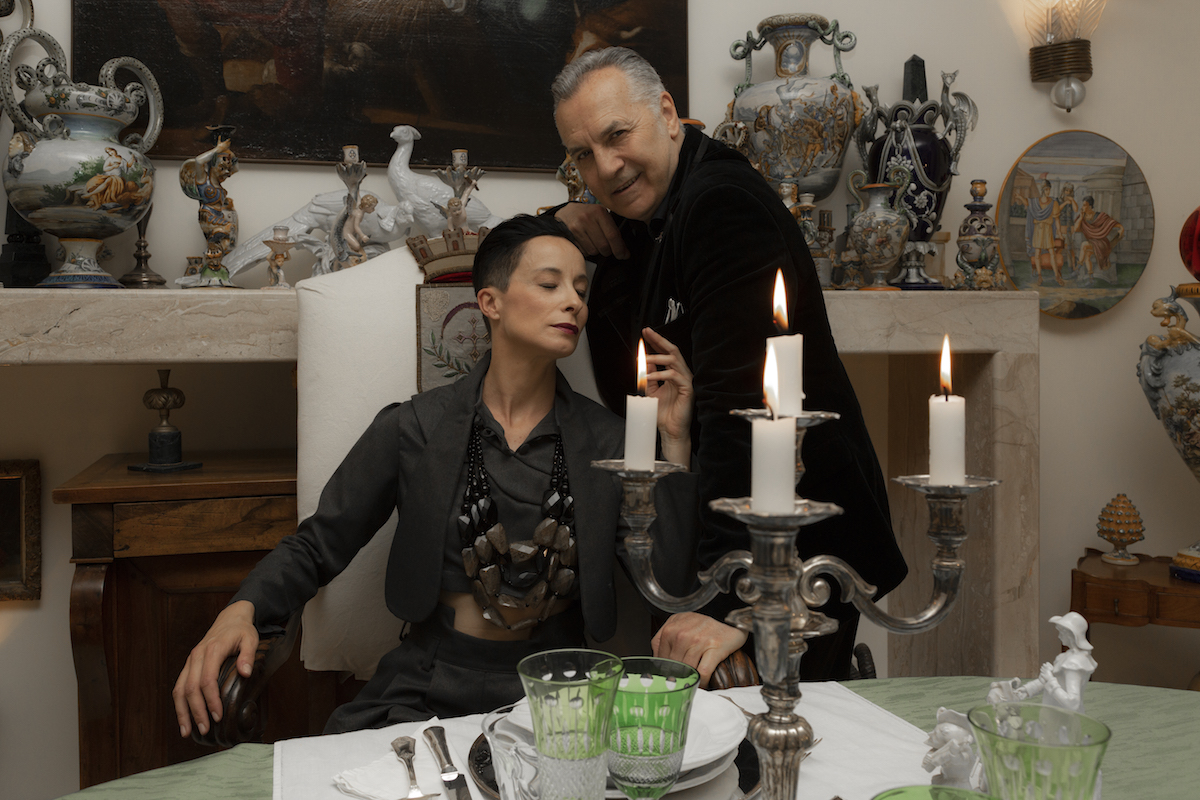 Qual è la donna che indossa le vostre creazioni?
La nostra eterna musa è una donna irrequieta il cui scopo della vita è viaggiare in tutto il mondo. Una donna in cerca di avventure, di stimoli e di ispirazione che trae da ogni angolo del mondo. Il termine Gypsetter è quello che meglio la definisce.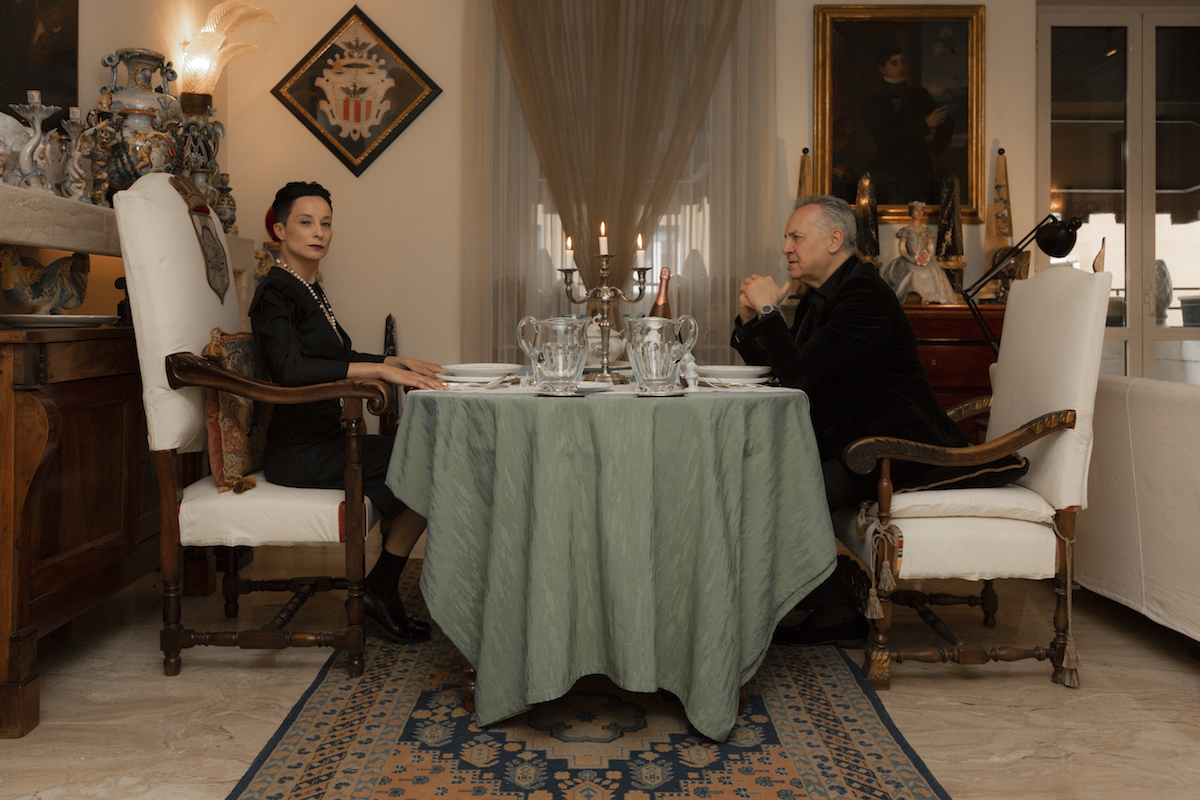 Volendo descrivere il vostro lavoro potrei usare i termini: concettuale, sofisticato, austero ma allo stesso tempo facilmente indossabile. Dovendo scegliere una definizione, quale sarebbe?
Certamente concettuale perché è quello lo spirito del brand. Ma un altro termine ancora potrebbe essere "su misura" dato che prestiamo massima attenzione ai dettagli e all'intera costruzione di ogni capo.
Quale l'idea alla base della vostra ultima collezione A/I 2018-19 intitolata Los Angeles?
Siamo tornati indietro nel tempo, alla Los Angeles degli anni '40, creando una collezione incentrata sul tema dell'oscurità, che si esprime attraverso una gamma di colori tra il nero e il grigio, totalmente influenzata dalle ombre, dall'inchiostro nero e dalla filosofia esistenzialista alla base della cinematografia noir. La collezione Los Angeles esplora un mondo sotterraneo e notturno. Ogni capo è ispirato e prende il proprio nome da una eroina dei film noir generando un sentimento di ambiguità morale, un atteggiamento fatalistico, di alienazione dalla società che era tipico delle protagoniste di quei film.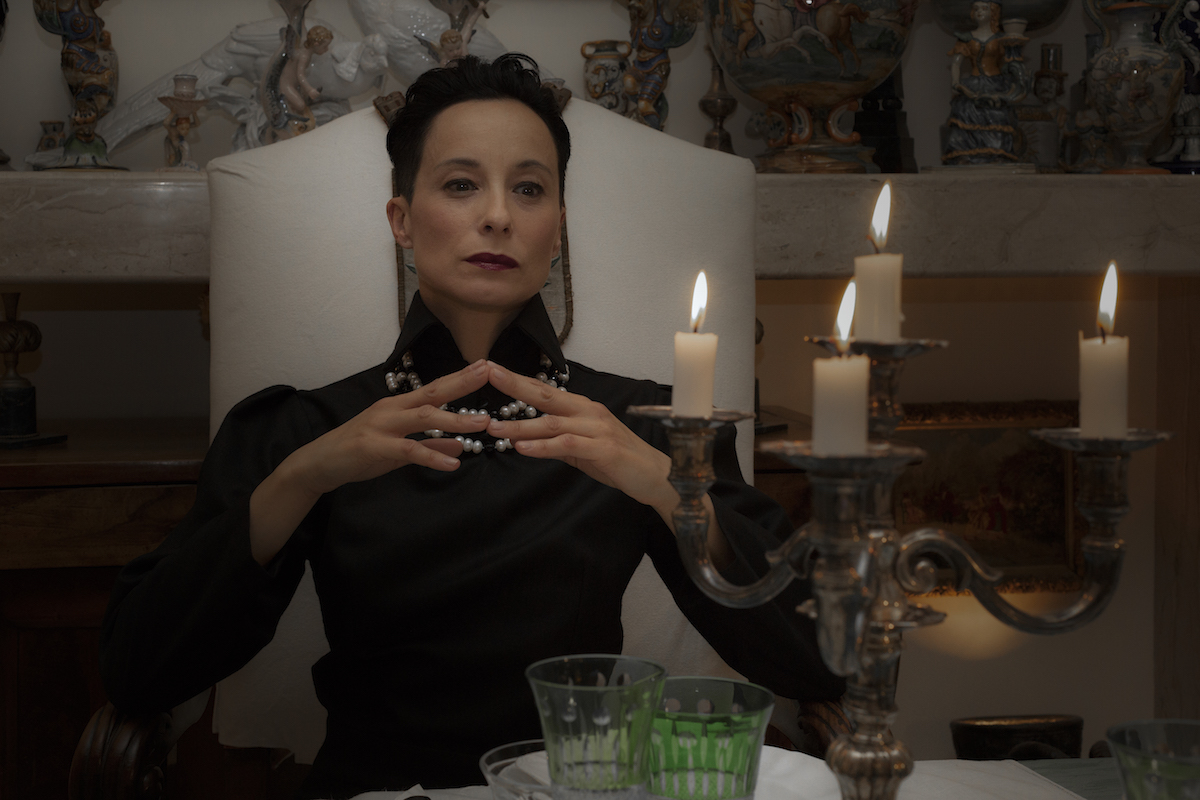 Progetti per il futuro?
Il prossimo 20 giugno parteciperemo all' Helsinki Fashion Week, il primo evento di moda sostenibile al 100%  e presenteremo in quella occasione la nuova collezione P/E '19 intitolata "Roussillon" e ispirata alle atmosfere del sud della Francia.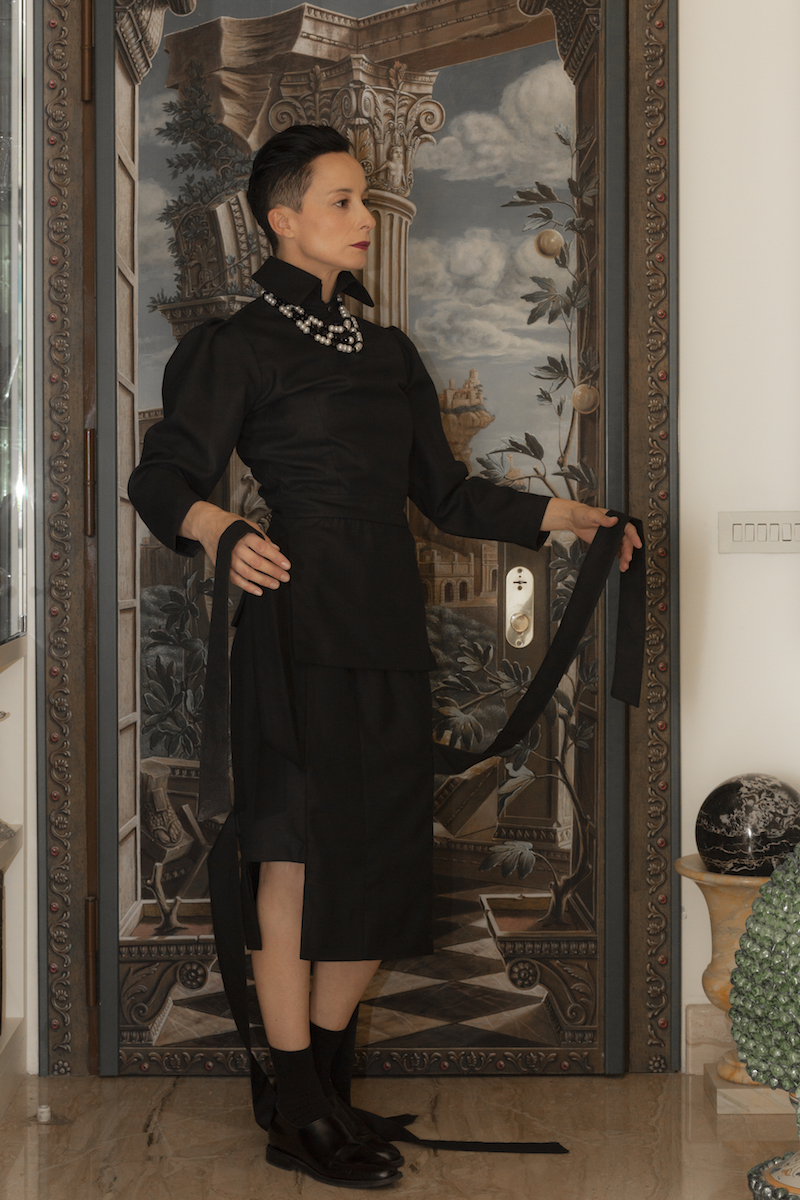 Clothes, 2WO + 1NE = 2 collezione A/I 2018-19 – Facebook – Instagram
Performer, Jewels & Location Armando Ariostini
Hair, Bartek Barabasz
Photos, Nicoletta Subitoni
2WO + 1NE = 2, THE GYPSETTER (English text)
Based in Athens, the clothing brand 2WO + 1NE=2 was founded in 2017 by the creative duo Stella Panagopoulou and Valisia Gotsi. After starting their academic studies, and feeling dissatisfied with their choice, they opted for Fashion School and decided to launch their own design project mainly based on the concept of nomadism. As a result, each collection is inspired by a different city, chosen across the globe, drawing elements from its art scene, architecture, cinema, music and people as well. The brand strives for a perpetual battle with conservatism and conventionality, envisaging clothes not as strictly functional everyday items but as multidimensional structures, maintaining at the same time fashion's allure and scrutinizing urge.
With the aim of exploring all the aesthetic facets of nomadism, I literally transported the most iconic pieces of the new collection into a sophisticated, redundant place involving the very famous Italian baritone Mr. Armando Ariostini. By mixing pure design and a baroque atmosphere I allowed myself to freely interpret the brand's essence.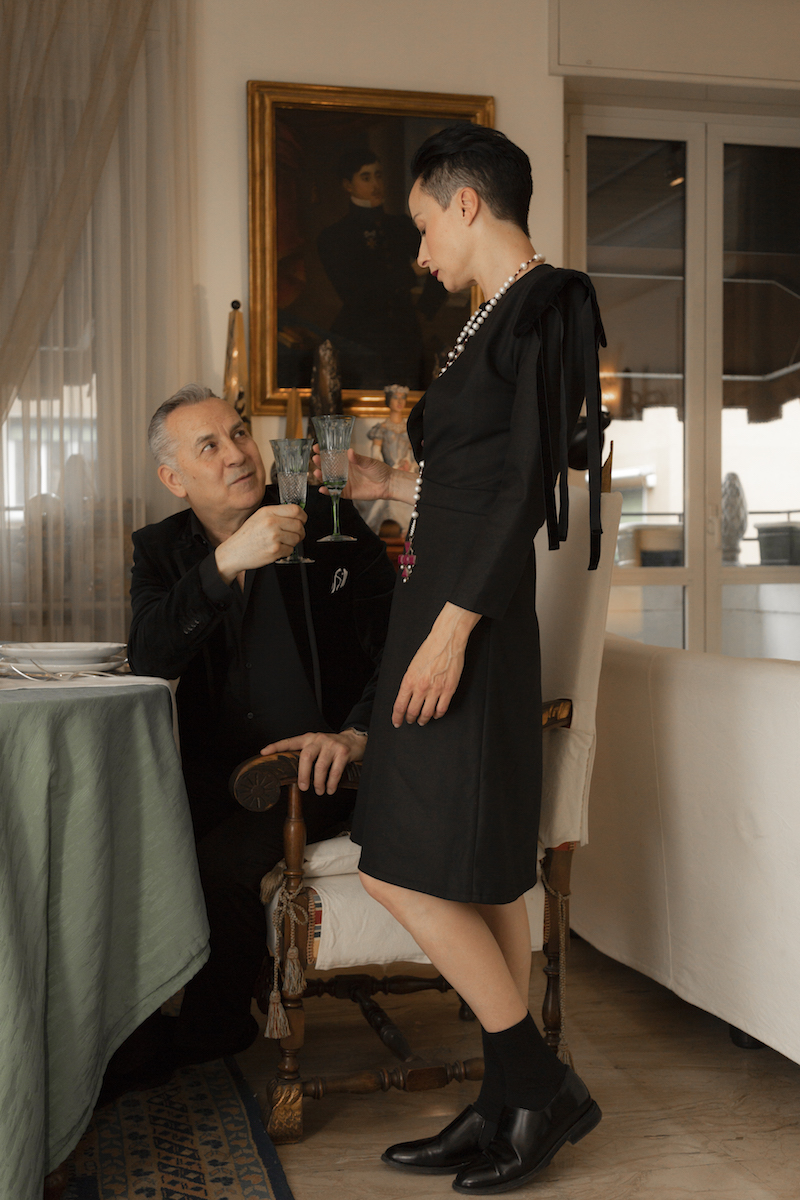 When did you decide to establish your brand? And what about the name 2WO + 1NE = 2?
We decided to start our own brand since we met at Fashion School. But first, we wanted to work for other designers so as to gain the necessary experience.
The name is actually a mathematical equation: 2+1=2. However, we chose this particular one as it is more than that. Pierre Albert-Birot published in the avant-garde art magazine SIC (which featured writings by Futurists, Surrealists, and Dadaists) a study concerning Surrealism in Cinema and the title of the article was "2+1=2″.
How would you describe your approach to fashion?
We never approached fashion in a "traditional" way. We never follow trends, we just create according to the vision we have about each collection and the color palette is the outcome of the city we take inspiration from. Furthermore, we try as much as we can to be sustainable and environmentally conscious. That means we produce locally, we pay great attention to the sewing process and fabrics so that the clothes will be durable and classic in time.
Where do you draw inspiration from to create your clothes?
We seek inspiration in Nomadism, as it's the main philosophy of our brand. Every collection is inspired by a different city around the globe. Therefore, we find inspiration in every aspect of each city, but mainly from its art scene, cinema movements, music, architecture and of course the people who inhabit it.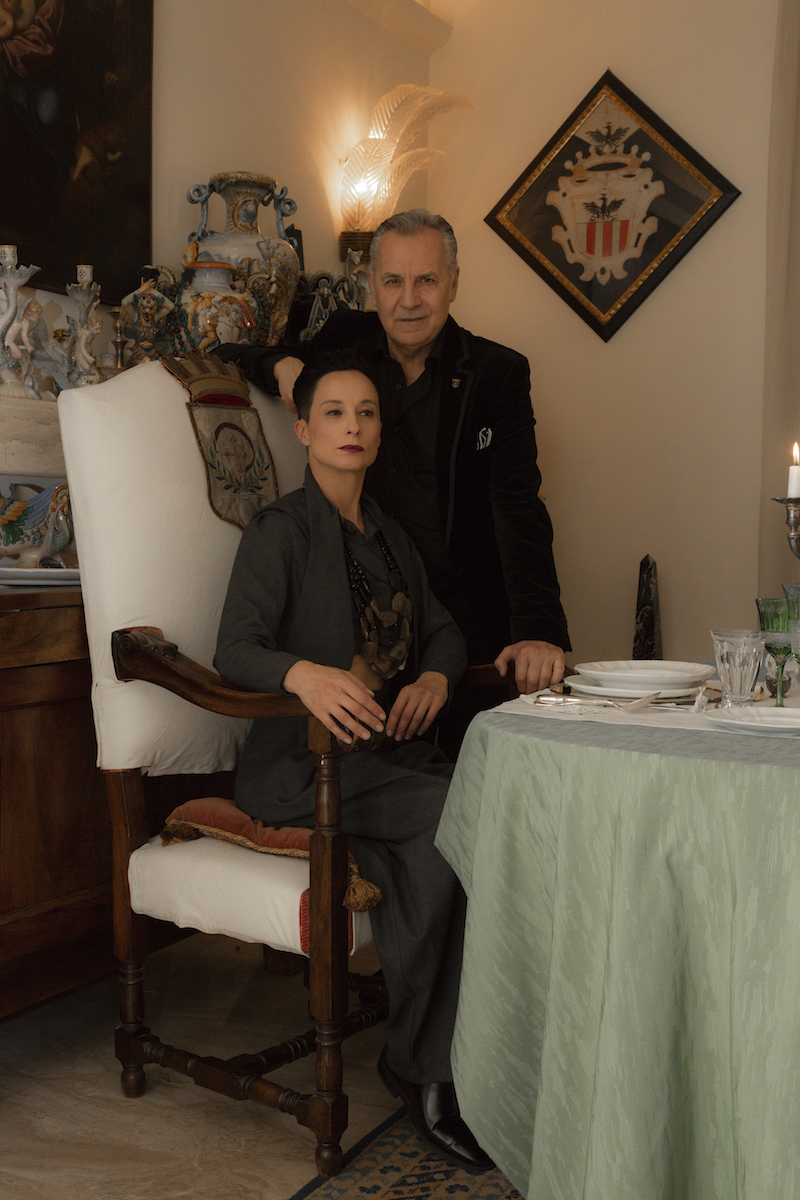 Who are the people who have influenced you the most, as fashion designers?
We are influenced a lot by art movements such as Surrealism, Expressionism, Dadaism, Bauhaus, Deconstructivism. Moreover, by people who were visionaries in their own fields, such as Alfred Hitchcock, Alain Resnais, Michelangelo Antonioni, Werner Herzog, Věra Chytilová to name just a few from the film industry. From the music industry Serge Gainsbourg, David Sylvian, the Legendary Pink Dots, Iannis Xenakis, Nico. Also, Le Corbusier, Yuriy Norshteyn, Louis Aragon, Julio Cortazar, Gustave Doré, Max Ernst. The list is really endless!
Who is the woman you design for?
Our eternal muse is the woman that is restless and her life purpose is to travel all over the world. A woman who is seeking adventure, excitement and perpetual inspiration from every corner of the world. The term Gypsetter really suits the lifestyle of our muse.
I might describe your work as conceptual, sophisticated, austere yet wearable at the same time. If you could pick one definition, what would it be?
We would describe it as conceptual since this is the essence of our brand. But also, another term to describe our brand is "tailored" since we pay massive attention to details and the whole construction of each garment.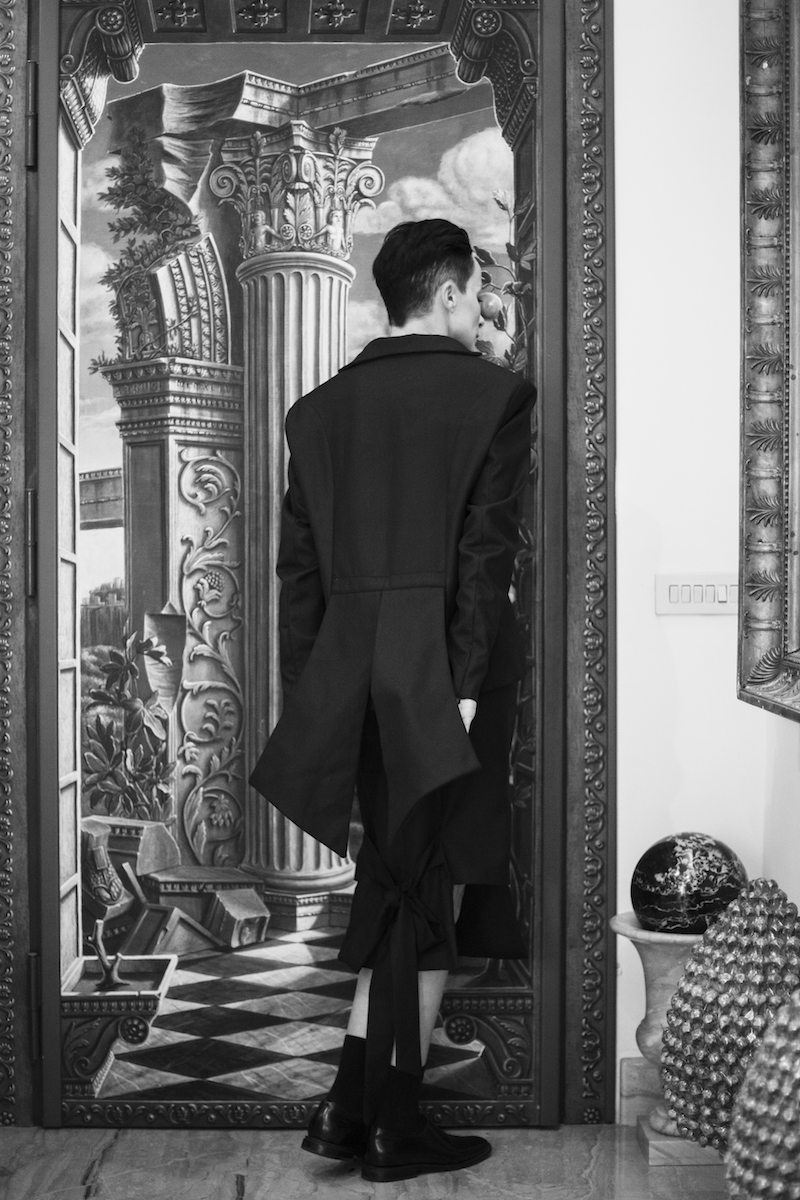 What was the concept behind your last FW/18-19 collection called "Los Angeles"?
We went back to the 40s in Los Angeles, creating a collection that reinforces the darkness through a black and grey color palette totally influenced by the long, sharp shadows, the inky blackness and the underlying existentialist philosophy of film noir. The Los Angeles collection explores a nocturnal underworld. Each garment is inspired and named after a film noir female hero, aiming to set this feel of moral ambiguity, fatalistic outlook, and alienation from society, that heroes were characterized by.
Any projects for the future?
On the 20th of July we will participate in the Helsinki Fashion Week, the first 100% Sustainable Fashion event, and on that occasion we will show our upcoming S/S '19 Collection named "Roussillon" and inspired by the South of France.