L'ultima edizione di Pitti Uomo mi ha dato ancora una volta modo di interessarmi al progetto "5 CURATORS / ONE SPACE", la vetrina presentata da T-Michael – il designer noto per l'innovazione nelle sue creazioni sartoriali – che ambisce a mettere in evidenza il carattere contemporaneo della moda maschile.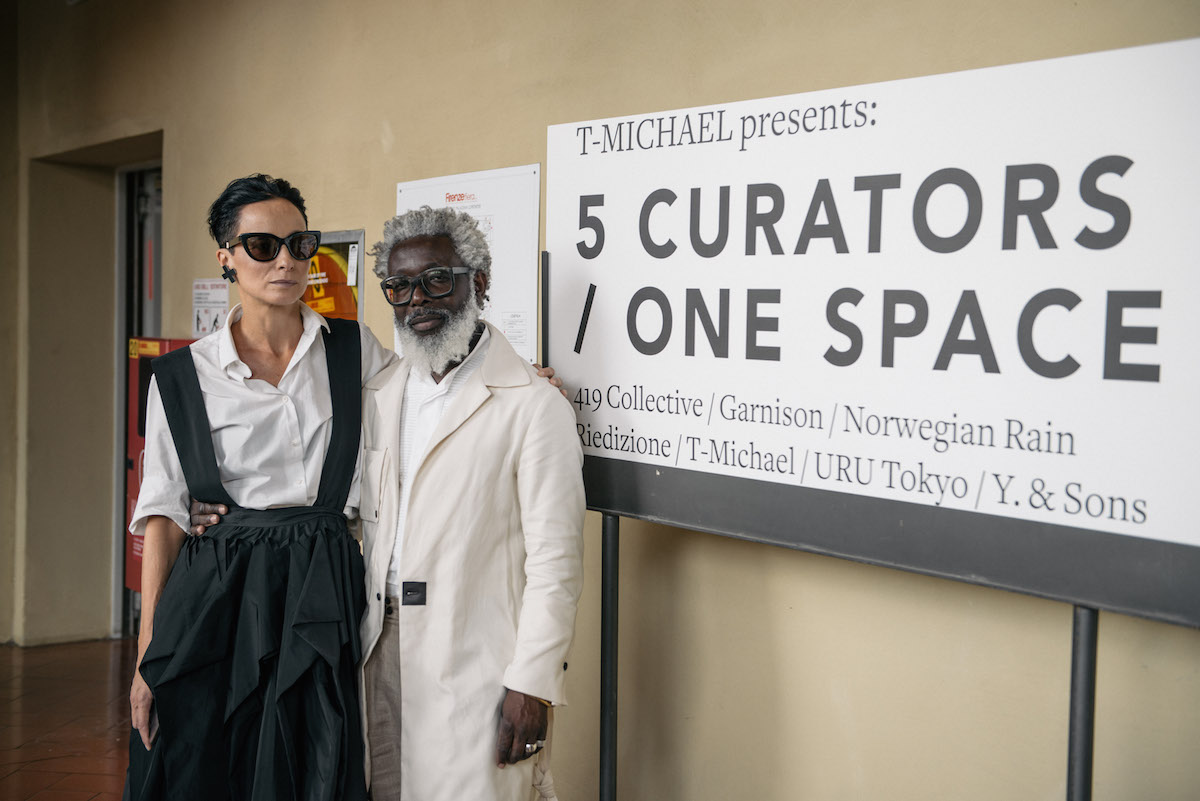 Ho avuto in questa occasione il piacere di confrontarmi con il talentoso designer Luka Maurer, fondatore di Garnison, uno dei brand coinvolti in questo speciale progetto e curato dal fashion insider Gerold Brenner.
Nato 32 anni fa in un piccolo paesino della Svizzera, dopo aver terminato gli studi di fashion design presso l'HEAD-Genève, Luka decide di trascorrere un periodo a Londra, a Savile Row, per imparare le tecniche della sartoria e di trasferirsi poi a Berlino, la capitale tedesca considerata grande fonte di ispirazione per la moda, la cultura e la vita sociale. Quando ritorna in Svizzera lancia il proprio marchio di abbigliamento maschile: una mescolanza di pezzi classici del guardaroba che ha per obiettivo la loro innovazione e trasformazione. L'uso combinato di tagli sperimentali e materiali raffinati crea elementi capaci di collegare le emozioni del fare sartoriale con le esigenze dello spirito contemporaneo. Una vocazione moderna che bene si addice a un uomo forte ma sensibile, un eroe contemporaneo che ha naturale attitudine al savoir-faire.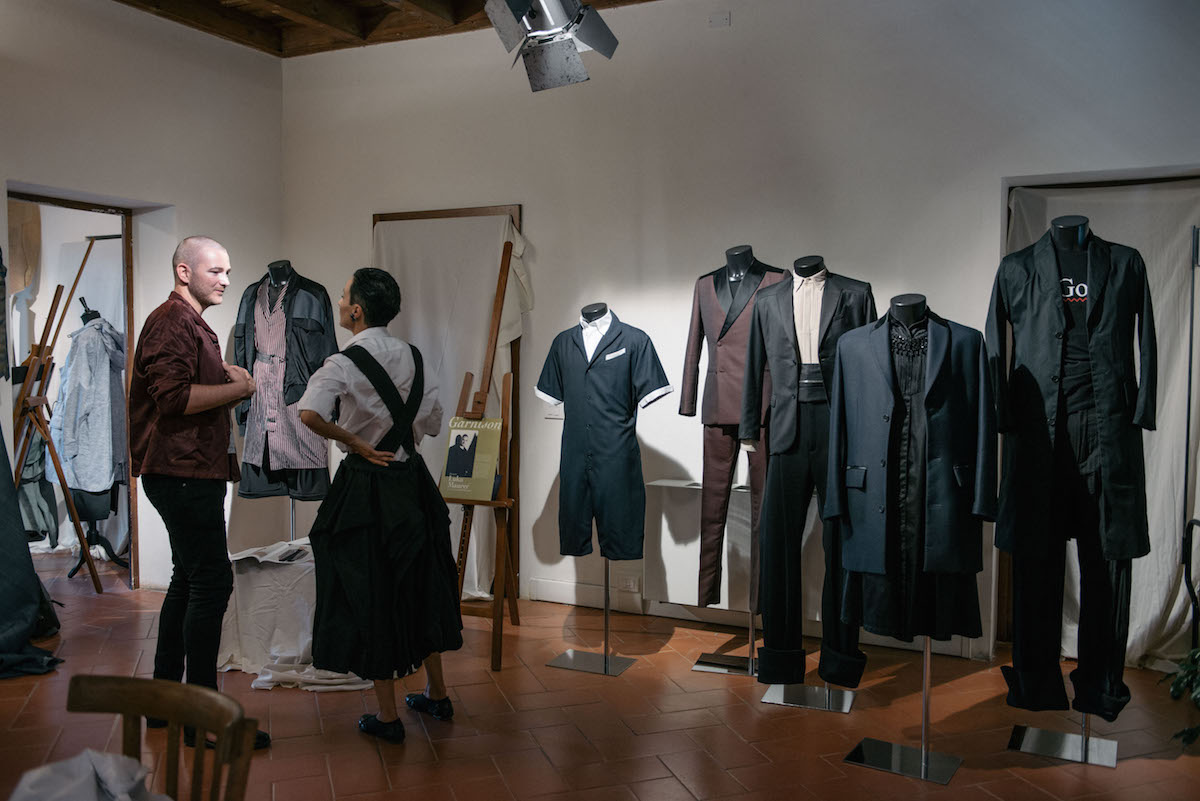 Francesca: Luka, questa è la prima volta che esponi le tue creazioni a Pitti. Puoi raccontarmi il concept della collezione e perché sei così interessato agli eroi contemporanei?
Luka: Si è corretto. E' la prima volta che vengo qui a Firenze e presento la collezione P/E 19. L'abbigliamento sartoriale e il più tradizionale fatto su misura incontrano qui l'innovazione dato che ho lavorato principalmente sui capi classici del guardaroba maschile cercando di aggiungere dettagli nuovi e raffinati. Il mio obiettivo è chiaro: dare forma a un eroe moderno e sensibile sovvertendo regole e consuetudini. Non posso fare a meno di avere la sensazione che al giorno d'oggi manchino proprio le figure dì riferimento e mi chiedo: ma gli eroi non esistono più? Rifletto su questo tema perché sono convinto che per cambiare il mondo sia prima necessario cambiare la nostra individualità.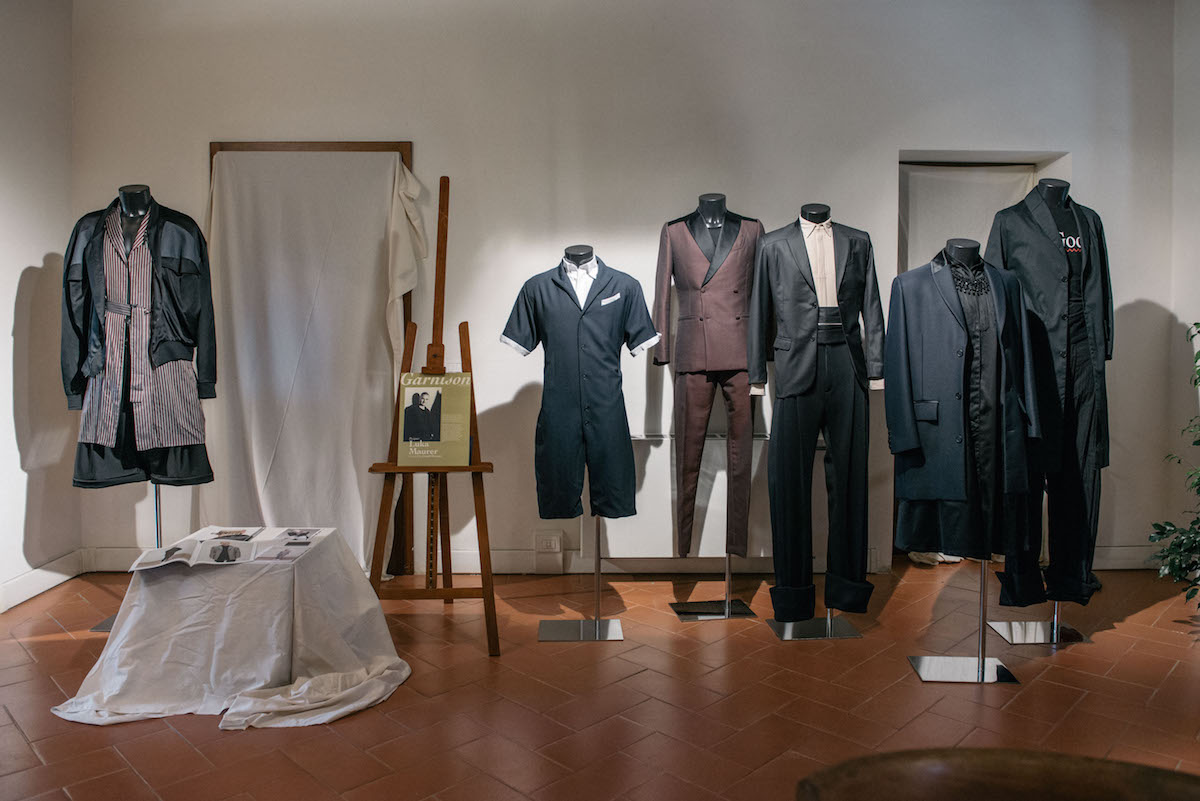 Francesca: Dove hai trovato l'ispirazione per questa collezione?
Luka: Ricordo che quando ero a Ginevra rimanevo impressionato dal numero di dipendenti bancari che andavano al lavoro indossando i loro abiti e guardandoli pensavo che quell' abbigliamento fosse adatto al lavoro ma del tutto inadatto a far comprendere la condizione dell'uomo di oggi. Quindi, mi sono chiesto: come posso cambiare prospettiva? Come posso offrire una nuova visione degli abiti maschili? Allora ho immaginato una sorta di evoluzione della più tradizionale sartoria adattando forme e volumi alle esigenze degli uomini moderni. Inoltre, persuaso dal fatto che sempre più persone lavorano da casa, ho iniziato a sviluppare anche il concetto dell'accappatoio sperimentando nuovi tagli e tessuti.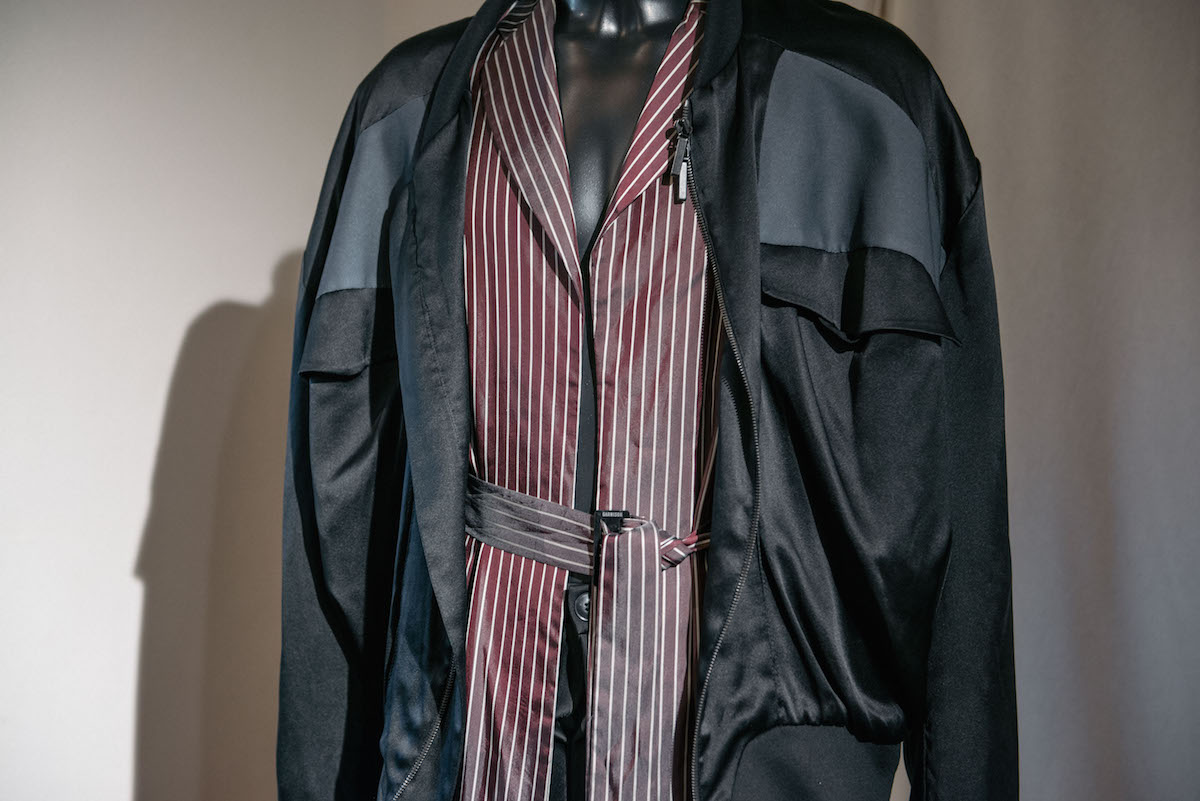 Francesca: Come prende vita e come si sviluppa il tuo processo creativo?
Luka: Potrei dire che è come realizzare una scultura per me. Si parte da un blocco monolitico e poi, a poco a poco, gli si da la forma desiderata. Direi che tutto avviene in modo naturale, una sequenza spontanea che parte dai tagli, si arricchisce dei dettagli e approda al capo finito.
Francesca: Cosa mi dici dei tessuti?
Luka: Cerco sempre di utilizzare tessuti preziosi e raffinati. Quando devo progettare la collezione primavera/estate preferisco lavorare con materiali leggeri come la seta pregiata che ho usato per questa collezione. Ma mi piace fare esattamente il contrario quando devo progettare la collezione autunno/inverno, usando tessuti più consistenti con i quali mi trovo più a mio agio. Devo confessare che è sempre una sfida per me pensare ai capi estivi, mi sento come se stessi ancora imparando!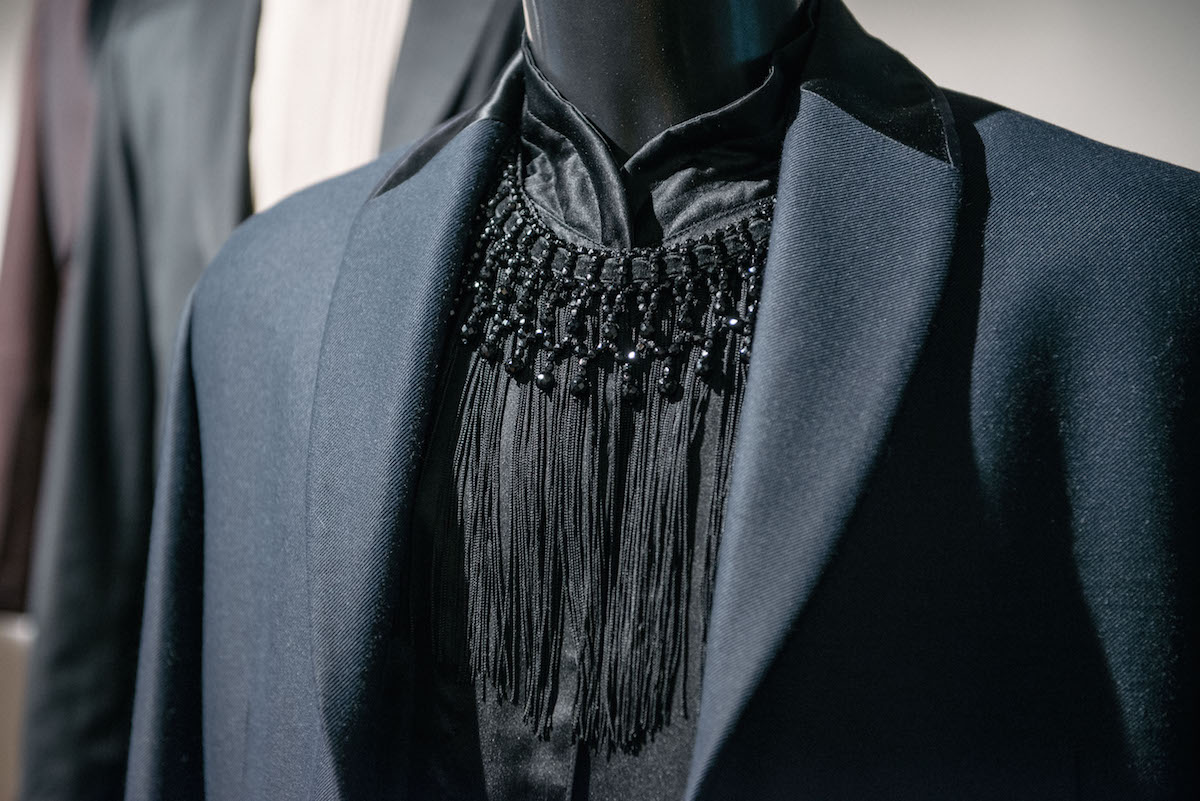 Francesca: Dando uno sguardo più da vicino alla collezione salta all'occhio l'uso della parola Dio, insieme a una linea discontinua posizionata sotto la scritta, utilizzata come logo in questa serie di t-shirt. Qual è il significato?
Luka: Quello che mi interessava di più era mettere insieme due concetti diversi. Volevo da una parte esaltare l'idea dell'eroe, espresso con la parola Dio, dall'altra l'idea dell'errore, espressa appunto da questa linea discontinua. Nella cultura odierna, caratterizzata da abbreviazioni e immediatezza, segni e simboli sono elementi molto potenti e così ho pensato che fossero perfetti per diffondere il mio messaggio: sii un eroe moderno, non hai bisogno che qualcuno cambi la tua vita, tu sei il tuo Dio, tu sei il tuo eroe!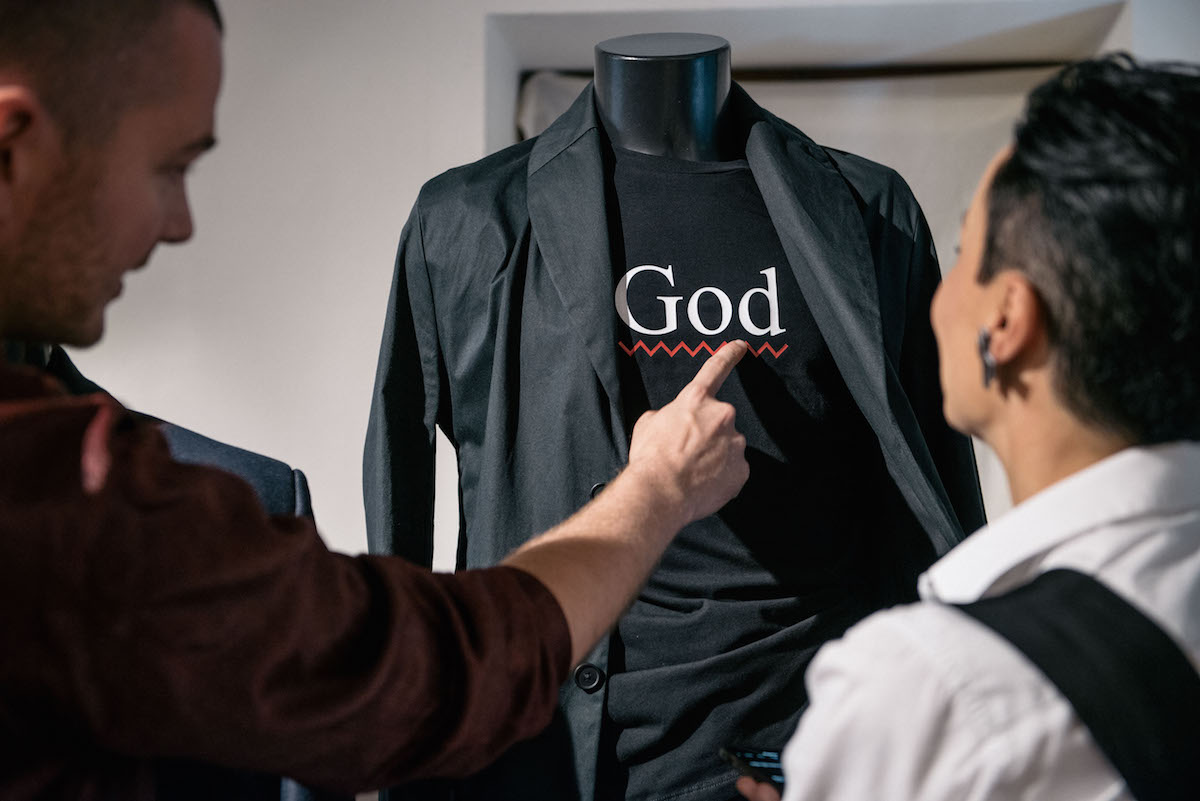 Francesca: Progetti per il futuro?
Luka: Sono un marchio nuovo, ancora piccolo quanto a dimensioni. Sono nato due anni e mezzo fa e da allora sono cresciuto, ma non ho in animo di realizzare grandi numeri almeno nell'immediato. Posso dire che sto lavorando con entusiasmo alla mia prossima collezione e che ho iniziato a collaborare con NOB, un distributore russo, per lanciare un'edizione limitata di t-shirt a Mosca.
Foto di Elisabetta Brian
Io indosso abiti Elle Venturini, orecchini Aumorfia 
GARNISON, Modern Tailoring for Contemporary Heros (English Text)
The last edition of Pitti Uomo provided the backdrop to my meeting with "5 CURATORS/ ONE SPACE", the showcase presented by T-Michael - the designer known for innovation in his bespoke creations - which aims to tap into the zeitgeist of contemporary style in fashion.
I had the pleasure to have a discussion with the talented fashion designer Luka Maurer founder of Garnison, one of the brands involved in this special project curated by the fashion insider Gerold Brenner. 
Born in a small swiss village 32 years ago and after finishing his studies in fashion design at the HEAD-Genève, Luka decided to go to London to learn techniques about tailoring on Savile Row. Then he moved to Berlin, the German capital considered as a powerful source of inspiration for fashion, culture and social life. When he came back to Switzerland he chose to launch his own brand: a menswear label that blends the classical pieces of the wardrobe by challenging and celebrating transformation. With the aim of combining together innovative cuts and refined materials, he creates pieces that are a key to link the emotions of tailoring with today's ambitions. A modern spirit suitable for a strong but sensitive man, for the contemporary hero who has a natural aptitude to savoir-faire.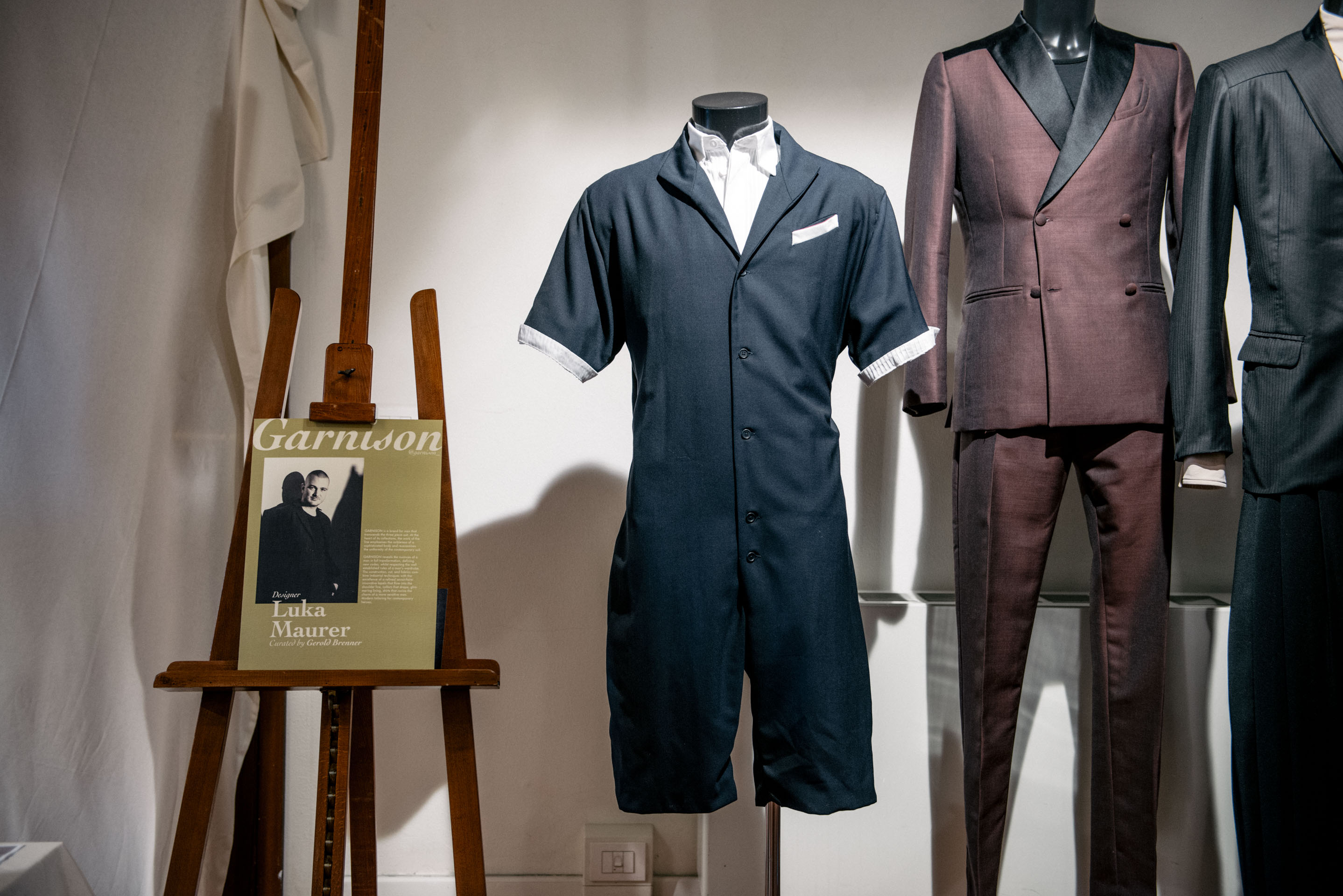 Francesca: Luka, this is the first time you are showing your creations at Pitti. Can you tell me what was the concept behind the collection? And why are you interested in contemporary heroes?
Luka: That's correct. It's the first time here in Florence and I'm presenting the SS/19 collection. Bespoke and traditional made-to-measure encounters innovation, I worked mostly on classic pieces of men's wardrobe trying to add new and exquisite details. The goal is clear: to give shape to a modern, sensitive hero by shaking up commonly accepted rules and traditions. I can't help but get the feeling that nowadays there seem to be no mentor, no reference point. I mean, don't heroes exist anymore? I'm asking because I'm convinced that in order to change the world we should first change our individuality.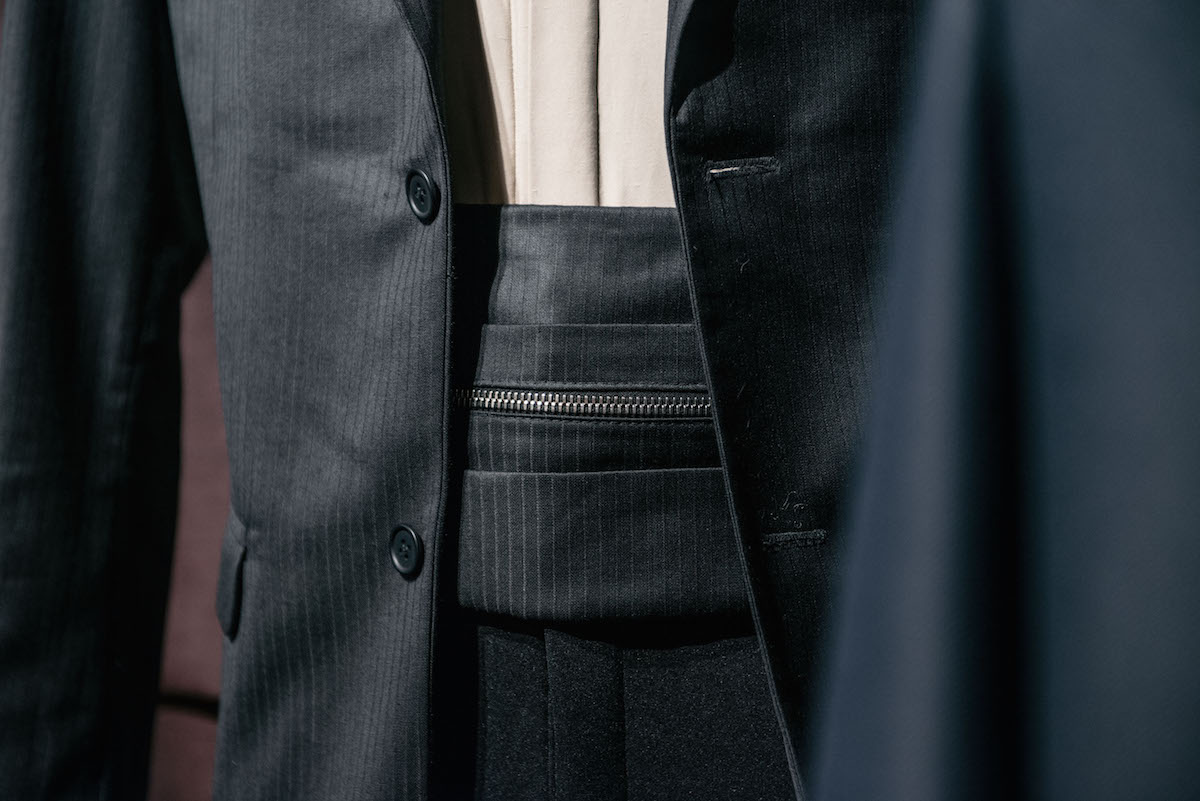 Francesca: Which was your source of inspiration?
Luka: I remember that when I was in Geneva I was impressed by the number of bank employees that were going to work wearing their suits and I thought that specific clothing was suitable for work but unsuitable for a deeper understanding of the nowadays man statement. So, I asked myself: How can I change that perspective? How can I offer a new vision of traditional men's clothing? A kind of evolution of tailoring which adapts shapes and volumes to modern customers. Furthermore, persuaded by the fact that more and more people are working from their home, I started developing the concept of the bathrobe experimenting new cuts and fabrics.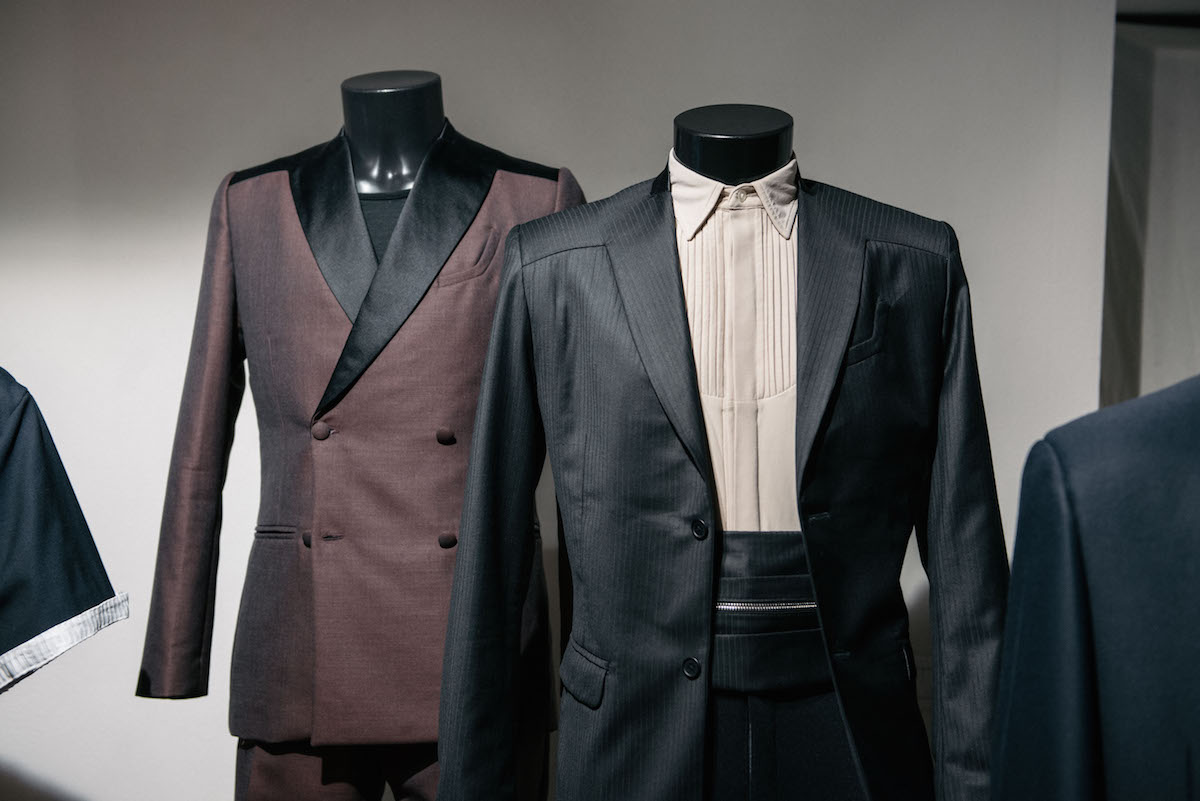 Francesca: How does your creative process begin and develop?
Luka: I might say it's like making a sculpture to me. You know, you start from a monolithic block and then, little by little, you give it the shape you want. So, everything comes in a natural way, a natural sequence that starts from the cuts, the adding of the details and steps into the garment.
Francesca: What about the fabrics?
Luka: I always try to use noble, refined fabrics. Talking about spring/summer season I prefer to work with light materials as the high-quality silk I used for this collection. But I like doing exactly the opposite when I have to project the fall/winter collection, using thicker fabrics with which I feel more connected to. I must confess it's always a challenge to give birth to summer creations, it's like I'm still learning!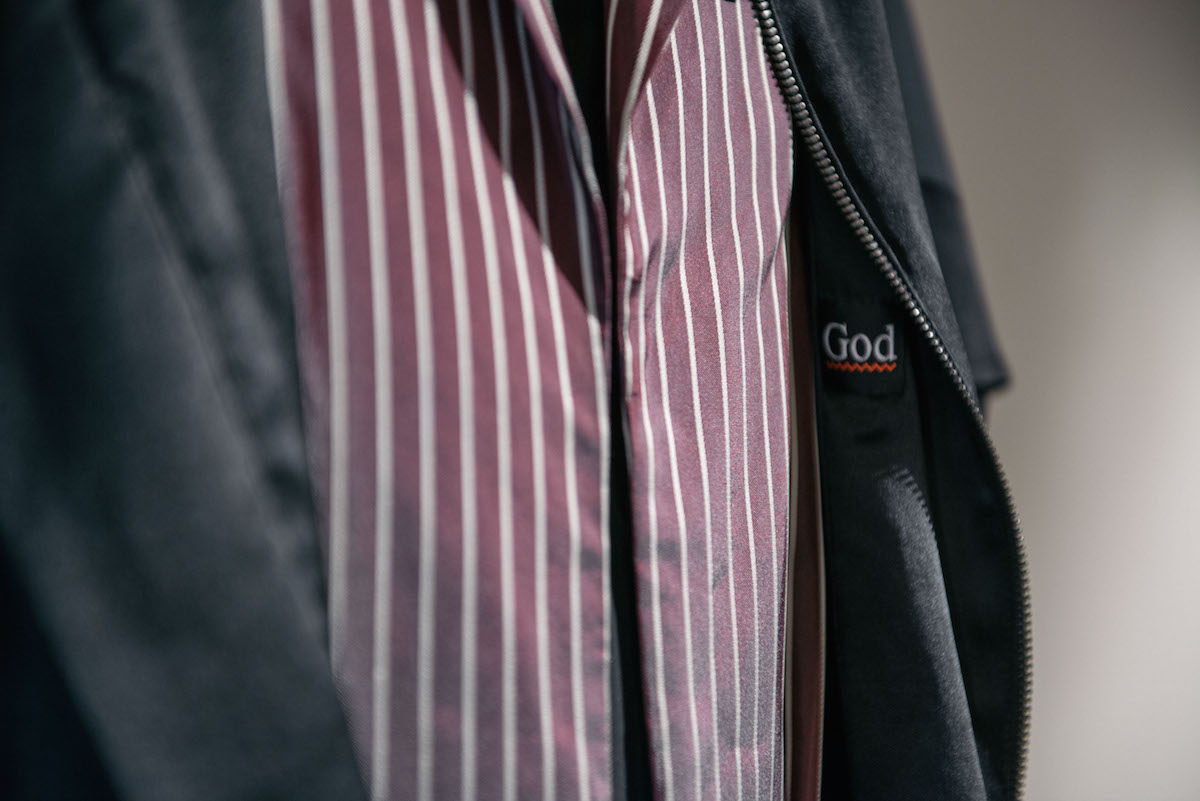 Francesca: A close-up look at your collection reveals the use of the word God as a logo together with a discontinued sign placed below. Can you tell me the meaning of this t-shirt series?
Luka: What interested me the most was to gather two different concepts. My impulse was both to exalt the idea of the hero personified by God, and the idea of the mistake, expressed by the discontinuous line. In today's culture of shorthand and immediacy, signs and symbols are more powerful and I thought they were perfect to spread my message: be a modern hero, you don't need for someone to change your life, you are your own God, you are your own hero !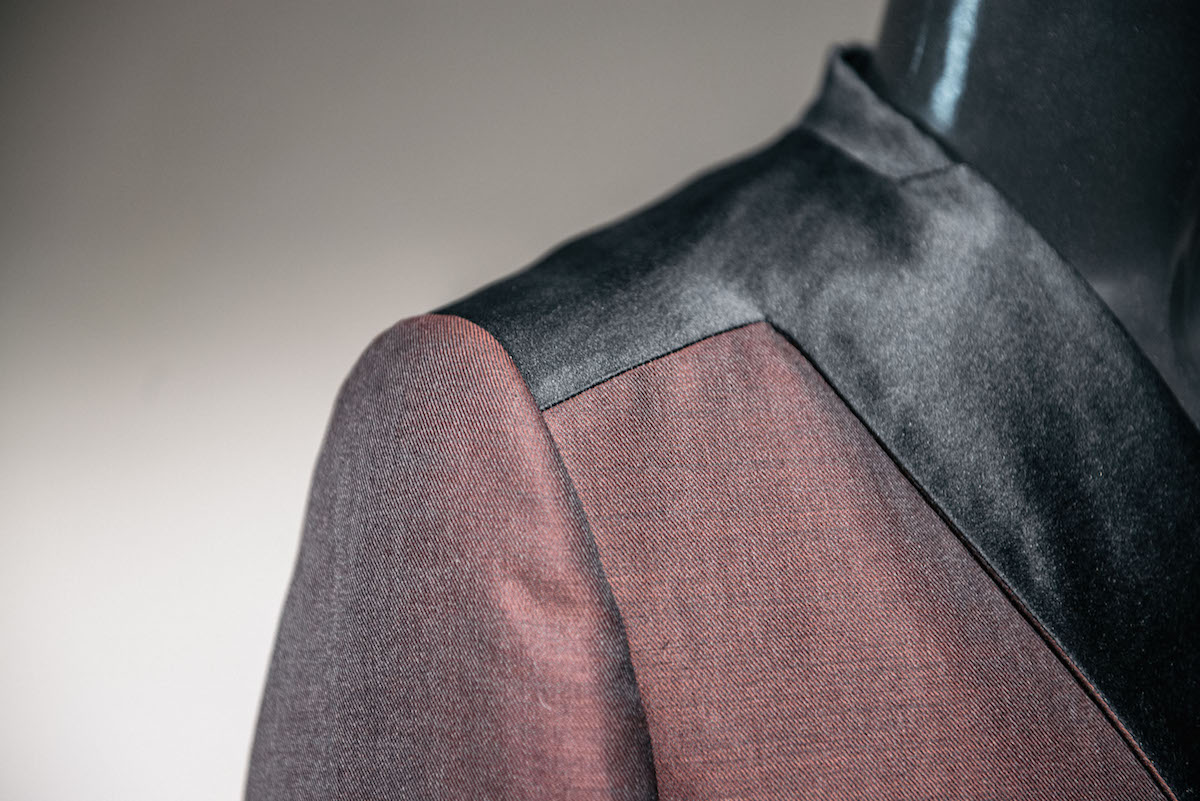 Francesca: Any projects for the future?
Luka: I am a small, new brand. I took over the label two and a half years ago and since then I have grown but I'm not planning on making big figures for now. I can say that I'm enthusiastically working on my next collection, and I've started collaborating with NOB, a Russian distributor to launch a limited t-shirt edition in Moscow.