Tra gli elegantissimi uomini visti durante l'ultima edizione di Pitti Uomo, quelli che camminano su e giù per la Piazzetta indossando abiti rigorosamente su misura, non sarà certo passato inosservato Mr. Gerold Brenner. L'uomo che indossa la gonna, come l'ho definito in una delle mie interviste, ha preso parte, questa volta in qualità di designer, al progetto "5 CURATORS / ONE SPACE" presentato da T-Michael con lo scopo di mettere in evidenza il carattere contemporaneo della moda maschile.
Among the very smartest men seen during the last edition of Pitti Uomo, those who walk down the Piazzetta wearing strictly tailored suits, certainly not go unnoticed Mr. Gerold Brenner. The man who wears the skirt, as I called him in one of my previous interviews, took part as designer in the showcase "5 CURATORS/ONE SPACE" presented by T-Michael with the aim to tap into the zeitgeist of contemporary style in fashion.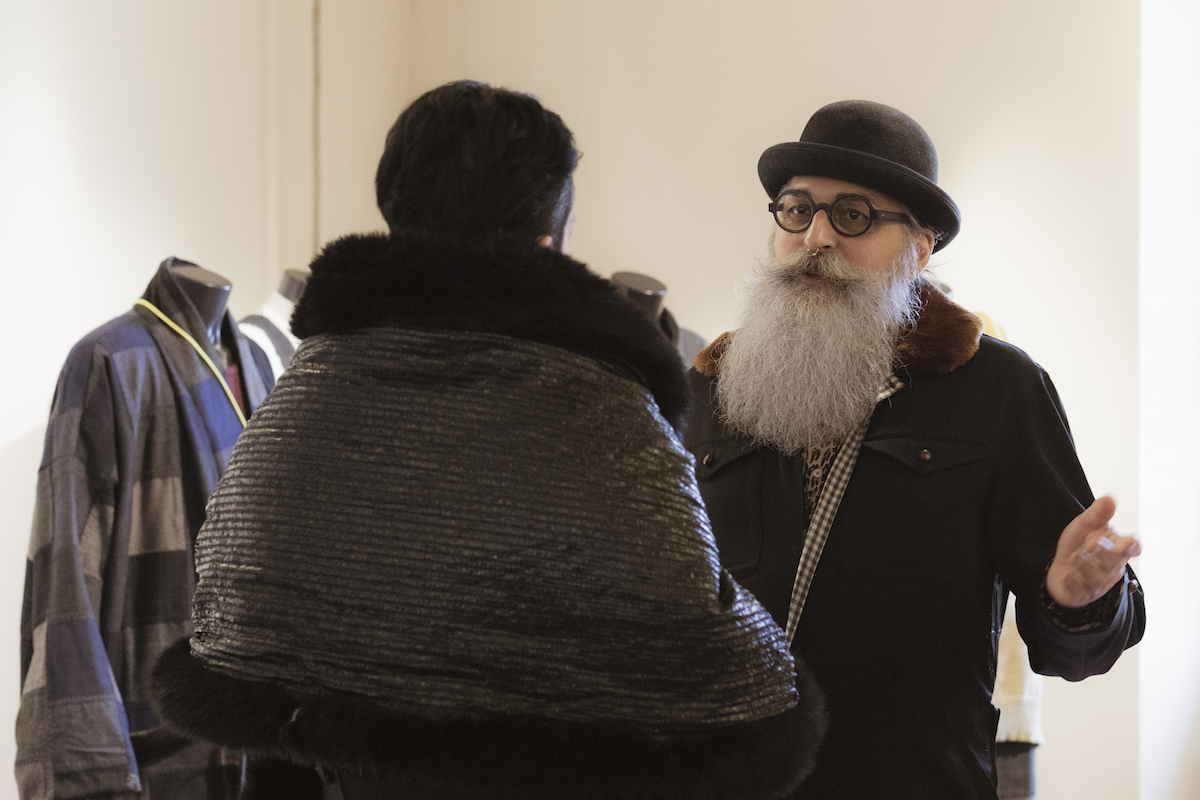 I suoi abiti sembrano nascere da un viaggio della fantasia e promettono di condurci in un'autentica avventura di stile. I dettagli lussuosi frutto della raffinata maestria artigianale, l'ispirazione artistica, i tessuti più ricercati, le forme fluide, il tutto prende vita in pezzi che giocano un ruolo fondamentale nella sua vivace narrativa.
Brenner's clothes seem to be born of a fantasy journey and promise to take you on an authentic adventure of style. The luxurious details of exquisite craftsmanship, the artistic inspiration, the most refined fabrics, the fluid shapes, all brought to life by pieces who play a pivotal role in his spirited narrative.
Francesca: Quello che mi piace di più del tuo lavoro è la tua straordinaria abilità di essere audace e prenderti qualche rischio pur di esprimere il tuo personale stile. Il risultato è sempre sorprendentemente bello! Per quanto riguarda la capsule collection che presenti qui a Pitti, puoi raccontarmi il concept dal quale è nata?
Gerold: Penso ai miei abiti come a un crogiolo di culture, suggestioni e stimoli diversi e quindi per me era importante presentare, anche in questa occasione, un mix multiculturale come prova tangibile di questa nostra contemporaneità. Attraverso l'eredità culturale e il fatto su misura ambisco ad infrangere le regole del vestire occidentale. Potrei dire che la moda è per me come la cucina fusion, si tratta di saper miscelare gli ingredienti: le diverse ispirazioni e conoscenze. E, naturalmente, ho continuato a perseguire gli obiettivi della mia ricerca creativa come la sostenibilità, l'up-cycling e il re-cycling. Cerco sempre di considerare anche gli aspetti pratici della vita moderna durante la fase di progettazione, infatti le mie collezioni non trascurano mai la funzionalità così da poter essere indossate giorno per giorno con facilità. Mi piace anche giocare con proporzioni, lunghezze e sovrapposizioni nuove per dare al corpo sensazioni inaspettate.
Francesca: What I like the most about your work is your impressive ability to be bold and take risks with your own personal style. The result is always surprisingly good! Regarding the capsule collection you are presenting here at Pitti, can you tell me what was the concept behind it? 
Gerold: I see my clothes as a melting pot of different cultures, suggestions and stimulation so it was important for me to present, even on this occasion, a multicultural mix as visible proof of our modernity. I want to break the rules of western world's menswear by using my heritage and bespoke tailor. I might say that fashion is like fusion cuisine to me, you know, it is a matter of blending the ingredients: different inspirations and knowledge. And, of course, I have been pursuing the goals of my creative research such as sustainability, up-cycling and re-cycling. I always try to consider the practicalities of the modern life when designing. My collections are also grounded in functionality, they can be worn day-to-day with ease. I also love playing with new proportions, lengths and layers to give the body unexpected feeling.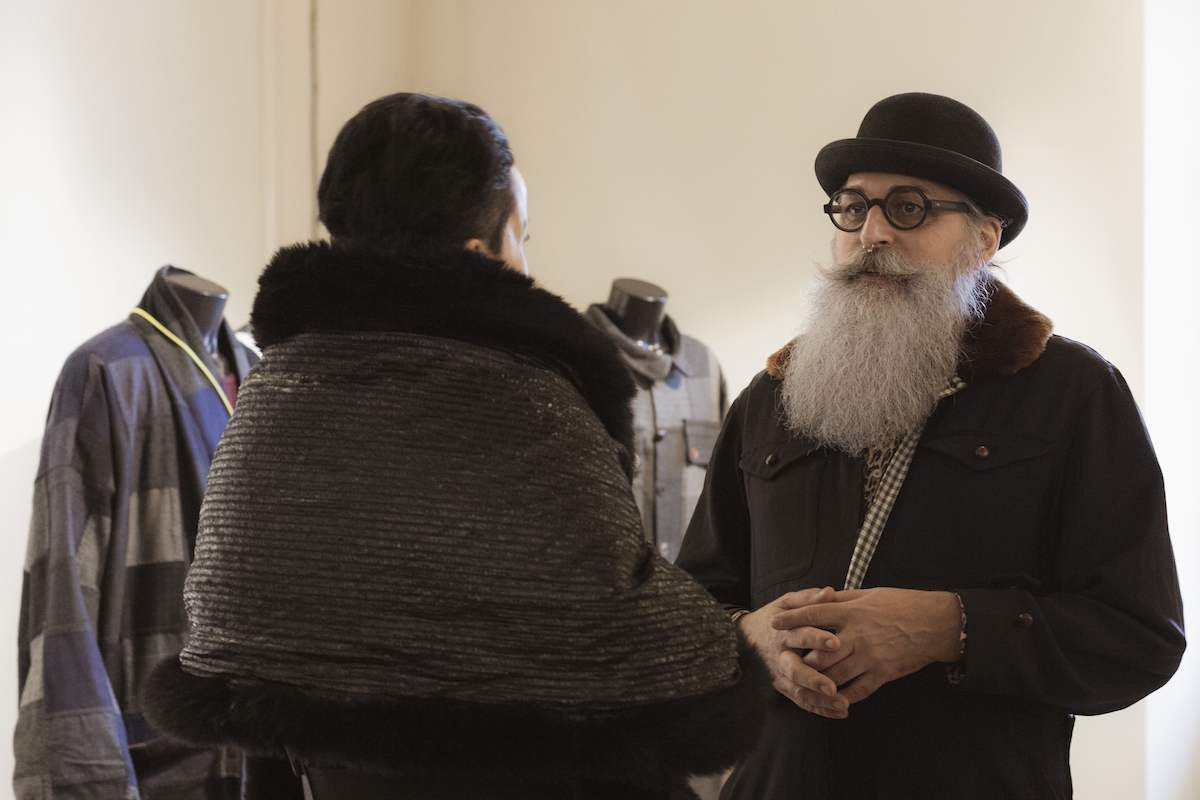 Francesca: Un uomo destrutturato che indossa l'asettica severità del design tradizionale giapponese, con in più un tocco futuristico. La tua capacità di trovare la bellezza nel passato, il nuovo e il vecchio simultaneamente è originale e all'avanguardia. È un modo convincente di affrontare la moda in questo momento in cui siamo un po' tutti alla ricerca di punti di riferimento.
Gerold: Mi piace pensare che il mio amore per l'Asia si rifletta nelle mie collezioni e che queste possano inaugurare una stagione nuova della moda estremamente ricca di spunti umani e sociali. Io credo che portando un sistema valoriale in questo settore, sia possibile fare un salto di qualità da un mondo prettamente consumistico a un mondo più sensato, più ricco di principi morali e più rispettoso dell'ambiente.
Francesca: Deconstructed man pulls off the clinical severity of traditional Japanese design, with a futuristic flair. Your ability to find the beauty in the past, the new simultaneously in the old is original and avant- garde. It is a compelling way to deal with fashion as we look toward some reference points.
Gerold: I like to think my Asian-loving spirit is reflected in my collections which unveil a new season of fashion extremely valuable in human and social terms. By bringing a belief system in the fashion industry we can make the leap from the consumer-driven world to a more sensible world, richer in environmentally friendly and moral values.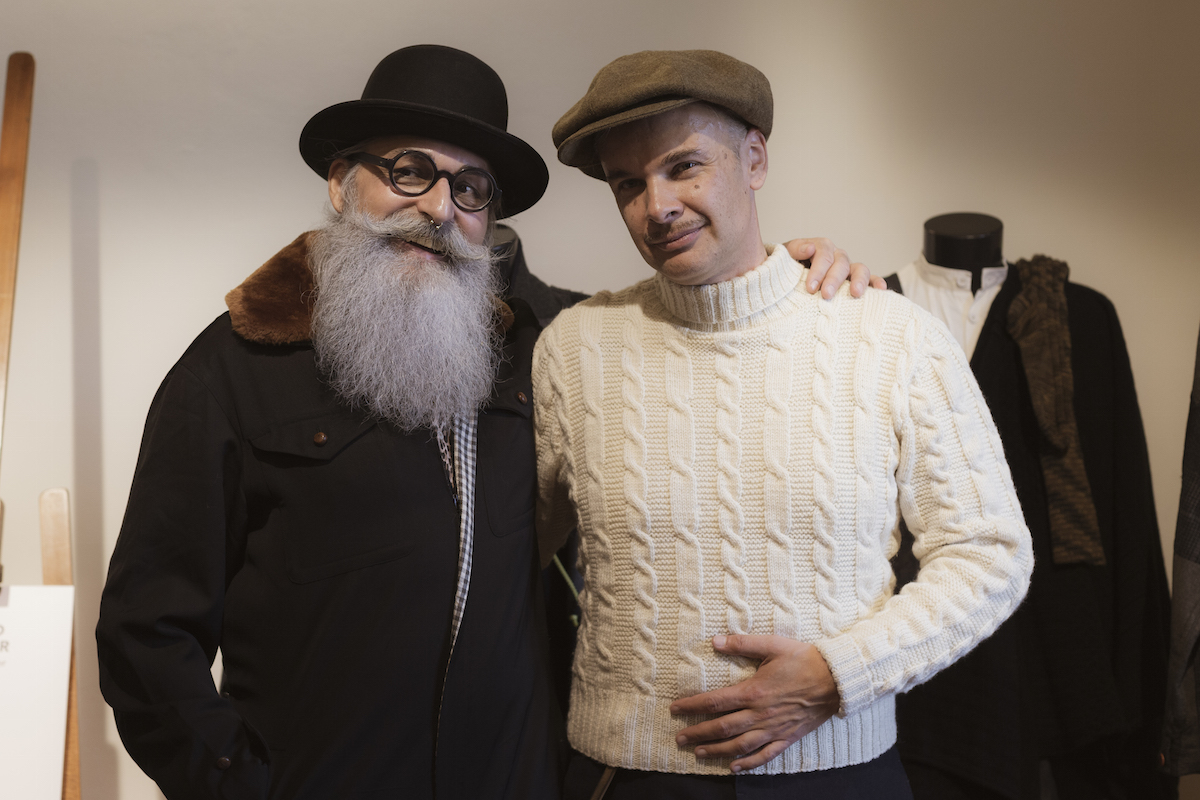 Francesca: Penso che sia la tua voglia di raccontare storie a mantenere sempre vivo il tuo approccio. In effetti le tue creazioni sono a-temporali e vanno oltre le tendenze, cosa che, credo, riflette il modo in cui le persone vogliono vestirsi oggi.
Gerold: Invece di concentrarmi sul mood della singola stagione preferisco concentrarmi sullo spirito del brand, che è ciò che conta. I miei abiti possono essere indossati di stagione in stagione perché esercitano una capacità di attrazione che è difficile da capire, ma quando li vedi, ti accorgi che questa cosa non ha a che fare con i dettami della moda. Voglio che i miei vestiti abbiano vita lunga e che diventino una specie di compagni di viaggio. Il kimono, ad esempio, è sicuramente uno di quei classici pilastri del mio stile che ripropongo ogni stagione.
Francesca: I think is your passion for storytelling that keeps your approach fresh. As a matter of fact, your pieces are timeless and trend-transcending, which I think is how people want to dress today. 
Gerold: Instead concentrating on the mood of the season I prefer to focus on the spirit of the brand, which is what matters. You can wear my clothes season by season because there is an attractiveness that you can quite put your finger on, but when you see it, you know that it doesn't depend on the dictates of fashion. I want my clothes to have long life and they to become a sort of fellow travelers. My kimono, for instance, is definitely one of those classic style pillars that I turn to every season.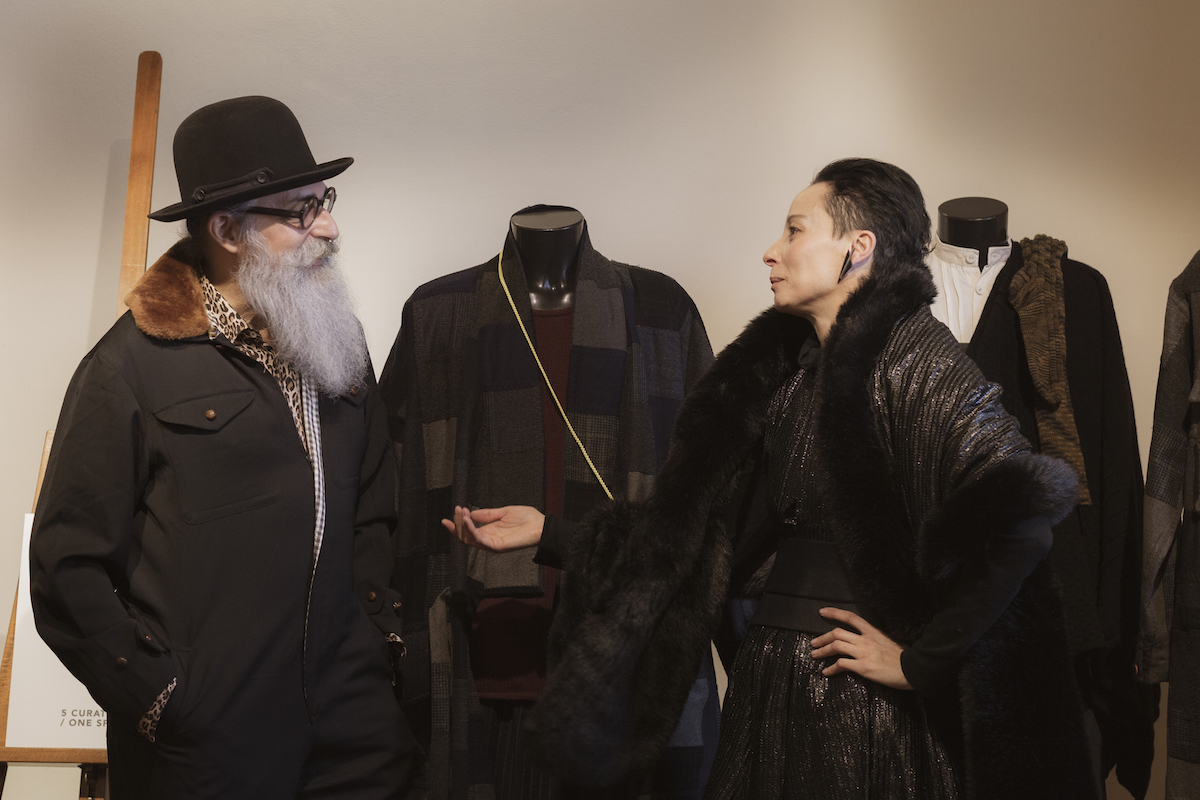 Francesca: Parlando dei materiali, vedo con piacere che il denim  continua a occupare un posto importante nelle tue collezioni. 
Gerold: Sono letteralmente innamorato di questo tessuto perché incarna tutto ciò che cerco di ottenere con il mio lavoro: un equilibrio tra etica ed estetica. Mi piace particolarmente il modo in cui cambia colore e tutte le possibili sfumature che assume dopo il lavaggio, soprattutto perché non uso alcun prodotto chimico per fissare il colore. È come se vivesse di vita propria. Oltre al denim uso anche tanti altri tessuti organici e tinture naturali.
Francesca: Talking about materials, I am glad to see that denim keeps on playing an important role in your collections.
Gerold: I'm literally in love with this fabric because it epitomizes what I always strive to achieve with my work: a balance of ethics and aesthetics. I particularly love the way it changes its color in every possible shade after washing, as I don't use any chemical products to set it. It is like it had a life on its own and I also love availing myself of natural, organic materials and dye.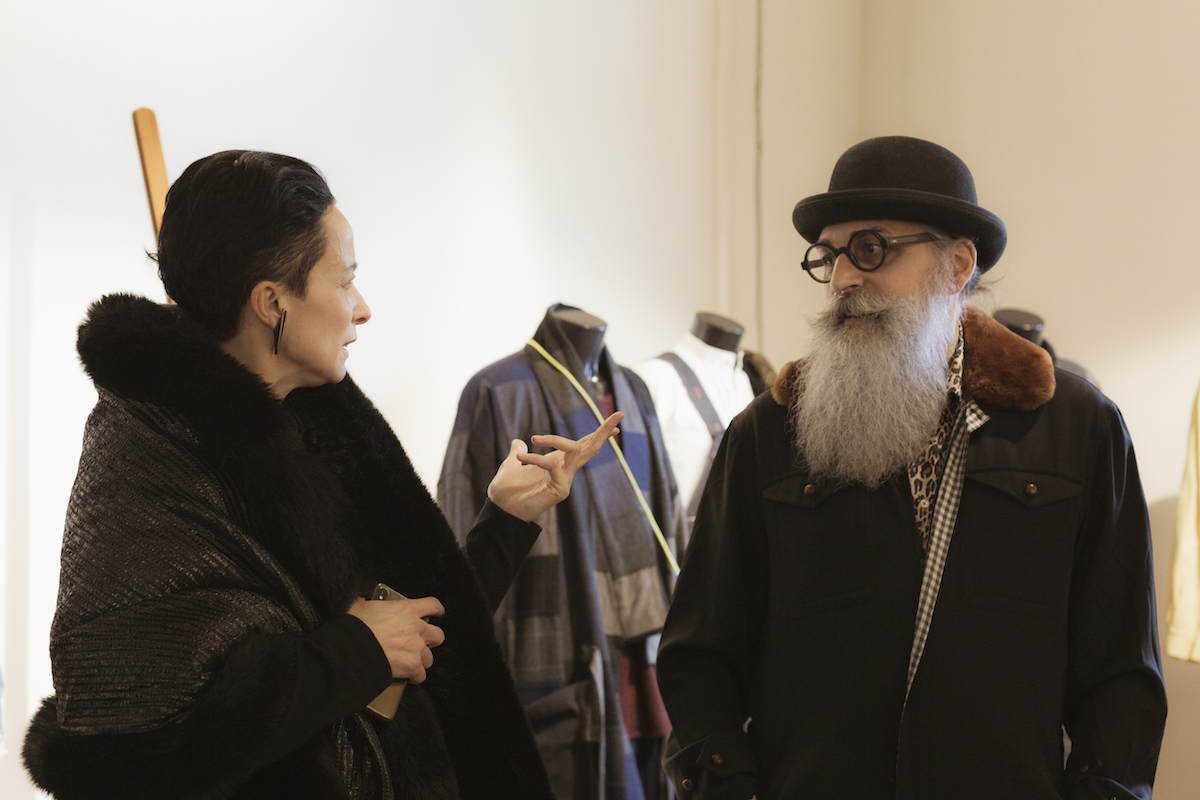 Francesca: Considerati singolarmente, pezzi di grande impatto ma visti nel loro insieme con le loro linee fluide e i volumi ampi, una nuova proposta per uno stile che duri nel tempo. In questo contesto si inserisce la proposta della gonna da uomo, me ne parli?
Gerold: Indossare la gonna da uomo è un'usanza fortemente radicata nella cultura araba, asiatica e africana. Introducendo questo capo nelle mie collezioni, intendo dimostrare che la gonna può essere un indumento molto maschile: dipende sempre dal modo in cui è indossata. Ad esempio, la salopette-gonna che ho creato ha un fascino che non guarda al genere, maschile o femminile, perché può essere adatta tanto per l'uomo quanto per la donna. Per come la vedo io, indossare una gonna da uomo è una forma di emancipazione e un modo per abbattere stereotipi e cliché.
Francesca: Separately, great pieces, but together with their fluid lines and wide volumes, a new proposal for long-lived style. Within this context falls the idea of the man's skirt. Can you talk about it in more detail?
Gerold: Wearing man's skirt is a habit firmly rooted in Arabic, Asian and African cultures. By introducing this garment in my collections I aim at demonstrating that skirt can be very masculine: it depends on the way it's styled. For example, the denim dungarees skirt I created has a genderless allure and can be good both for man and woman. As I see it, wearing a man's skirt is a form of emancipation and, in so doing, a way to bring down the stereotypes and clichés.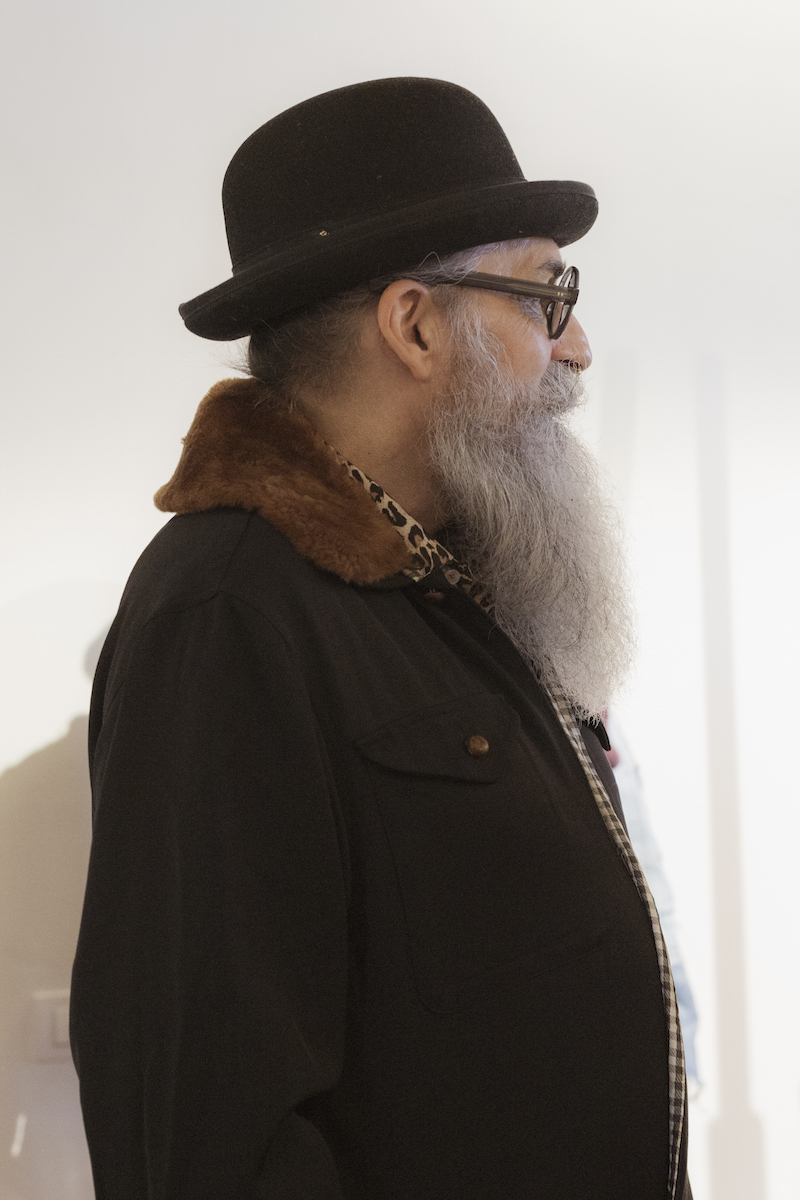 Desidero ringraziare Gerold Brenner per la cortese intervista  - Facebook – Instagram 
Foto di Nicoletta Subitoni
Io indosso un abito Elle Venturini